En del af Stokke® Home™ kollektionen af børneværelsesmøbler
Kan bruges alene eller sammen med Stokke® Home™ sengen
En seng til din nyfødte baby både om dagen og om natten
Usædvanlig god ventilation med lette tekstiler og en perforeret sengebund
Let og pladsbesparende – nem at flytte fra værelse til værelse
Sooth your baby to sleep with a soft swaying motion
The soft, light textiles of the cradle give your baby plenty of airflow and a cozy environment to rest, sleep and dream. At nighttime, keep your baby close by your bed – the cradle´s small footprint allows you to fit it into any sized bedroom. The cradle's light weight makes it ideal for daybed usage – just move it from one room to another to keep your baby close.
Hvad medfølger
Ben til vugge (1)
Vuggetekstil med bund (2)
Vuggemadras (3)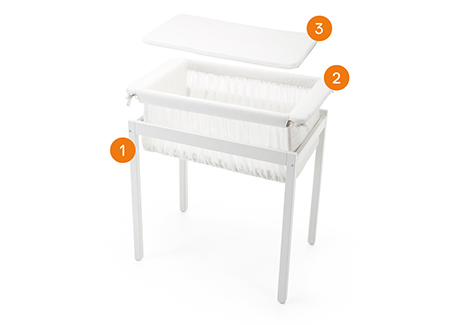 Tekniske specifikationer/mål
Produktoplysninger

Materialer: Massivt europæisk bøgetræ (vuggestativ), lamineret birkefinér (vuggebund)
Product dimensions (length x height x width) in cm/in: 81x73x50/32x28.5x20
Produktvægt i kg: 7/15,5
Velegnet til vægt i kg: Up to 9kg/20lbs
Funktioner
Features:

Sooth your baby to sleep with a soft swaying motion
A day and night time cradle for the first months (up to 9kg)
Exceptional airflow with soft, light textiles and perforated mattress base
Small footprint for mobility and space efficiency
The textiles can be machine washed (40° C)
Made from durable and solid beech wood

Part of the Stokke® Home™ concept:

Everything you need within arm's reach when the Cradle and Changer are placed on the Bed
The Cradle used inside Bed creates a protective and calm ambience for your baby
The Cradle stand transforms into a play table by turning the Changer upside-down and placing it on the cradle stand

What's included:
Cradle textile, foam mattress, wooden stand.
Brugervejledninger
Vedligeholdelse

Wood
Wipe with a clean damp cloth and remove excess water with a dry cloth. Moisture will crack stain.
The use of any detergent or micro fibre cloth is not recommended.
Colours may change if the wood is exposed to the sun.

Textiles
All textiles (incl mattress) can be removed and machine washed at 40° Celsius/ 104° Fahrenheit.
Downloads