En del af Stokke® Home™ kollektionen af børneværelsesmøbler
Velegnet til en nyfødt baby og børn op til femårsalderen
Design din babyseng med vugge- og skiftebordsmodulerne
Skab din egen stil med tekstiler og tilbehør som sengehimmel og sengehest
Justerbar madrashøjde og aftagelige sideribber

Den komplette Stokke® Home™ seng er pakket i to kasser
A bed, a changing station and a playhouse in one
Stokke® Home™ Bed is the heart of the Stokke® Home™ nursery. Together with Cradle, Changer and Dresser, it offers countless possibilities for designing the perfect room for your newborn. A home within a home – especially for your baby. The clean lines of the Bed, together with its distinct house shape turn this Bed into the centerpiece of the nursery. We offer a range of textiles designed to create a protective and calm ambience for your baby, or a playhouse for your child. Not only is the concept ideal for your newborn as well as your growing child but it is also flexible enough to be customized no matter the size of your nursery. Once it is safe for the baby to climb in and out of the Bed, you can remove one side panel for easy access. When your child outgrows the Bed around the age of 5, you can continue using it as a sofa and playhouse.
Hvad medfølger
Stokke® Home™ seng
Stokke® Home™ madras
Stokke® Home™ sengehest
Stokke® Home™ sengehimmel
Stokke® Home™ sengetelt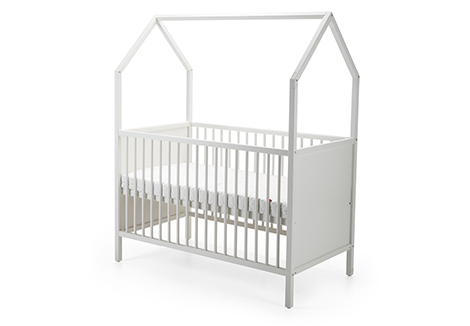 Tekniske specifikationer/mål
Produktoplysninger

Materialer: Massivt europæisk bøgetræ, MDF-plate
Product dimensions (length x height x width) in cm/in: 137cmx164x75/54x64,5x29,5
Produktvægt i kg: 35/77 (two pieces)
Velegnet til alder: From newborn to about 5 years old
Funktioner
Features:

Suitable from birth to 5 years
Height adjustable mattress bottom makes lifting your child in and out easier
Removable side panel for easy access
The house shape allows for individualization
Rods in the side panels and slots in the mattress base provide maximum air circulation
Made from durable solid beech wood and formaldehyde reduced MDF

Main product of the Stokke® Home™ concept:

Everything you need within arm's reach when Cradle and Changer are placed on the Bed
The Cradle inside Bed creates a protective and calm ambience for your baby

What's included:
Stokke® Home™ Bed
Fits standard crib mattress size: 52''x27,5''x5''.
Brugervejledninger
Vedligeholdelse

Træ


Rengøres med en ren, fugtig klud, og overskydende vand tørres af med en tør klud. Fugt vil beskadige farven.
Brug af rengøringsmidler eller mikrofiberklude kan ikke anbefales.
Farverne kan ændre sig, hvis træet udsættes for sol.
Downloads