With a large protective carry cot and luxurious cushioning, the Stokke® Crusi offers an ultra comfortable ride for your baby and you while lifting your baby higher. Stokke® Crusi offers a wide range of configurations, including a sibling solution to adapt to your family's ever-changing needs. The large shopping basket leaves lots of room for groceries and other baby essentials.
The Flexible Comfort Stroller
Hvad medfølger
Stokke® Crusi™ Chassis (1)
Stokke® Stroller Seat Rain Cover (2)
Stokke® Stroller Seat Mosquito Net (3)
Stokke® Stroller Seat
Stokke® Stroller Carry Cot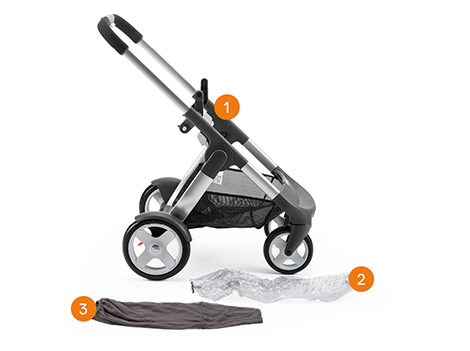 Tekniske specifikationer/mål
Produktoplysninger

Stelvægt i kg: 8.6/18.96
Stolevægt i kg: 3.8/8.34
Stel med sædemål (længde x højde x bredde) i cm: 96x128x63/37.8x50.4x24.8
Foldet stel med sædemål (længde x højde x bredde) i cm: 103x33x63/41.6x13x24.8
Bæreliftens vægt i kg: 4.8/10.58
Stel med bæreliftmål (længde x højde x bredde) i cm: 96x127x63/37.8x50x24.8
Foldet stel med bæreliftmål (længde x højde x bredde) i cm: 103x57x63/40.6x22.4x24.8
Stol velegnet til vægt i kg: From 6 months to 15kg/33lb worlddwide. From birth to 20kg/44lb in USA/Canada.
Bærelift velegnet til vægt i kg: 0-9/0-20
Maks. belastning i kg: 15/33.07
Materialer: Chassis: Made of aluminium, plastics and composite materials.
Funktioner
Flexibility

Can be used with carry cot, stroller seat, car seats and optional sibling solution.
3 parent facing positions: sleep, rest and active, and 2 forward facing positions: rest and active.
Lockable swivel wheels make it easy to maneuver in tight spaces.
Lightweight, robust chassis with large shopping basket is easy to fold and light to carry.
Comfort

High carry cot and stroller seat position brings the baby closer to mum and dad.
Spacious carry cot with soft interior lining provides a comfortable environment for the baby.
Soft, padded seat with an extra cushion that reduces the seat depth to fit the smallest babies.
Adjustable ergonomic foot rest on the seat eliminates dangling feet.
Ventilation in hood improves the air quality and reduces the risk of moisture inside the carry cot and stroller seat.
Ergonomic height and angle adjustable handle provides a wide range of positions.
Travel System

Stokke offers two car seats that can be used with Stokke strollers without the use of adaptors: The Stokke® iZi Go™ X1 by BeSafe® and the Stokke® iZi Sleep™ X3 by BeSafe™.
Stokke® offers Car Seat Adaptors making it possible to use selected models of car seats made by other manufacturers.
Brugervejledninger
Vedligeholdelse

Hårde dele


Barnevognen kan rengøres med en mild blanding af vand og sæbe. Sørg for at fjerne sand/mudder/grus inden rengøring.
Alle de tekniske detaljer er gemt i stellet, så vognen er nem at rengøre og vedligeholde.
Kontakt din nærmeste Stokke® forhandler, hvis der er noget på barnevognen, der ikke fungerer ordentligt.
Downloads