Stokke® Stroller Carry Cot
Stokke® Stroller Carry Cot
Bring your beautiful newborn to explore the world safely from the Stokke® Stroller Carry Cot. Its luxuriously soft interior and hard-shell exterior is designed specifically to keep your newborn cozy and safe on your adventures in the city, to visit Grandma, or just around town. Extremely stable and easy to maneuver, Stokke® Stroller Carry Cot fits right to the Stokke® Crusi™ and Stokke® Traliz™ Chassis and is the perfect carriage for you and baby when out and about. Suitable for birth to 9kg/20 lbs.
What's included
Carry Cot Shell with textile (1)
Carry Cot Cover (2)
Carry Cot Mattress (3)
Carry Cot Canopy (4)
Carry Cot Visor for Canopy (5)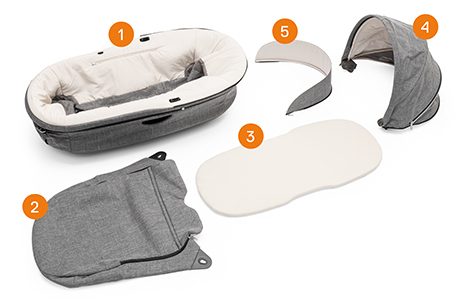 Technical Specifications / Measurements
Product info

Carry cot weight in kg/lbs: 4,8/10,6
Carry cot suitable for weight in kg/lbs: 0-9/0-20
Materials: Chassis: Made of aluminium and various plastic and composite materials. Textiles: Made of polyester. Transparent rain cover is made of phtalate free PVC. The mosquito net is made of polyester mesh.
Features
Features:

Cozy interior lining keeps baby nestled in comfort.
Removable visor offers extra protection from wind and light.
Optional opening for ventilation through 30% of the hood keeps baby cool on warm days.
Carry handles fasten to the sturdy plastic for safe carrying.
Design:

Sturdy shell with foam-lined cover keeps baby safe and cozy.
Air ventilated base means decreased risk of moisture at the bottom of Carry Cot.
Firm yet cozy interior supports baby from head to toe.
Safety:

Removable for temperature regulation of the baby's environment and allows easy access to the baby.