Stokke® Crusi™ Sibling seat
Stokke® Crusi™ Sibling seat
Keep your growing family together with the Stokke® Crusi™ Sibling Seat. This cozy seat attaches to the Stokke® Crusi™ chassis, allowing you to comfortably stroll with both your children. Now, your little ones can always stay together. Taking a sibling has never been easier. Suitable for children from 6 months and up to 15 kg (single seat).
What's included
Sibling Seat (1)
Sibling Seat Canopy (2)
Sibling Seat Visor for Canopy (3)
Sibling Seat Harness Protector (4)
Sibling Seat Footboard (5)
Sibling Seat Adapter Left (6)
Sibling Seat Adapter Right (7)
Stokke® Stroller Seat Rain Cover
Stokke® Stroller Seat Mosquito Net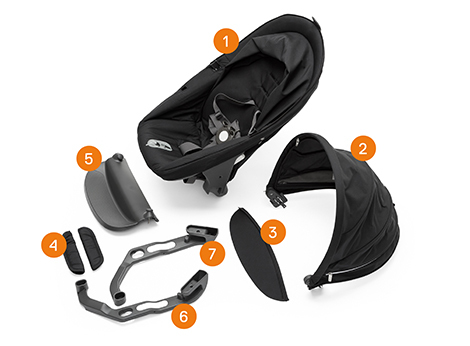 Technical Specifications / Measurements
Product info

Seat weight in kg/lbs: 3,8/8
Seat suitable for weight in kg/lbs: 6 months up to 15kg
Materials: Hard parts in plastic, padding and outer fabric in polyester.
Features
Family bonding & closeness.

Toddlers can get in and out by themselves, providing an important sense of independence.
Eases your little one's tired feet while still allowing you to navigate around sharp corners, into elevators, and through busy streets.
What's included:

Seat with textiles.
Hood with Visor and sibling adapter.