Our History
From making furniture for your home to products that nurture closeness between child and parent.
Our long history of design and innovation began over eight decades ago in 1932 and is still going strong. Today, Stokke's values remain deeply rooted in our Scandinavian heritage and our commitment to craftsmanship and quality. Our award winning collection is recognized worldwide for superior solutions for children. For over eighty years, we have combined our love for design with the latest technology to make beautiful products that are designed to bring you and your baby closer …always.
Stokke is founded as a company specializing in the design and production of high quality lounge furniture in the Sunnmøre Alps of Norway, by Georg Stokke. This begins a family tradition of craftsmanship and quality design that will span three generations and introduce unique Scandinavian design to families around the world.

Stokke was one of the first furniture manufactures to employ female workers and in-house designers here in Norway. Stokke's early furniture designs are remain in circulation today and are highly prized vintage retro pieces for design oriented consumers in Scandinavia.
Mid-century marked a time of tremendous growth for Stokke as the company began to put emphasis on working with retailers both in Norway and abroad. During this period, Stokke already began producing innovative furnishings for the modern living room including the revolutionary Swing Star in 1965. This unique chair had multiple reclining positions as well as 360 degree rotation giving the user a new kind of comfort. It quickly established itself as a top seller and set the tone for more innovation to come.
1972 marks the beginning of a new era for Stokke and one that will shape it's future and focus. This year, Stokke launched its first product for children - the ingenious Tripp Trapp® chair created by Norwegian designer Peter Opsvik. This iconic chair did something completely new; it gave children an ergonomic seat of their own, one that would grow with them. This made it possible for children to comfortably join their family at the table for connection and bonding. It's timeless design, quality and functionality have helped it to sell 10 million chairs worldwide. Tripp Trapp® remains as relevant and innovative today as it was over forty years ago.
Stokke launched Stokke® Sleepi™ as part of its expanding children's line. The oval crib was different than the standard rectangle crib that was the norm at the time. In addition to its soft curves and nest-like shape, Stokke® Sleepi™ offered unique adjustability that allowed it to change and grow, just like your child. Then, like today, it was smart and sustainable, made of European Beech wood for quality and durability. A celebration of design, Stokke® Sleepi™ showcases the simple elegance of Scandinavian design and remains a customer favourite.
Stokke revolutionized the stroller category with the launch of Stokke® Xplory® by introducing the concept of higher, parent-facing seating to the industry. The first stroller of its kind, Stokke® Xplory® was a true game changer. Having never seen anything like it before, people initially didn't know what to make of its shape, but in fact, it's iconic form followed its function. The unique height adjustability is designed to bring your baby close. Today, it is our signature stroller and is one of the few that is recognizable by silhouette alone.

Until 2006, Stokke was producing a furniture range consisting of adult seating and office furniture, with a focus on ergonomic solutions and comfort. In 2006 with the success of Tripp Trapp®, Stokke® Sleepi™, and Stokke® Xplory®, Stokke made the shift from being a furniture company to one that focused exclusively on premium design for children. This part of the company was established as separate companies and split from Stokke as we know it today. Stokke became a company focusing exclusively on children's furniture and equipment within the highchair, stroller and nursery categories.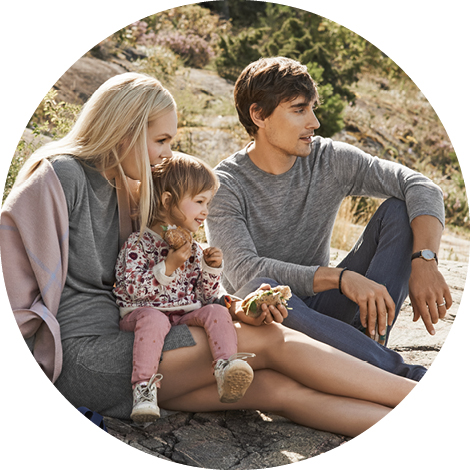 Today, Stokke occupies a unique position as an innovative Scandinavian company offering a complete collection of premium products for children that reflect Scandinavian design at its best. We have worldwide distribution in more than 80 countries and our focus continues on the development of beautifully functional, best in class children's products.
Everything that we do is rooted in our long history of quality. While we have changed and grown over the years, one thing remains the same; our designers never lose sight of what is most important – to nurture family bonding, transforming everyday experiences into precious moments you will cherish… forever.
1972 Tripp Trapp®

1999 Stokke® Sleepi™ bed

2001 Stokke® Care™ changing table

2003 Stokke® Xplory® stroller

2012 Stokke® MyCarrier™ baby carrier

2012 Stokke® Scoot™ stroller

2012 Stokke® Crusi™ stroller

2013 Stokke® Flexi Bath® baby bath

2014 Stokke® Steps™ seating line

2014 Stokke® Trailz™ stroller

2015 Stokke® Home™ nursery line
Learn more about our Design Philosophy Check out the latest news