First Class for Kids in ten Destinations
Stokke® and Peninsula Hotels joins forces
The days when you missed smart, comfortable and stylish Stokke products when away from home are over, as Stokke products are now available at The Peninsula Hotels around the world.
Discerning family travelers can now enjoy both the unique hospitality of The Peninsula Hotels and globetrotters' favorite Stokke products, as the five-star hospitality group introduces baby products from Stokke.
Our "First Class for Kids", Very Important Babies (VIB) program, gives you a stress-free baby care experience at your home away from home. With selected Stokke products provided at The Peninsula Hotels at ten destinations worldwide, you can focus on capturing those special vacation memories without taking your whole Stokke collection with you.
What a "First Class for Kids" stay at the Peninsula means:
A real home away from home is where you can totally focus on exploring the world with your very important babies, while your little one still feels as safe, calm and comfortable as they were at home. Therefore we equip family suites and rooms at The Peninsula Hotels across ten destinations with a thoughtful selection of Stokke´s signature products to make every moment away from home even more comfortable and memorable.
Arriving
We welcome you to a Peninsula destination with "First Class Pick-up Service" at the airport, where a Stokke® iZi Go™ by BeSafe® car seat awaits to give your VIB a safe ride to your suite. The pleasure of luxury transport doesn't just end here as Stokke® Xplory®, the ultimate connection stroller is at your service throughout your journey.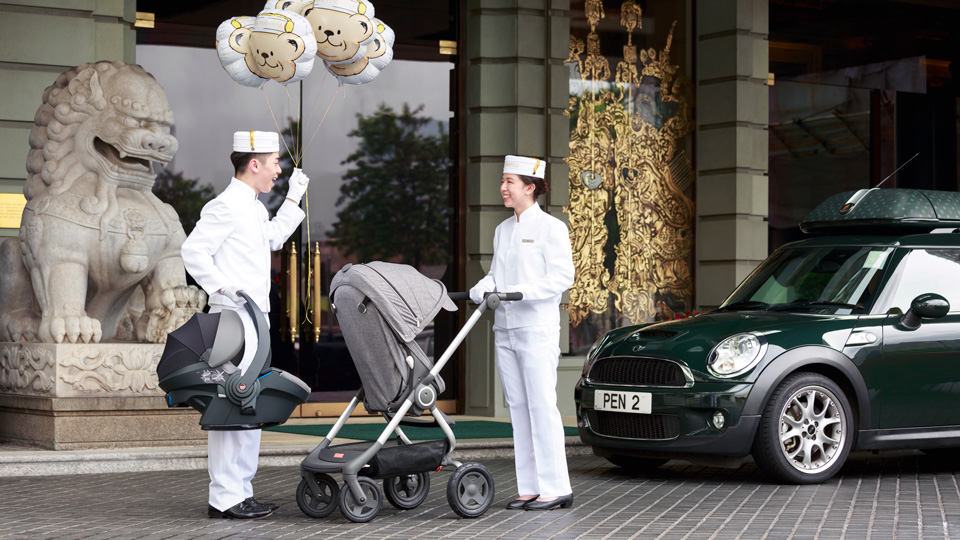 Accommodations
When you stay in a Peninsula suite, you will find a fully-functional nursery equipped with Stokke® Nursery furniture provides a cosy environment for your baby to relax, play and feel safe. Put your baby to sleep in Stokke® Sleepi™, our unique oval crib, giving them the rest they will need to charge up for days of adventures. Baby care couldn't be easier with the height-adjustable Stokke® Care™ changing table providing ample storage for your baby's essentials. Also provided are Stokke® Steps™ Bouncer with soothing motion; super convenient Stokke® Flexi Bath®; as well as Oeko-Tex® Standard 100-certified Stokke® Textiles to pamper your baby's tender skin.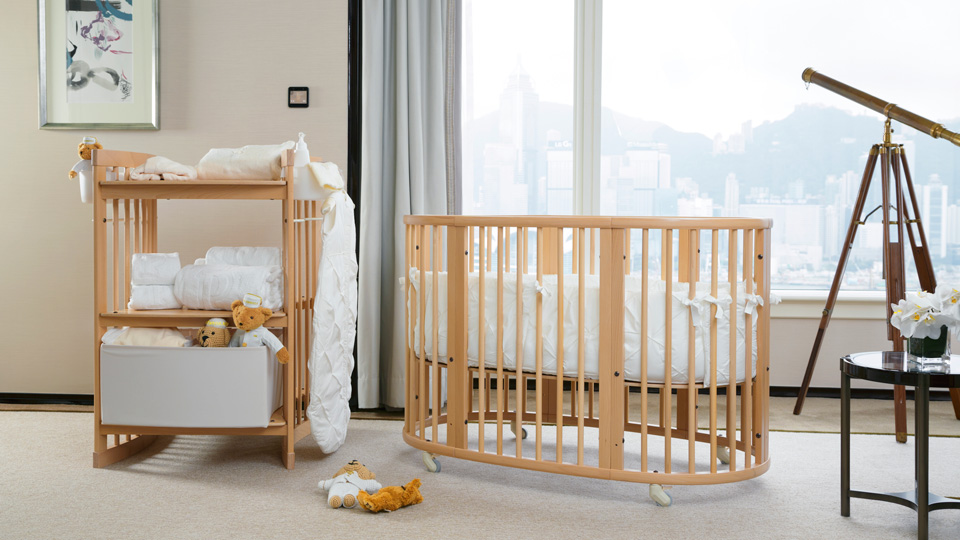 Sightseeing and dining
Stokke also enhances the exceptional travel and dining experiences, which The Peninsula Hotels are known for. The iconic Tripp Trapp® chair brings your baby close to your dining table as you savour culinary delights. Stokke® Scoot™, the smart urban stroller, and Stokke® MyCarrier™, the baby carrier with an adjustable fit for baby and parent comfort, ensure your family get around the city with ease, leaving you to focus on what's really important: each other and your memories together.