Ergonomics and advice for using Stokke® MyCarrier™
At Stokke our philosophy is to always do what is in the best interest of the child. We understand that it is important for parents to know that the products they use are safe and comfortable for their children. Stokke® MyCarrier™ was developed in collaboration with medical experts to ensure that your baby has proper ergonomics and support, making certain that they are being carried in the best possible way at all times.
Stokke® MyCarrier™ has been acknowledged by The International Hip Dysplasia Institute (IHDI) as a "hip-healthy" product. The IHDI recognizes that Stokke has developed products that consider the importance of healthy hip development during infancy. This is especially important during the early stages of hip development in the first few months after birth. The IHDI recognize specific products as "hip-healthy" to help educate the public. You can read more about what medical experts have to say about our baby carriers below.

Dr. Sebastian Müller
Senior Consultant, Head of Paediatric Orthopaedics and Foot Surgery at the University Hospital of Heidelberg.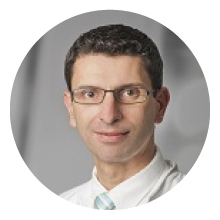 Dr. Müller mainly treats hip dysplasia and club foot which are the most common types of problems in his field. 
He has been working with children from newborn onward for 16 years as a surgeon and has been working in pediatrics since 2004. Each year the University Hospital of Heidelberg treats approximately 4000 children.
"If you are looking for a carrier with great comfort for both baby and parent which at the same time offers optimal ergonomics for the baby, 
Stokke® MyCarrier™ is a great choice."
Some people think that using a baby carrier can contribute to hip dysplasia. Is it your experience that it does?
"When you use the correct happy hip position it is my experience that it does not. Stokke® MyCarrier™ maintains a happy hip position that does not contribute to hip dysplasia. In fact, when having the baby in the inward facing position at the correct angle, it closely resembles the position recommended for the treatment of such a condition."
What advice, as a physician would you give to parents when choosing a baby carrier?
"Parents should consider safety and comfort. Be certain that the baby carrier has a safe happy hips position and make certain that they feel comfortable using the carrier themselves. Once you have selected a safe baby carrier, be certain that you know how to use it properly to support the baby correctly so that is comfortable for both parent and child."
Vibeke Smith Aulie
Child Pediatric Physiotherapist
Child Pediatric Physiotherapist Vibeke Smith Aulie is specialized in physiotherapy for children. She has 25 years of experience working with premature children and infants.
Stokke® MyCarrier™ was developed to ensure that your baby is carried in the best possible way. It provides good support for the back and neck. In addition, the design ensures optimal positioning for the hips with support under the thighs so that the hips assume a "human position".
The thighs are raised and bent at an angle of 80-100° (flexion) and turn outwards at an angle of 40-60° (abduction). Being carried in a flexed position, with the legs turn outwards at the hips (flexion/abduction) to ensure that the ball of the hip is correctly positioned in the hip socket, is really good for the development of the hip joint in infancy.
From birth, the baby is carried facing its parents so that there is good interaction between the parents and the baby. In this position, there is optimal support for the infant's back and hips. The head is also well supported in this position.
"Babies really enjoy the close contact they have with their parents when they are in the Stokke® MyCarrier™."
When the baby can hold its head unaided, it is then safe to turn the baby and have him/her sit facing outwards. In most babies, this occurs from four months+. The hips are better developed from 6 months, so that babies with normal hips can sit in a narrower position than the "human position". In this position, MyCarrier also provides good support under the buttocks, and the hips are still bent and turned outwards..
Some babies may have undiagnosed hip dysplasia (congenital dislocation of the hips). It is important therefore that when newborn are being carried in the harness that their hips are in the "human position". In cultures where mothers carry their babies on their hips and backs, there is a decreased incidence of hip dysplasia.
March 2016