Strong and robust construction
Large air filled rubber tires and advanced wheel suspension
Carry cot, pram seat and travel system ready
Large, waterproof shopping basket
Ventilated hood improves air quality and reduces risk of dampness
The Versatile All Terrain Stroller
Stokke® Trailz™, our amazing flexible comfort pram is built for actions and takes you wherever you want to go effortlessly with ease and comfort. Like all Stokke® Prams, the seat and carry cot position are placed high up to encourage eye contact and connection between parent and child. Superior steering makes it easy to push, while the advanced tire suspension ensures a smooth ride for your baby. Large air filled tires and a spacious waterproof shopping basket make Stokke® Trailz™ the perfect choice for active families who love the outdoors – no matter the season or terrain.
What's included
Stokke® Trailz™ Chassis (1)
Stokke® Stroller Seat Mosquito Net (2)
Stokke® Stroller Seat Rain Cover (3)
Stroller Seat (4)
Stokke® Stroller Canopy (5)
Stokke® Stroller Visor for Canopy (6)
Stroller Seat Baby Pad (7)
Stokke® Stroller Seat Footrest (8)
Stokke® Stroller Seat Handle (9)
Stokke® Stroller Harness Protector (10)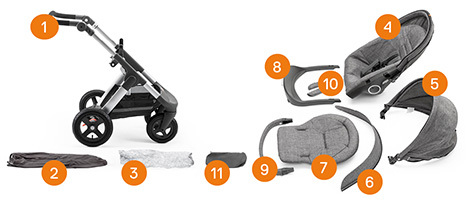 Technical Specifications / Measurements
Product info

Chassis weight in kg/lbs: 9.8/21.6
Seat weight in kg/lbs: 3.8/8.3
Chassis with seat dimension (length x height x width) in cm/in: 95.5x127x62/37.6x50x24.4
Folded chassis with seat dimension (length x height x width) in cm/in: 95x50x62
Carry cot weight in kg/lbs: 4.8/10.6
Chassis with carry cot dimension (length x height x width) in cm/in: 102.5x129x62
Folded chassis with carry cot dimension (length x height x width) in cm/in: 104.5x60x62
Seat suitable for weight in kg/lbs: 15/33lb
Carry cot suitable for weight in kg/lbs: 0-9/0-20
Maximum storage load in shopping basket in kg/lbs:: 10/22
Materials: Chassis: Aluminium and plastics. The upholstery is made of polyester and polyurethane, the transparent rain cover is made of phtalate free PVC. The mosquito net is made of polyester mesh and the shopping basket is made of PVC/polyester filament.
Features
Always ready for an adventure

Strong and robust construction
Large air filled rubber tyres and advanced tyre suspension secures a smooth ride for your little one
Can be used with carry cot, stroller seat and car seats
3 parent facing positions: sleep, rest and active, and 2 forward facing positions: rest and active
Lockable swivel front wheels and the adjustable, ergonomic handle ensures superior manoeuvrability
Large, waterproof shoppping basket prevents content from getting wet and dirty
Easy and compact folding
Comfort

High carry cot and stroller seat position brings the baby closer to mum and dad
Spacious carry cot with soft interior lining provides a comfortable environment for the baby
Soft, padded seat with an extra cushion that reduces the seat depth to fit the smallest babies
Adjustable ergonomic foot rest on the seat eliminates dangling feet
Ventilation in hood improves the air quality and reduces the risk of moisture inside the carry cot and stroller seat
Ergonomic height and angle adjustable handle provides a wide range of positions
Travel System

Stokke offers two car seats that can be used with Stokke strollers without the use of adaptors: Stokke® iZi Go™ X1 by BeSafe® and the Stokke® iZi Sleep™ X3 by BeSafe™
Stokke® offers Car Seat Adaptors making it possible to use selected models of car seats made by other manufacturers
What's included:

Stokke® Trailz™ chassis
Stokke® Stroller Seat
User Guides
Assembly instructions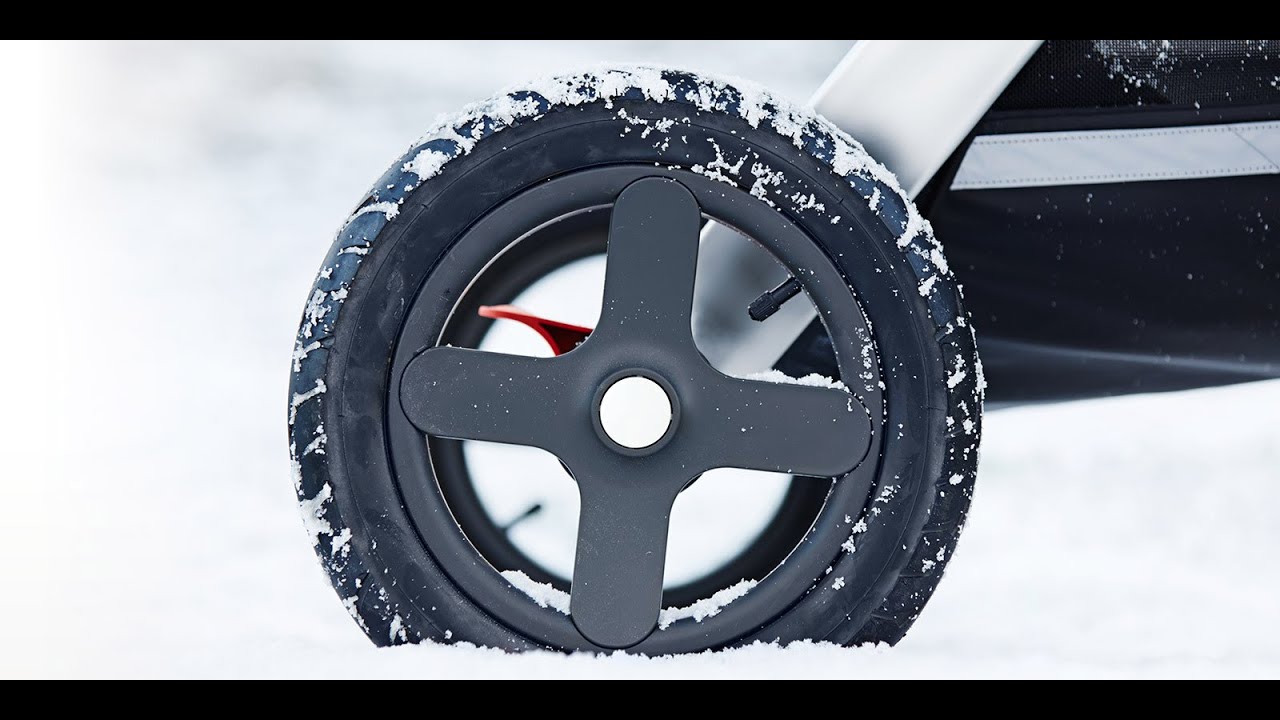 Maintenance

Textiles


Must be washed separately!
When washing the baby insert, remove the inside cushion before washing.
Canopy and visor can only be hand washed separately. Unzip the visor and remove the front rib from the canopy before washing.
Seat lining, back cover and harness protectors can be machine washed at 40°C/ 104°F.
Seat rail padding can be washed at 30°C/ 86°F.
Shopping bag and diaper bag can only be wiped with a clean damp cloth. Be sure to remove excess water.
See the user guide for further instructions.


Hard parts


The stroller should be cleaned using a mild mixture of water with soap. Make sure that any sand/mud/grit is removed prior to cleaning.
All technical solutions are hidden in the chassis making it easy to clean and maintain.
If any function of the stroller is not working properly, contact your nearest Stokke® retailer.
Downloads