Stokke® Beat™ Carry Cot
A small cocoon of calm and comfort
Bonus Product
https://www.stokke.com/EUR/en-lv/542502.html
Lightweight, with hidden handles and a small footprint for easy carrying
Easy to attach and detach from stroller
Cozy padding for extra infant protection and comfort
Ventilation for optimal airflow
Breathable mattress made of high quality Sorona® fibers
overview
How to use
Spare Parts
Product Details
A small cocoon of calm and comfort
The Stokke® Beat™ Carry Cot is compact for easy transport, yet spacious enough for your newborn to enjoy a soft, smooth ride. Protective and practical, it gives your baby a comfortable place to rest and sleep during all of your city adventures. Similar to Stokke® Beat™ stroller, it has a small footprint taking up very little room in tight urban spaces like cafés and restaurants. It's petite proportions make it a natural fit for small cars and ideal for travel. It can be collapsed and packed away, using little space. It is easy to unfold and quickly ready to use again.
A soft bassinet with removable cover
Superior air ventilation in the base and a breathable mattress made of Sorona® fibers
Extra padding around the baby's head
Hidden handles, making it easy to carry once it has been detached from the chassis
Space saving functionality allows it to be packed flat when needed and easily put up again when ready for use
Carry cot uses Canopy from Stokke® Beat™ stroller
Specifications
Product Size (cm/in): 73 x 44 x 22 / 28.7 x 17.3 x 8.7 Weight (kg/lbs): 3.5 / 7.7 Suitable for age: from 0 (months) Extended Warranty: 3 (years)
What's included
this item is included

Carry Cot base with textile (1)

this item is included

Mattress (2)

this item is included

Wind cover (3)

this item is not included

Mosquito net (4)

this item is not included

Stokke® Beat™ Canopy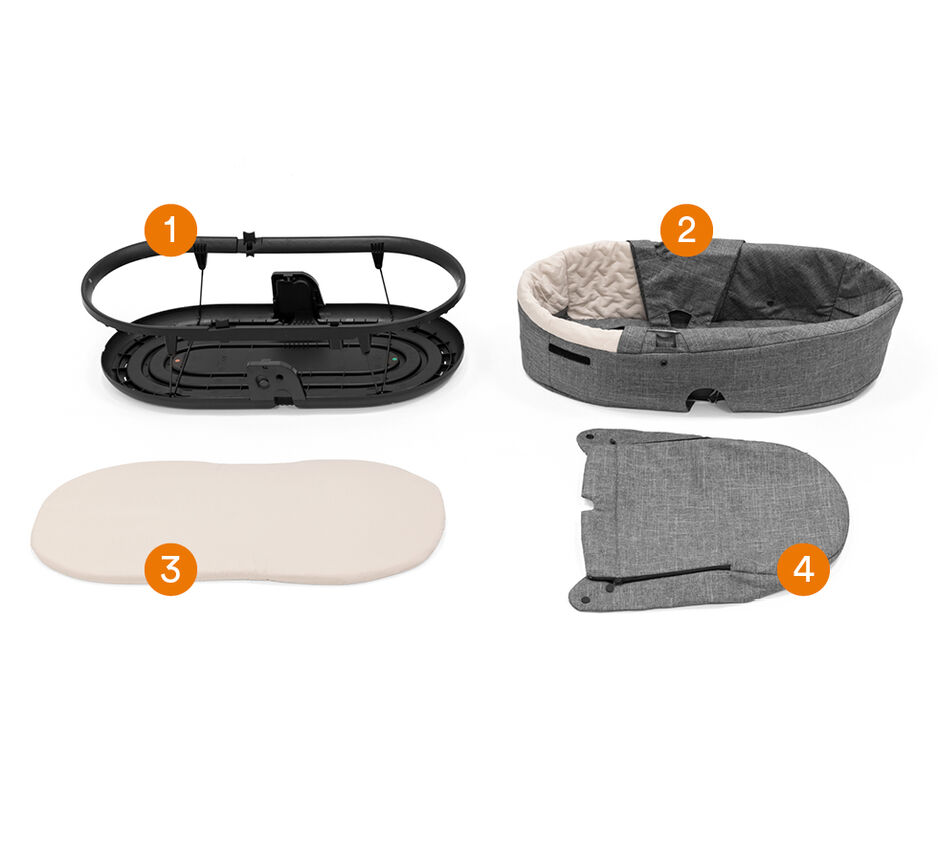 Stokke® Beat™ Carry Cot in social
How to use / Documents
Maintenance
Hard parts
The stroller should be cleaned using a mild mixture of water with soap. Make sure that any sand/mud/grit is removed prior to cleaning.
All technical solutions are hidden in the chassis making it easy to clean and maintain.
If any function of the stroller is not working properly, please contact your nearest Stokke® retailer.
Textiles
Must be washed separately!
Canopy can only be hand washed separately. Remove the front rib from the canopy before washing.
Seat textiles and harness protectors can be machine washed at 40°C/ 104°F.
Seat rail padding can only be wiped with a clean damp cloth. Be sure to remove excess water.
Shopping basket can be taken off and hand-washed.
See the user guide for further instructions.
Bonus Products
Bonus Products