Family time around the table, where everyday moments become priceless memories
Childhood is filled with surprising everyday moments. For parents and children alike, it is truly those magical, unexpected moments that we remember best. They happen so fast that we could easily miss them if we blinked. Time spent together, eating, laughing and sharing our day all takes place around the family table where everyday moments become priceless memories.
Share your #tripptrappmoments
See more
Tripp Trapp® is designed for your life around the table, bringing your baby into the heart of your family to learn and develop alongside you. The intelligent, adjustable design allows freedom of movement with both depth- and height adjustable seat- and footplates. When adjusted correctly, your child is ensured a comfortable and ergonomic seating position at any age. Every day, you and your child can sit right next to each other and maybe capture a special moment together.

Tripp Trapp® has born witness to everyday moments since 1972.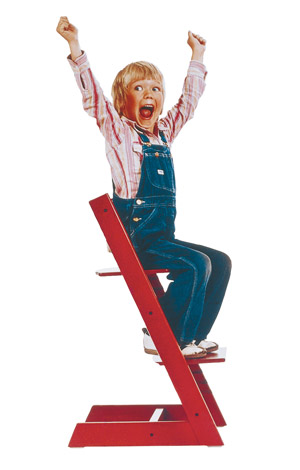 The Tripp Trapp® designer's inspiration came from watching his own son Tor – having grown out of his traditional highchair, but still far too small for an adult's chair.


Design by Peter Opsvik.
The chair that grows with the child.™
From birth.
Share your #tripptrappmoments