What's in a bag? Everything if you're out with your baby.
Stokke introduces a brand new changing bag for our premium line of strollers. Designed especially so that you can stroll in style and ease while exploring the world together, our designers have put a lot thought into it.
A changing bag for your new life together.
A good product meets all of your expectations, a great product exceeds them. Our new changing bag was made to do just this by offering an ingenious twist! As well as being able to be attached to Stokke strollers and used over your shoulder it has the added feature of being able to be used as a backpack. Large, versatile and with carefully placed pockets, it has everything you need to organize and quickly access those much needed baby essentials.
What went into the bag?
Have you ever wondered why your favourite products look the way they do? We thought you might and asked our Product Designer, Lilliann Voll, what makes this changing bag special and what inspired it's design.
Taking inspiration from her love of vintage bags and experience in designing outwear, Lilliann explained that the new changing bag, though made to compliment the designs of Stokke strollers was actually a product that was designed for the primary user, the parent. She wanted to give parents the perfect bag for all situations and that would work equally well for mothers and fathers alike.
Two-way carrying?
Functionality was at the top of the list. "My favourite feature is the dual functionality as both a shoulder bag and a backpack. When you are out with your baby, it is practical to have your hands free." The changing bag is designed to be comfortable to wear. "It rests gently against your body when used on your shoulder, and the changing pad was made to be stored in the panel closest to your body as padding, making it extra comfortable to carry".
Most importantly, Lilliann wanted to make a changing bag that she wished she would have had when she was a busy mother with two young children. After testing it ourselves, we know she succeeded.
We hope you enjoy the changing bag as much as we enjoyed making it for you!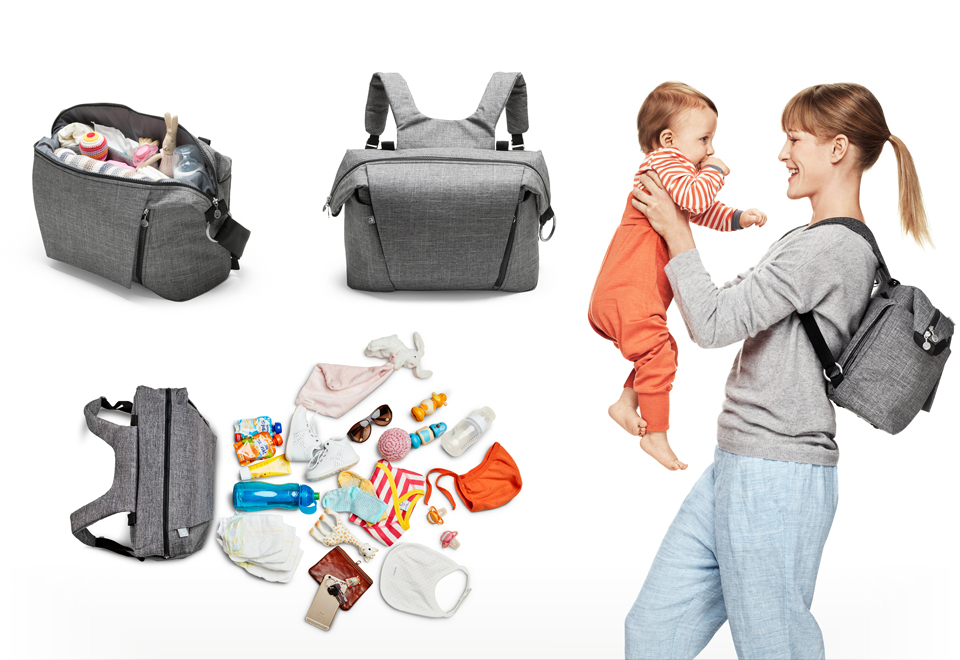 What's in the bag?

The flap on top adjusts to the size of the bag with two closing positions
Side pockets with elastic bands provide room for bottles
Right front pocket lining is water-repellent and easy to wipe clean
Hidden front pocket with zipper to securely store parent essentials such as mobile phone, credit cards, keys etc.
Adjustable shoulder strap
Open/ close rings helps you to transform the bag, and can be fastened different places to alter the usage and attachment points of the bag

Backpack:

Backpack straps are hidden when not in use
Buckles on straps regulate the length to fit small or large users.
Changing Pad is placed in back pocket for extra padding to carry in comfort.

Inside the Backpack

A small extra Changing purse can be buttoned inside the bag as an extra pocket and has space for changing pad, diapers etc. It can easily be brought to the changing room.
One large pocket and two medium pockets for wipes, diapers, extra clothes, toys.
For product availability, please search your country specific Stokke.com site or contact your local retailer.