Stokke® MyCarrier™ Front & Back Carrier
Superior ergonomics and adjustability for ultimate comfort
Bonus Product
https://www.stokke.com/FIN/en-fi/431606.html
Fully adjustable for ultimate comfort
Ergonomic design with inward facing, outward facing and back carrying options
Acknowledged as a hip-healthy baby carrier by the International Hip Dysplasia Institute and medical experts
Safe and functional materials: cotton and breathable mesh
Oeko-Tex® Standard 100 approved
For low birthweight babies and children with medical conditions, seek advice from a health professional before using the product.
Standard Price

159,00 €
Sale Price

111,00 €

,
(tax included)
overview
Specifications
Accessories
How to use
Spare Parts
(tax included)
Standard Price

159,00 €
Sale Price

111,00 €

,
Product Details
Superior ergonomics and adjustability for ultimate comfort
Take the long way home! The Stokke® MyCarrier™ has been carefully designed and ergonomically developed to give a tailor-made fit to mums and dads of all sizes as well as your growing baby. Completely adjustable for correct weight distribution, along with softly padded cotton fabric, makes carrying comfortable for parent and child alike. With intuitive adjustments, you'll be on your way in no time. Stokke® MyCarrier™ has been created so that your baby is correctly seated in all positions to ensure healthy development. For parent facing and back carrying, the baby sits in a broad position, while when outward facing, the baby is properly supported. No matter the movement, your child is safe and comfortable. In the back carrying position, your curious toddler will enjoy a panoramic view of the world. The child is seated high up on your back, and can easily see and explore. All components of Stokke® MyCarrier™ are tested and approved in accordance with Oeko-Tex® Standard 100, Class 1 for baby products.
Grows with the child
Can be used from 4 weeks and up to 3 years with 2-way front and back carrying
Front carrier for carrying baby from 4 weeks (approved for use from 3.5kg and 53cm)
Back carrier for carrying a child who can sit unaided. From 9 months. The seat can be adjusted when the child is approximately 18 months to ensure a better view for the child
Ergonomic and tailor-made design
In the parent facing position the child has optimal ergonomics. The carrier offers a broad seating position with good support for the back, buttocks and thighs
Adjustability ensures optimal support for your baby and a perfect fit for the parent
Tailor-made, optimised separate parent harness, front carrier part and back carrier part (3 parts in total) for optimal ergonomics in different carrying positions.
The back carrier gives the child the highest seating position for the ultimate, panoramic view of the world
The soft, stable head support which also gives your baby a good side view
Ergonomically designed waist belt, back support and shoulder straps for parent
Textiles and safety
All components of Stokke® MyCarrier™ are tested and approved in accordance with Oeko-Tex® Standard 100, Class 1 for baby products
MyCarrier complies with European and US safety standards for baby carriers. For more information, please see compliance declaration below user guides section
Leg safety straps to ensure that the child whenever seated in the carrier
All adjustments are within reach of the parent. Placing the child in the baby carrier is safe and easy in all positions
Specifications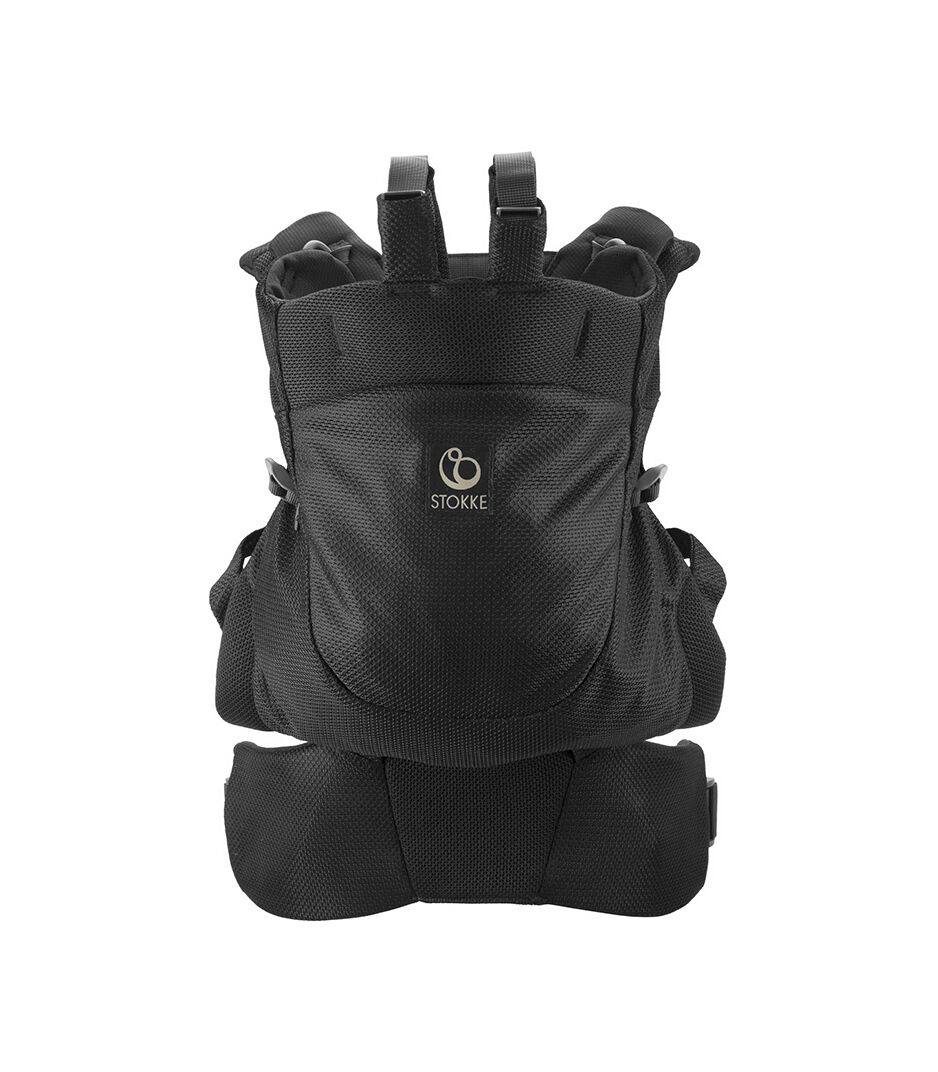 Weight (kg/lbs): 1.41 / 3.1 Suitable for age: from 1 (months) Suitable for Weight (kg/lbs): up to 15 / 33 Extended Warranty: 3 (years) Design: Synnøve Stave, Tore Mortvedt
What's included
this item is included

Parent harness with integrated hip belt

this item is included

Front carrier

this item is included

Back carrier (for Front and Back Carrier configuration only)
Stokke® MyCarrier™ Front & Back Carrier in social
How to use / Documents
Maintenance
You have chosen a natural product made of organic cotton. The colouring process is also environmental friendly. When washing the colour will fade, similar to a jeans. Stains can be removed with a damp cloth. Remove carabiners before washing. Use detergent without bleach. Gently spin-dry. Stretch when wet to keep original shape. Dry flat at room temperature, away from sunlight or direct heat. DO NOT tumble dry or iron.

Front and Back Carrier:
Front and back carrier can be machine washed at 40°C.
Main Harness:
The main harness can be handwashed at 30°C. Remove the aluminium back support before washing.
Bonus Products
Bonus Products