Ta med din nyfödda bebis för att utforska världen på ett säkert sätt från Stokke® Stroller Carry Cot . Dess lyxiga mjuka insida och hårda skal är speciellt utformad för att hålla din bebis varm, bekväm och säker på era äventyr i staden eller vid besök till mormor. Den extremt stabila och lätthanterade, Stokke® Stroller Carry Cot passar perfekt till Stokke® Crusi ™ och Stokke® Traliz ™ Chassi. Lämplig från födseln till 9kg.
kr 2.799,00 - kr 2.999,00
null
Detta ingår
Skal med textil för liggdel (1)
Överdrag för liggdel (2)
Madrass för liggdel (3)
Sufflett för liggdel (4)
Visir för sufflett för liggdel (5)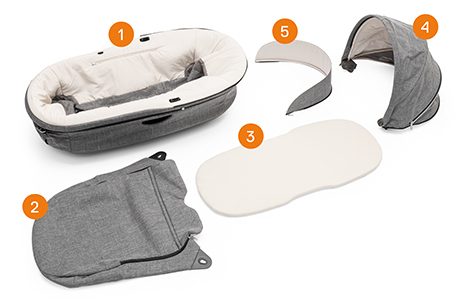 Tekniska specifikationer/mått
Produktinfo

Liggdel vikt i kilo: 4,8/10,6
Liggdel lämplig för vikt i kilo: 0-9/0-20
Material: Chassis: Made of aluminium and various plastic and composite materials. Textiles: Made of polyester. Transparent rain cover is made of phtalate free PVC. The mosquito net is made of polyester mesh.
Funktioner
Features:

Cozy interior lining keeps baby nestled in comfort.
Removable visor offers extra protection from wind and light.
Optional opening for ventilation through 30% of the hood keeps baby cool on warm days.
Carry handles fasten to the sturdy plastic for safe carrying.
Design:

Sturdy shell with foam-lined cover keeps baby safe and cozy.
Air ventilated base means decreased risk of moisture at the bottom of Carry Cot.
Firm yet cozy interior supports baby from head to toe.
Safety:

Removable for temperature regulation of the baby's environment and allows easy access to the baby.