Stokke® Stroller Winter Kit
Stokke Stroller Winter Kit is designed as the perfect outerwear for your stroller. The insulated fabric together with the additional storm cover safeguards your child from harsh winter winds. Features genuine sheepskin rims. Your child will feel snug and stay protected from low temperatures and biting wind while enjoying the wonders of winter.
Hot Style for Cold Weather!
What's included
Seat Rear Textile Cover (1)
Storm Cover (2)
Canopy (3)
Canopy Shipskin rim (4)
Hand Muff (5)
Stokke® Sheepskin Brush (6)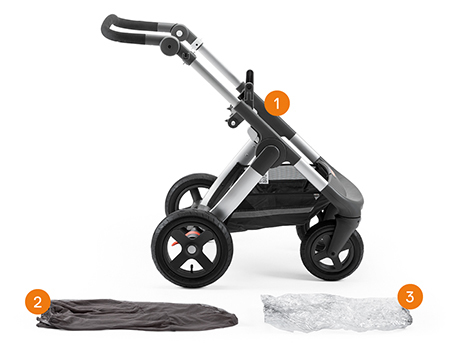 Features
Whats Included:

Hood with detachable sheepskin rim
Rear textile cover
Storm cover
Hand muff with sheepskin rim*
Sheepskin brush
Fits Stokke Stroller Seat and Stokke Xplory Carry Cot
*Hand muff fits the handle of Stokke Xplory, Stokke Crusi and Stokke TrailZ.*
*Stokke Trailz is available in selected markets.