Stokke® Steps™ Bouncer
The bouncer with soft cradling motion
Bonus Product
https://www.stokke.com/USA/en-us/483204.html
Part of the Stokke® Steps™ high chair seating system
Newborn insert gives support and comfort from birth
Multiple seating positions to adjust to your baby's weight
The bouncer folds flat for easy storage and travel
Can be used alone or easily clips onto the Stokke® Steps™ chair
overview
How to use
Spare Parts
Product Details
The bouncer with soft cradling motion
Stokke® is proud to announce that our High Chairs and Bouncers are certified by JPMA and meet or exceed all ASTM safety standards. The softly cushioned bouncer has a unique cradling movement that mimics the feeling of being cradled in mothers arms. Developed together with a Paediatric Physiotherapist, our Newborn Insert ensures that your newborn baby will be properly supported when placed in the bouncer. The detachable toy hanger keeps your little one´s favorite toy close at hand.
Features
Multiple seating positions to accommodate the child`s weight and sitting position.
Enables the child to bounce independently.
Can be used on the floor or mounted on to the Stokke® Steps™ Chair.
Sturdy base to avoid sliding.
Folds flat for easy storage and transport.
Specifications
Product Size (cm/in): 80 x 67 x 53 / 31.5 x 26.4 x 20.9 Weight (kg/lbs): 3.74 / 8.2 Suitable for age: from 0 ~ to 6 (months) Suitable for Weight (kg/lbs): up to 9 / 19.8 Extended Warranty: 3 (years)
What's included
this item is included

Bouncer (1)

this item is included

Bouncer Baby Insert (2)

this item is included

Bouncer Toy Hanger (3)

this item is included

Bouncer Shoulder Pads (4)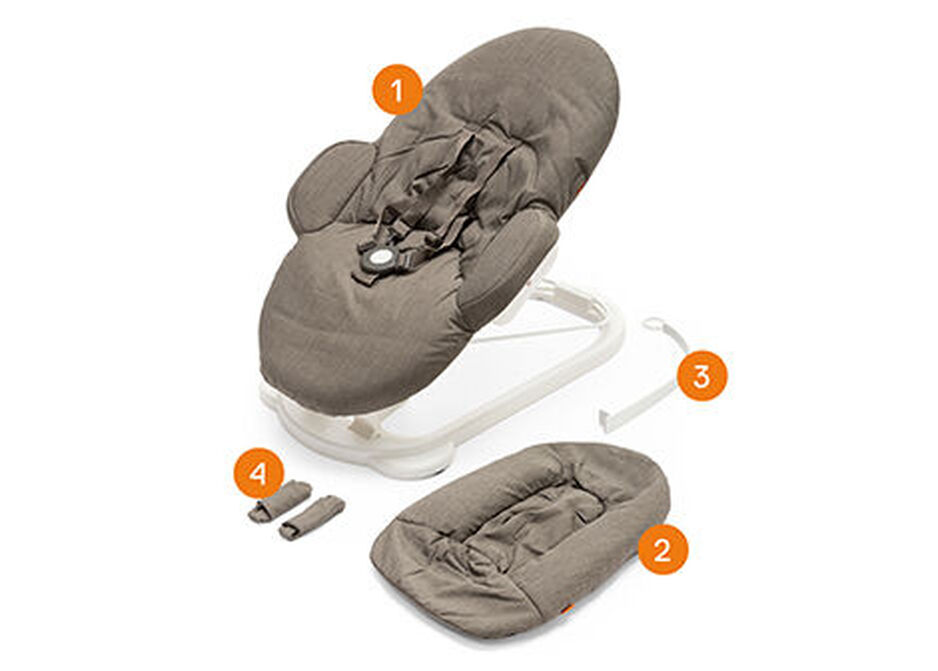 Stokke® Steps™ Bouncer in social
How to use / Documents
Maintenance
Plastic parts
Wipe clean with damp cloth.
Textile cover
Machine washable 40°/Warm.
Downloads
Bonus Products
Bonus Products