The 5-in-1 Seating system
Bonus Product
https://www.stokke.com/USA/en-us/560400.html
For use from 6 months to 3 years
Comfortable baby set and optional tray for easy feeding
Adjustable back- and footrest give optimal ergonomics
5-point machine-washable safety harness
Certified by JPMA and meets or exceeds all ASTM safety standards
Standard Price

$309.00
Sale Price

$247.20

,
overview
Specifications
Accessories
Reviews
How to use
Spare Parts
Standard Price

$309.00
Sale Price

$247.20

,
Product Details
The 5-in-1 Seating system
Stokke® Steps™ is a 5-in-1 Seating System designed to accommodate your child's needs every step of the way. This simple to use concept offers a wide range of ergonomic seating; from the comfortable bouncer with unique cradling motion, to the functional high-chair and later, the modern Scandinavian design chair that can be used throughout childhood.
Features
Optional accessories transform the Stokke® Steps™ Chair into a seating solution that can be used from birth with the Bouncer, bringing your newborn to the table and with the Stokke® Steps™ Baby Set to create the highchair.
Comfort & Design
Contemporary Scandinavian design that will never go out of style.
Adjustable footrest to support your childs feet for optimal ergonomics and comfort.
Solid construction with a 187lb weight capacity.
Array of color and wood choices that match any décor.
Safety
5 point safety harness so your child is secure.
No harmful substances/free from phthalates.
JPMA certified. Tested & trusted
Intertek GS certified
3 year manufacturer's warranty.
Convenience
Simple to clean spills with dampened cloth.
The back- and footrest can be easily adjusted - tool-free.
Clip on bouncer as infant solution.
Specifications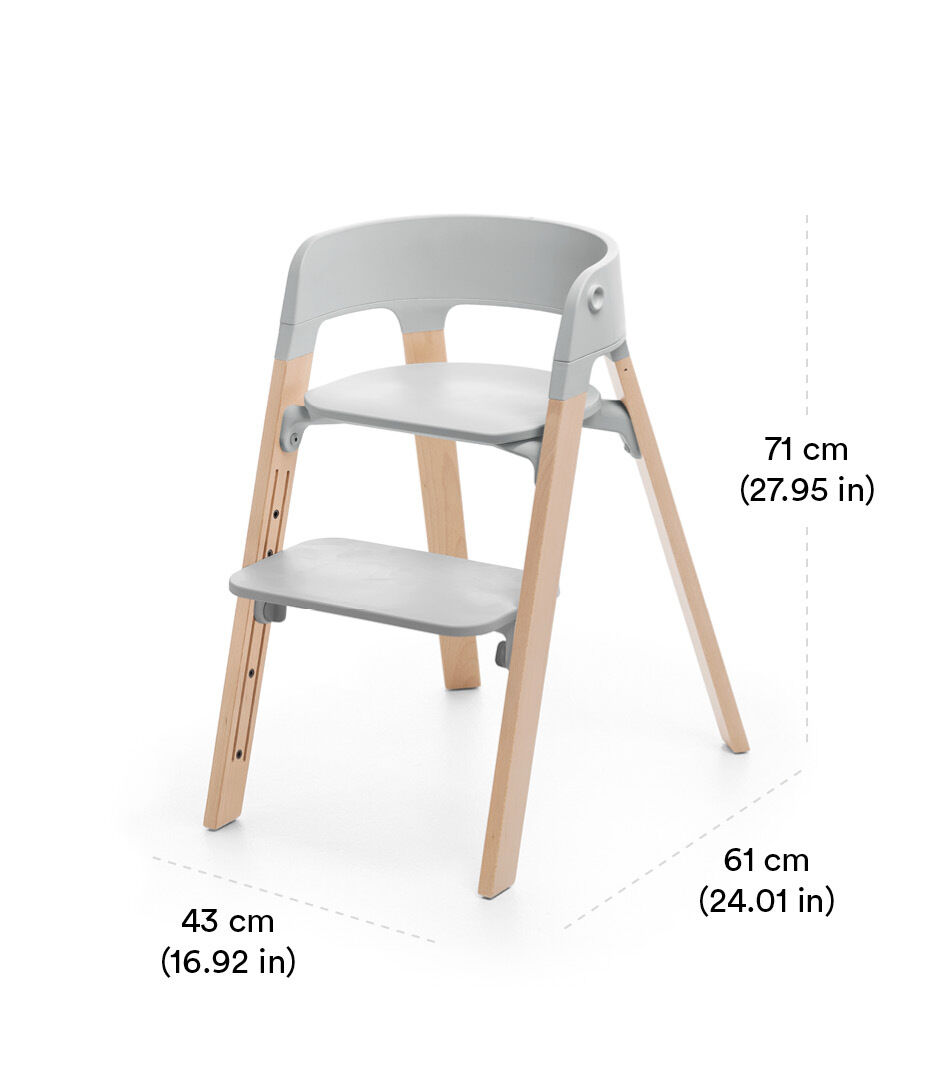 Product Size (cm/in): 56 x 53 x 52 / 22 x 20.9 x 20.5 Suitable for age: from 3 ~ to 36 (months)
What's included
this item is included

Stokke® Steps™ Chair

this item is included

Stokke® Steps™ Baby set with 5-point harness
How to use / Documents
Maintenance
Wood
Wipe clean with damp cloth.
Immediately remove any excess water with dry cloth. Remaining moisture can crack the surface.
Colours may change if exposed to the sun.
Plastic parts
Wipe clean with damp cloth.
Plastic
Wipe clean with damp cloth (no dishwasher).
Bonus Products
Bonus Products