The Chair That Grows With The Child™
Bonus Product
https://www.stokke.com/USA/en-us/578300.html
Convenient all in one high chair plus accessories package that suits the needs of your child from 6 months to 3 years
Preset color combinations that are both on trend and functional
Brings your baby to the dining table and closer to the family
Highly adjusted seat and footplate positions
Available in a variety of colors and in your choice of Beech or Oak wood finishes
overview
Details
Specifications
Accessories
More Infos
Reviews
How to use
Spare Parts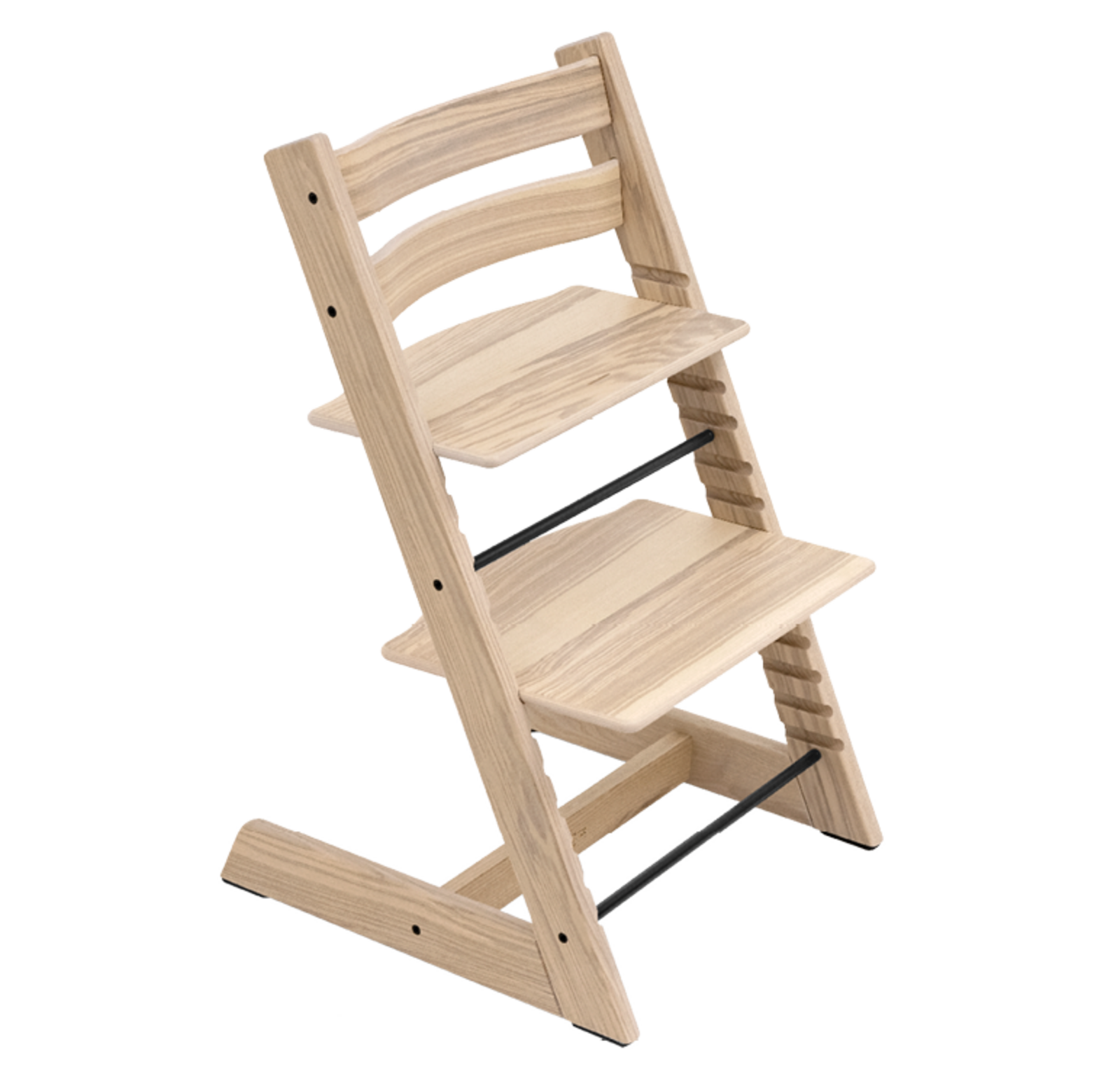 Tripp Trapp® Ash Limited Edition
Quality artisanship lies in precision and detailing. In this spirit, Stokke has put a great deal of extra thought into our Ash Limited Edition chairs to make something memorable. Chosen for its high quality and rich look, the densely veined wood of the ash tree reveals multi-dimensional rings in both pale and deep tones.

Get yours!
Product Details
The Chair That Grows With The Child™
The Tripp Trapp® chair is designed to fit right into your table, bringing your baby into the heart of your family. However, for certain occasions a tray that fits on the chair with Tripp Trapp® Baby Set can be a valuable accessory. Tripp Trapp® is an ingenious chair designed by Peter Opsvik that revolutionized the children's chair category in 1972, when the Tripp Trapp® was first launched. Tripp Trapp® fits right up to your dining table, bringing your baby into the heart of your family, allowing him or her to learn and develop alongside you. The intelligent, adjustable design allows freedom of movement with both depth and height adjustable seat and footplates. When adjusted correctly, your child is ensured a comfortable and ergonomic seating position at any age. ​ ​ ​Stokke® is pleased that our High Chairs are certified by JPMA and meet or exceed all ASTM safety standards. Tripp Trapp® chairs are produced in the European Union. All wood and wood based parts are required to meet E.U. Timber Regulations and in so doing, support a responsible forestry and wood industry.
Features:
Convenient all in one high chair plus accessories package that provides everything your child needs from 6 months to 3 years
Your child can comfortably sit at the dining table and enjoy mealtimes with the rest of family.
Easy to clean
Comfort & Design
Classic, iconic design that will never go out of style.
Unique adjustability of seat and footplate to ensure both back and feet support for any age.
Stable footrest that supports your child and provides comfort.
Solid construction and European beech wood can hold up to a 242 lb adult.
Safety
5- point harness provided with babyset
Extended 7-year warranty available on wooden components.
Water-based, non-toxic paint.
No harmful substances/free from bisphenol and phthalates.
Iconic design that lasts a lifetime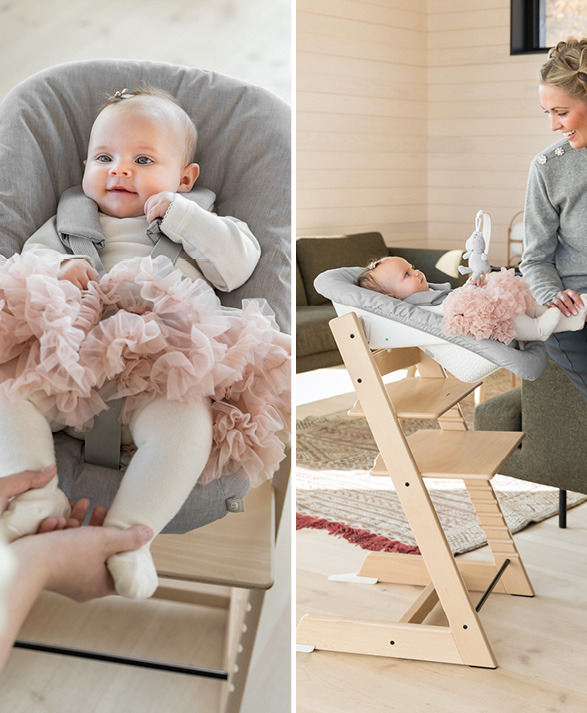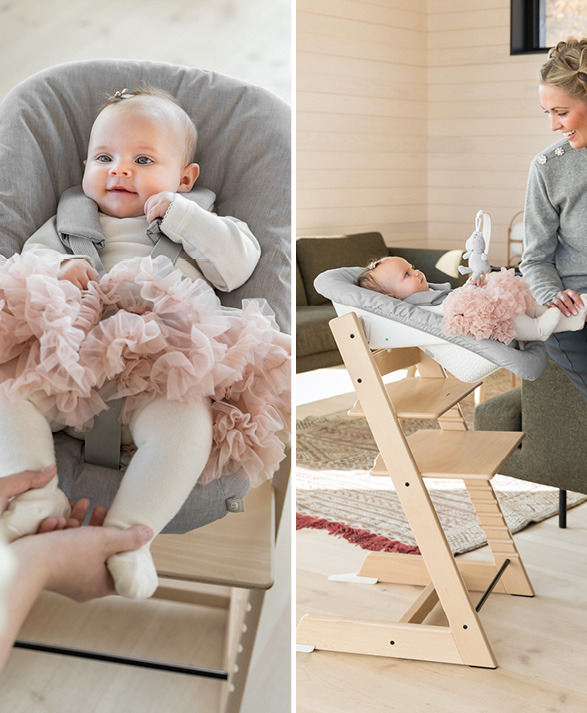 From birth
The Newborn Set lifts your baby to table height to join you at the family table from day one. With 2 angle adjustable positions and excellent leg support, your newborn is assured a cozy environment. Safe & simple to use, it can be easily be attached and removed from the Tripp Trapp® chair. Red-green indicators reassure you it is mounted correctly and includes a 5-point harness with protective shoulder pads. Newborn to 9 kg.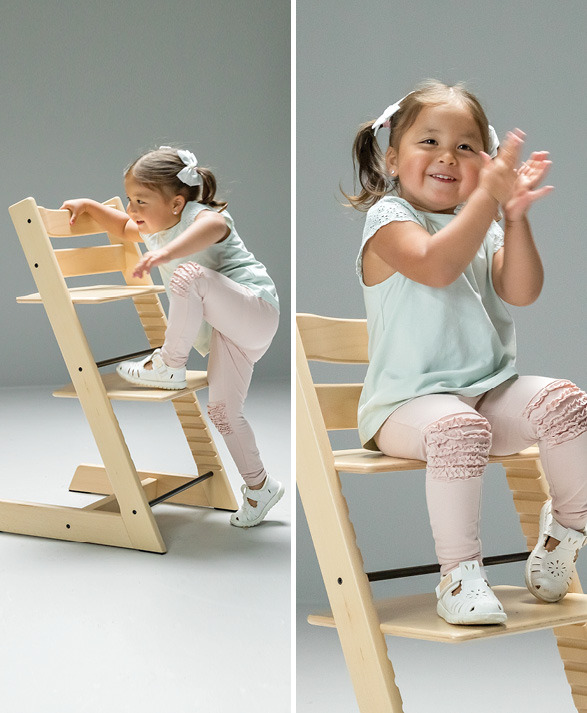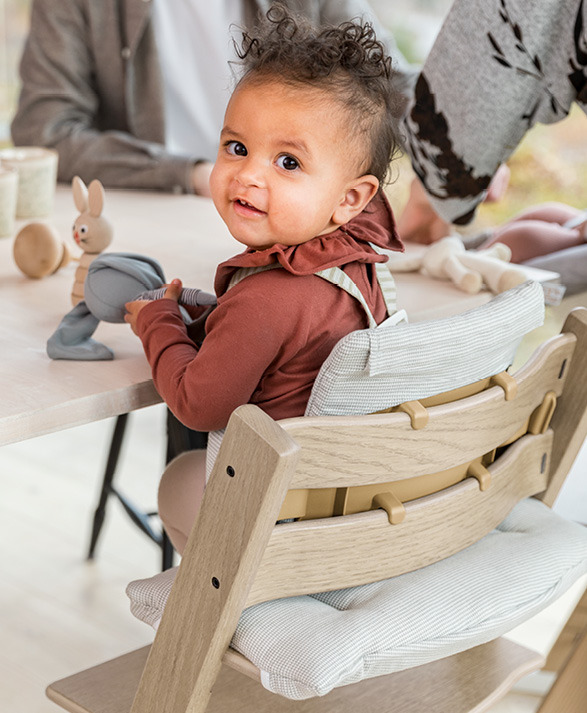 Brings your child to the table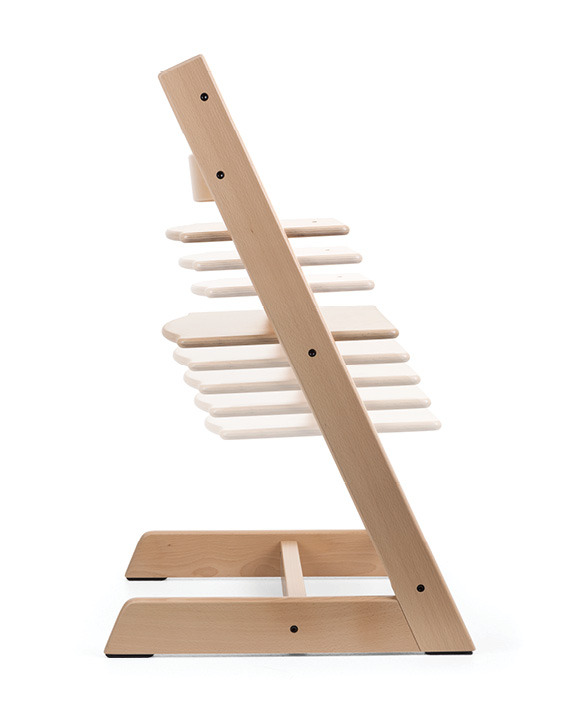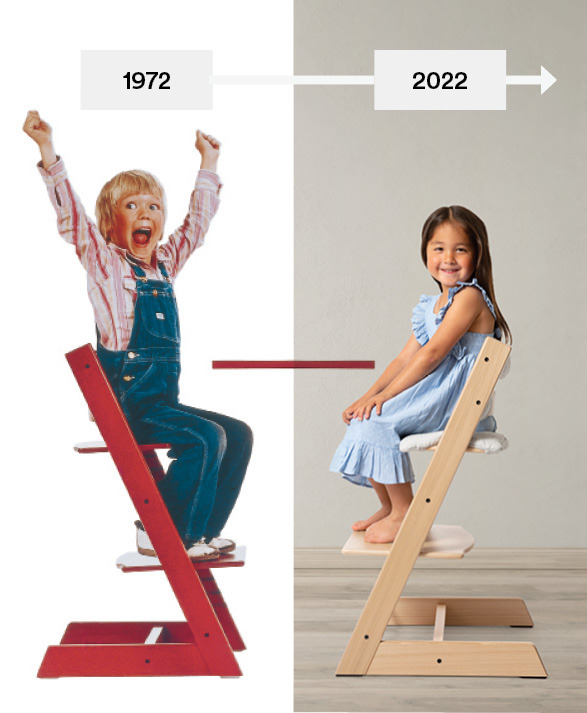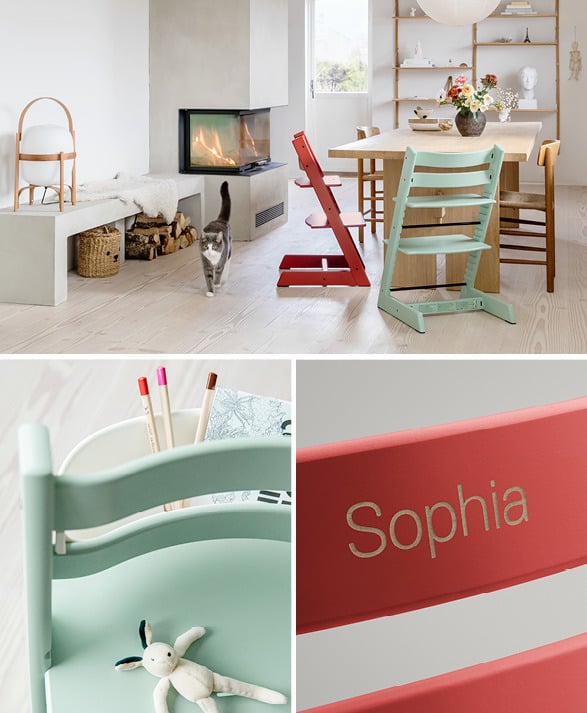 The chair that grows with the child®
1
Newborn Set - Use from birth
The natural place for your newborn, the Newborn Set is designed to give your baby the interaction they love from birth. Cozy, comfortable and ergonomic, it lifts your newborn up your height at the table. This enables eye contact and a great opportunity to spend quality time with the family.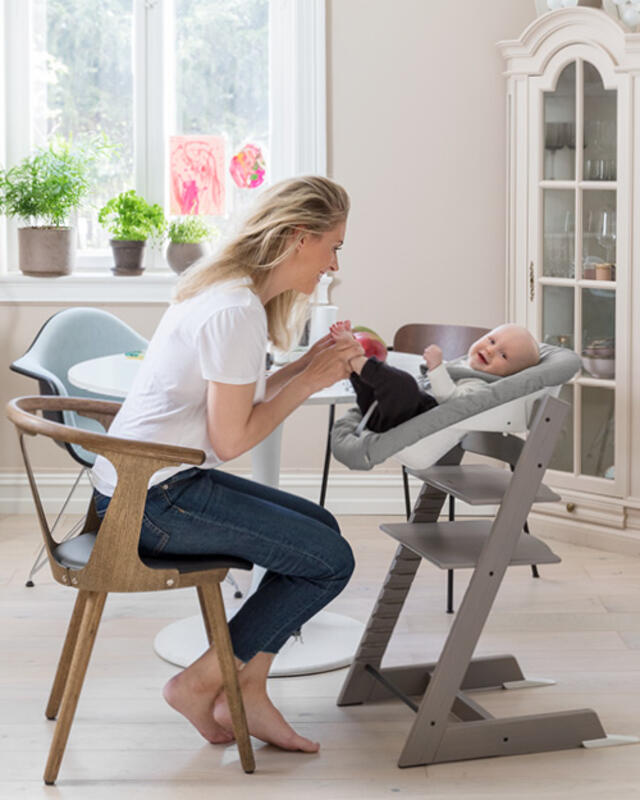 2
Baby Set - from 6 months as a high chair
At around six to nine months, your child will be able to begin sitting upright unaided. The Tripp Trapp® Baby Set gently supports your baby to comfortably sit at the table. When your child is a toddler & can confidently climb in and out of their chair on their own, you can remove the Baby Set.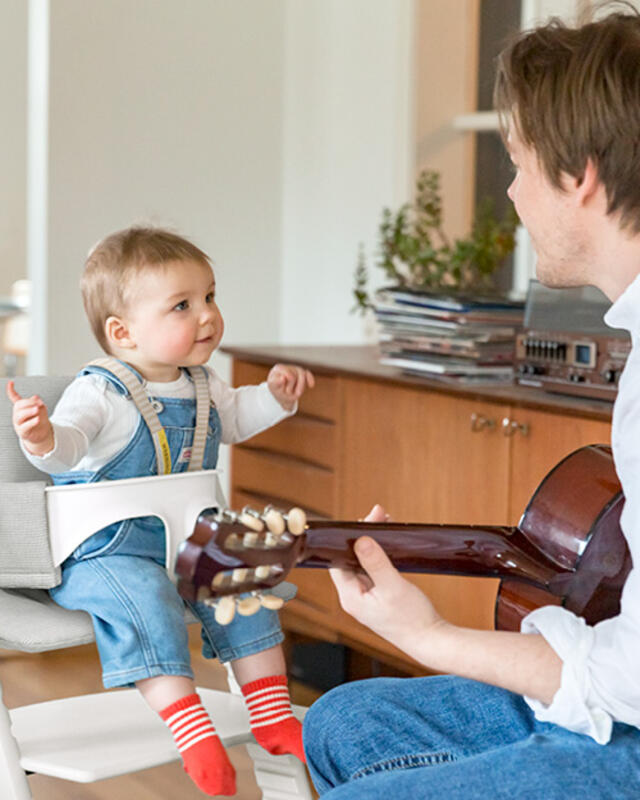 3
Chair - Use from child to adult
What's special about a chair that grows with you? It stays with you. Made from high quality European beech wood, the iconic Tripp Trapp® chair is strong, stylish and durable. Fully adjustable, it provides a comfortable seat that can be used as a high chair for young children, a chair for older children, from the teen years well into adulthood.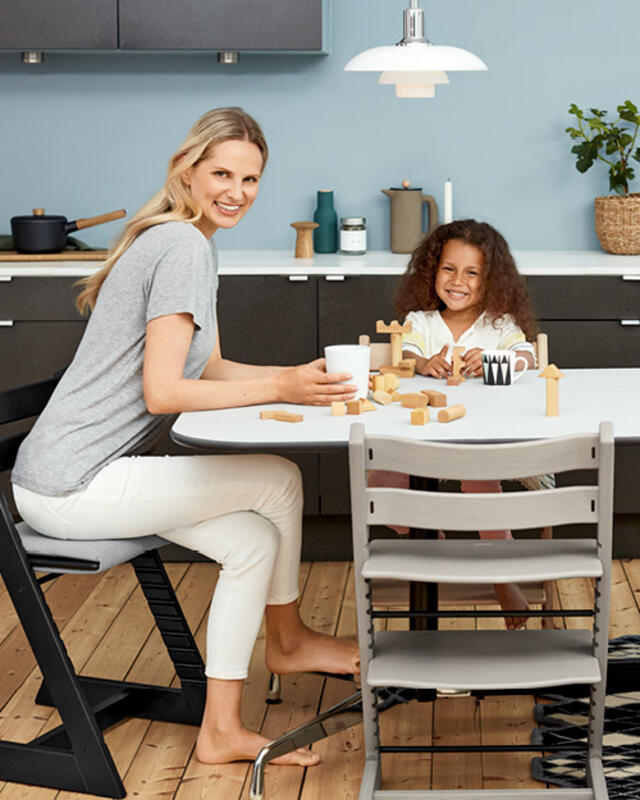 Use your Tripp Trapp® chair from newborn to adulthood with the right accessory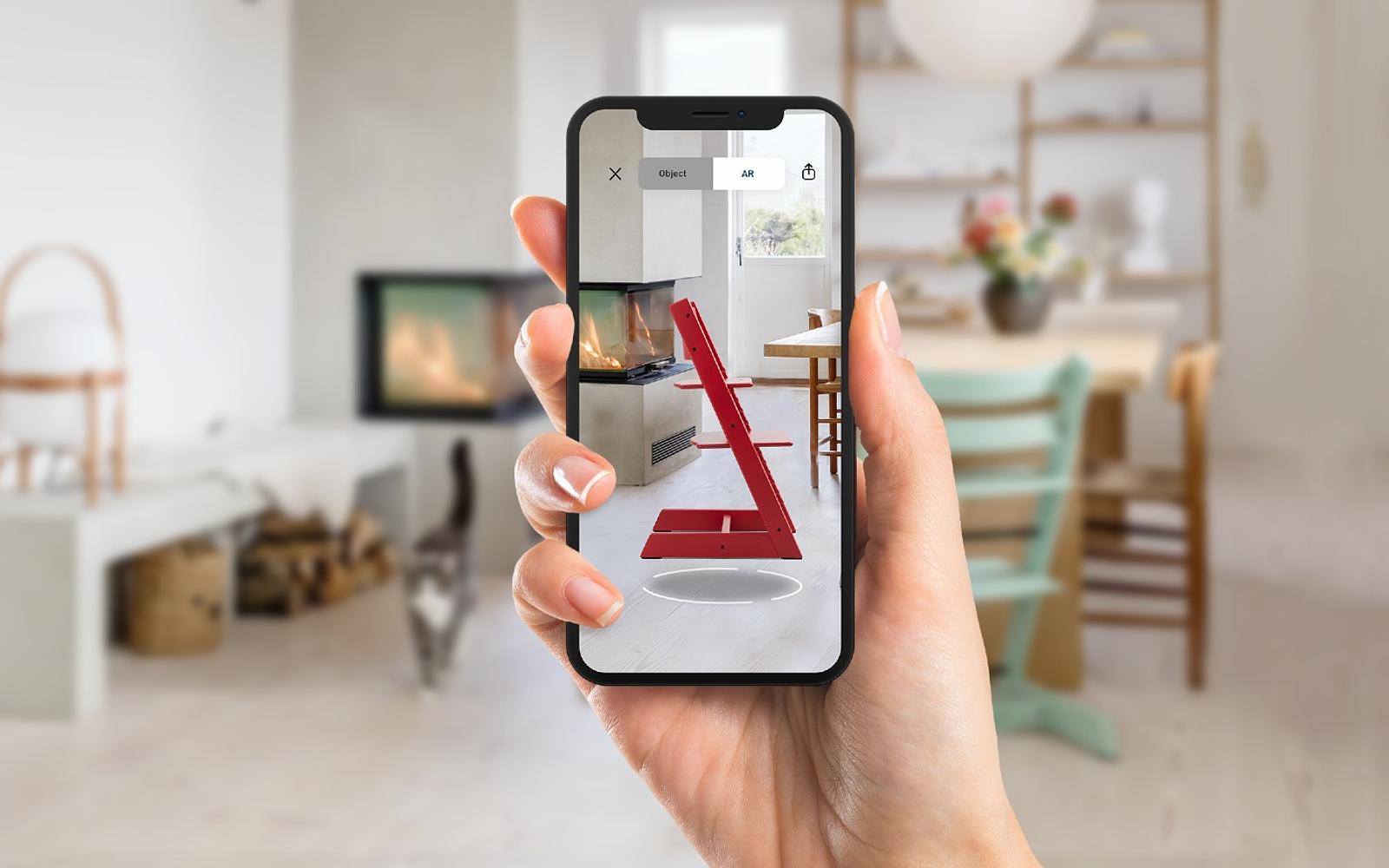 Use AR to see Tripp Trapp® in your space
See it in your home, kitchen, office.
View Tripp Trapp® in AR
To view the product in AR, visit this page on your device with AR functionality
Specifications
Product Size (cm/in): 52.5 x 19.8 x 80.2 / 20.7 x 7.8 x 31.6 Weight (kg/lbs): 9.718 / 21.4 Suitable for age: from 6 ~ to 50 (months) Extended Warranty: 7 (years)
What's included
this item is included

Tripp Trapp® Chair

this item is included

Tripp Trapp Baby set with 5-point harness

this item is included

Extended Gliders

this item is included

Tripp Trapp® Classic Cushion

this item is included

Stokke Tray
How to use / Documents
Maintenance
Easy to clean spills with dampened cloth​
Water-based, non-toxic paint​
Bonus Products
Bonus Products