Stokke® Sleepi™ Mini​ Bundle with Mattress​ V3
The crib that grows with the child™​
Bonus Product
https://www.stokke.com/USA/en-us/600602.html
For 0-6 months; with conversion kit up until 5 years​
Maximum air circulation for comfortable sleep​
Compact with lockable swivel wheels for movement from room to room​
Height adjustable base makes lifting your infant in and out easier​
Accessorize with the breathable mesh liner, sheets & canopy​
overview
Accessories
More Infos
Reviews
How to use
Spare Parts
Product Details
The crib that grows with the child™​
The Stokke® Sleepi™ Mini is the ideal first bed for your newborn. Creating a nest-like environment, it helps baby feel snug and secure. Soft oval design cocoons your baby offering comfort and familiarity for restful sleep and the sweetest of dreams. The drape rod and canopy make it a truly elegant addition to any nursery. ​ Lockable swivel wheels can be used to rock your baby gently to sleep and makes your crib easy to move from room to room. At only 67 cm / 26,4 in inches wide, it's amazingly space efficient, making it ideal for petite nurseries. The Stokke® Sleepi™ concept has been developed with sound sleep and safety in mind. It is available with a new firm and breathable Sleepi™ mattress which exceeds the highest safety standards. Accessorize with the breathable mesh liner and high-quality textiles.​
Safe & sound sleep
Soft oval shape gives your baby a sense of security by resembling the mother's womb
Curved edges, no sharp corners
Rods & perforated mattress bottom for maximum air circulation
Sturdy beech wood frame with non-toxic finish
4 mattress levels offering safety and flexibility for each age and stage of development
Firm mattress for baby's development
Mattress made of breathable layers of 3D mesh for a safe sleep ​
Wheels allow "rocking motion" to promote sleep
Always close to you
Space-saving design
Lockable swivel wheels for keeping the bed close to you
Narrow enough to move through doorways
Longevity & sustainability
Flexible design means the bed can be used for newborn to approximately 5 years
Crafted with quality so it's made to last
7-year Warranty
Mattress core made with Sorona® Bicomponent Stretch fibers ​
All textiles are Oeko-Tex® Standard 100, class 1 approved and certified free from hazardous substances​
Timeless Scandinavian design that doesn´t go out of style
Designed in 1999 by Susanne Grønlund and Claus Hviid Knudsen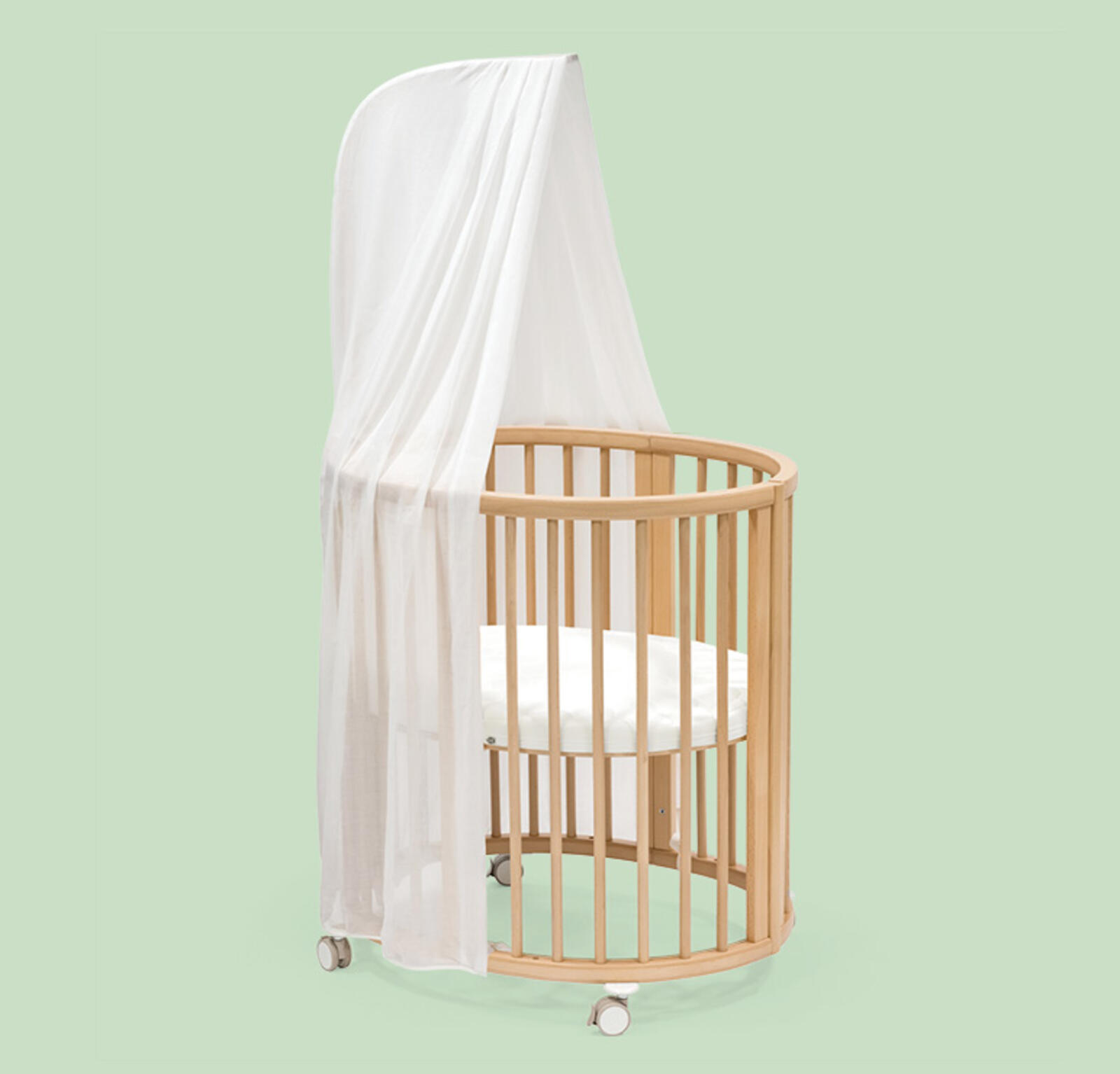 From newborn
The Stokke® Sleepi™ Mini is the ideal first bed for your newborn. Creating a nest-like environment, it helps baby feel snug and secure.

Add to basket
Design

Developed with safe and sound sleep in mind. Made with multiple layers of breathable 3D mesh.

Breathable

Ensures that the air can circulate and remove the carbon dioxide exhaled by the baby. In this way, overheating is avoided.

Firm

Core made with Sorona® Bicomponent Stretch fiber to offer firmness, maximal airflow and to exceed the highest safety standards.

Comfortable

Softly quilted stitching in unique fan pattern provides optimal comfort for restful sleep & sweet dreams.

Easy to clean

Cover is removable and machine washable at 60º Celsius. Core can be cleaned by rinsing.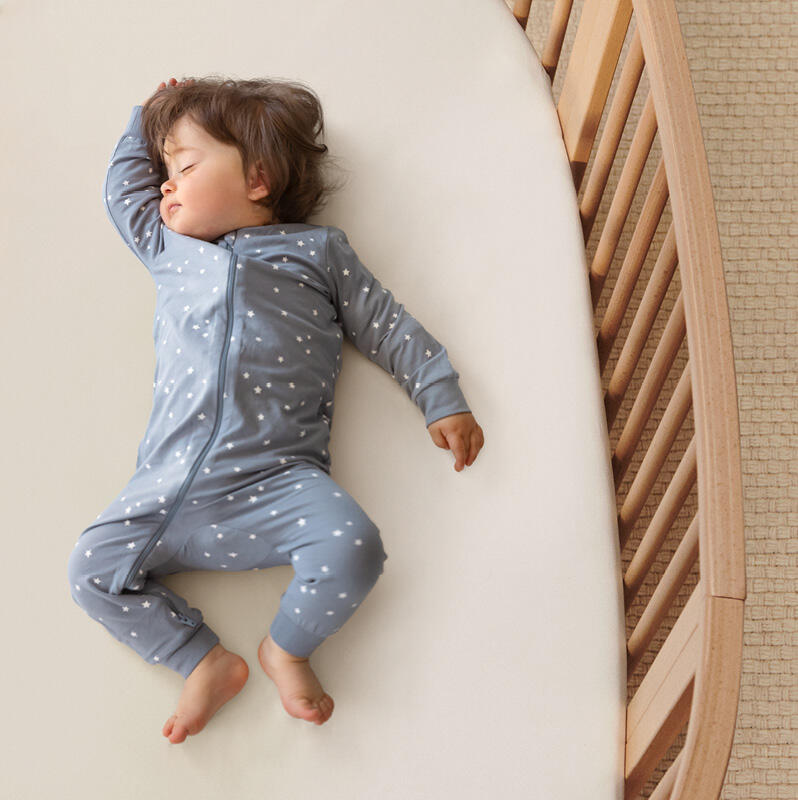 Expert Advice
Safe & Sound – Sleeping Tips

Having trouble getting your baby to sleep? You 're not alone. It 's a challenge many parents. The good news is that we have expert advice to help settle your child and ensure a safe & sound night's sleep.
The bed that evolves as your child grows
​How to make your Stokke® Sleepi™ Mini grow.

Conversion kit to grow
Our conversion kit converts your Stokke® Sleepi™ Mini into the Stokke® Sleepi™ Bed to up until 5 years of age.
View Product
Dreamy canopy
The canopy creates a cozy and calming environment for your baby during those peaceful daytime naps. It looks dreamy, too.
View product
Specifications
Product Size (cm/in): 82 x 67 x 152 / 32.3 x 26.4 x 59.8 Weight (kg/lbs): 17 / 37.5 Suitable for age: from 0 ~ to 6 (months) Suitable for Weight (kg/lbs): up to 120 / 264 Design: Susanne Grønlund & Claus Hviid Knudsen
Product dimensions
Max Product dimensions (length x height x width) in cm/in: 32.2 x 34.3 x 26.4 Product dimensions (length x height x width) in cm/in: 32.2 x 57.48 x 26.4
Compatibility
Not compatible with Stokke® Sleepi™ Drape Rod made before September 2022
What's included
this item is included

Stokke® Sleepi™ wheels and brackets

this item is included

Stokke® Sleepi™ Mini bed

this item is included

Stokke® Sleepi™ Drape rod

this item is included

Stokke® Sleepi™ Mini Mattress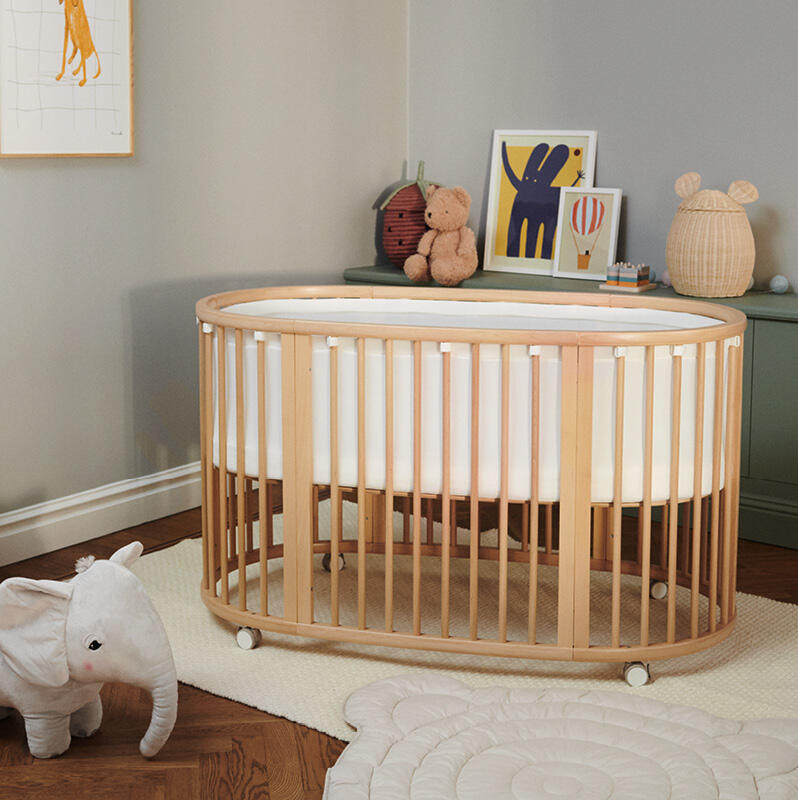 Stokke® Sleepi™ Bed
If you are looking for a bigger bed, check out our Stokke® Sleepi™ Bed
Stokke® Sleepi™ Mini​ Bundle with Mattress​ V3 in social
Bonus Products
Bonus Products