Stokke® Home™ Awarded Best Crib
for The Bump's 'Best of Baby 2016'
The Bump, a leading pregnancy and parenting news website and registry for new and expectant parents, has "become the go-to list that parents consult with when choosing products to buy or add to their baby registry," said Julia Wang, site director of TheBump.com.
Every year, The Bump editors make it their job to see, assemble and review countless parenting and baby products – and then showcase the ones that truly earn their seal of approval. The 2016 Best of Baby category award winners excel in innovation, problem solving and design, making it that much easier for parents and parenting.
The rectangular Stokke® Home™ Crib, winner of The Bump's "Best Crib" award for 2016, provides a clean house-shaped structure that ensures a calm, creative and protective ambience. It is suitable from birth on, as the mattress platform and removable side panels adapt to accommodate the changing needs and sizes of the child. The Stokke® Home™ Crib can also be modified to maximize the functionality of any space, as it can easily be converted into a sofa or playhouse.
The Bump says of Stokke® Home™, "You don't have to buy new nursery furniture as baby grows if you invest in the right pieces from the start. Modular furniture that grows with baby is a purchase we can get behind. One that has a timeless, modern look and is known for craftsmanship, like Norwegian brand Stokke, can last you years before you have to think about changing up your child's room."
In addition to the award-winning Crib, the Scandinavian-designed, multi-functioning Stokke® Home™ furniture collection also includes a Dresser, portable Cradle and Changer. All share a modern aesthetic befitting of Stokke's heritage in furniture design.
For seamless living, the Stokke® Home™ collection is modularly designed to maximize its functionality throughout the child's early years. For example, the Cradle can fasten onto the Crib; and the Changer can attach to the Dresser, Crib and Cradle stand. Parents can arrange the pieces compactly for smaller spaces or individually for larger rooms. Welcome to your new home!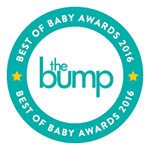 The Bump aim to empower new parents and parents-to-be with expert content and advice, personalized advice and checklists and more... They give first-time millennial parents the lowdown on fertility, pregnancy, birth and babies with stage-by-stage content, expert advice, breaking news, style inspiration and interactive tools.
For product availability, please search your country specific Stokke.com site or contact your local retailer.
April 2016