New products February 2018
Tripp Trapp® and Stokke®Steps™ Chair
Both the Stokke®Steps™ modular chair and our iconic Tripp Trapp® chair offer comfortable seating that grows with your baby, ensuring proper ergonomics at all ages. With this in mind, our designers have updated our cushion collection so there's something for everyone!
Tripp Trapp® Classic Cushion (18 months - 6 years)
Versatile and functional, the Tripp Trapp® Classic Cushion adds both softness and personality. Available in a wide range of colors and patterns, selected designs are offered in a coated version for extra easy cleaning. Best of all, it is compatible with all Tripp Trapp chairs with or without the Tripp Trapp® Baby Set™ too!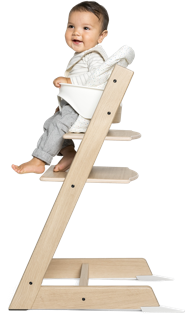 Color & Patterns


Aqua Stars

Grey Star

Retro Cars

Sweet Butterfly

Black Chevron
Green Forest

Pink Stripes


Grey Leaf
Stokke®Steps™ Chair cushion
Offered in an interior friendly hue, the new cushion allows children and older users to personalize their chair and add softness to their seat for extra styling and comfort. A non-slip bottom keeps the cushion in place.