Stokke® Clikk™ Cushion
Add softness & support to your Stokke® Clikk™ High Chair
Bonus Product
https://www.stokke.com/en-ae/552203.html
Provides extra support for babies who are just learning to sit
Made with soft, breathable cotton for superior comfort
Coating on one side makes it easier to wipe clean
Reversible design, easy to mount and remove
Compatible with the Stokke® Clikk™ High Chair
Find your nearest store
overview
Specifications
More Infos
How to use
Spare Parts
Product Details
Add softness & support to your Stokke® Clikk™ High Chair
Use our Stokke® Clikk™ Cushion for your baby to give them that added bit of back and side support they need when they begin using their Stokke® Clikk™ High Chair.
Padded cushion adds comfort for your baby or toddler when using the Stokke® Clikk™ High Chair
Structured seams give baby added back and side support
Can be used on both sides, easy to place on and remove
Made with high-quality organic cotton
Certified through OCS 100 and Oeko-Tex 100
Water repellent material on one side is easy to wipe clean PFC-free coating
Machine washable at 40°C
Specifications
Product Size (cm/in): 25 x 2 x 42 / 9.8 x 0.8 x 16.5 Weight (kg/lbs): 0.19 / 0.4
What's included
this item is included

Stokke® Clikk™ Cushion
Nordic Blue & Nordic Grey Cushions
NEW
Made with sustainability in mind
Caring for children means caring for the planet. We're doing our part to help ensure that it remains a beautiful and healthy place for children today and generations to come.
See how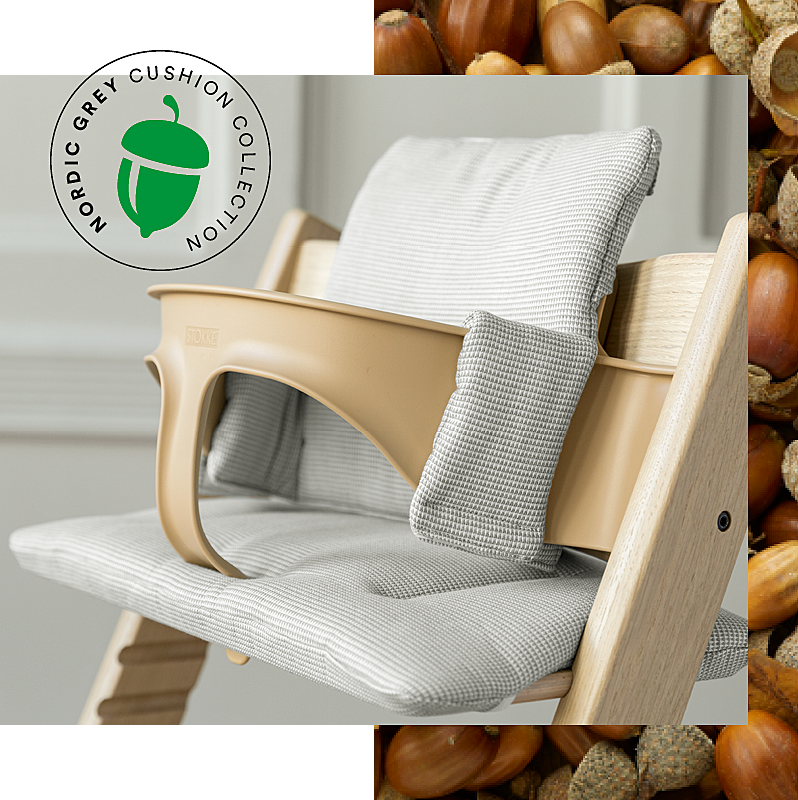 Stokke® Clikk™ Cushion in social
Bonus Products
Bonus Products