Tripp Trapp® Chair
The Chair That Grows With The Child™ – A Chair For Life
Bonus Product
https://www.stokke.com/en-ae/100107.html
Brings your baby to the dining table and closer to the family
Depth- and height adjustable seat and footplate
Classic Scandinavian design by Peter Opsvik
Available in a variety of colors for your baby boy or girl
Wide range of optional accessories for comfort & personalization
Find your nearest store
overview
Details
Specifications
Accessories
More Infos
How to use
Spare Parts
Product Details
The Chair That Grows With The Child™ – A Chair For Life
Tripp Trapp® is an ingenious chair designed by Peter Opsvik that revolutionized the children's chair category in 1972, when the Tripp Trapp® was first launched. Tripp Trapp® fits right up to your dining table, bringing your baby into the heart of your family, allowing him or her to learn and develop alongside you. The intelligent, adjustable design allows freedom of movement with both depth and height adjustable seat and footplates. When adjusted correctly, your child is ensured a comfortable and ergonomic seating position at any age.
Your child can comfortably sit at the dining table and enjoy mealtimes with the rest of family.​
Classic, iconic design will never go out of style​
Unique adjustability of seat and footplate to ensure both back and feet support for any age​
Stable footrest that supports your child and provides comfort​
Solid construction and European beech wood can hold up to an 136kg/300lbs adult​
Array of colour choices match any décor​

Why Tripp Trapp®?
Discover one of Scandinavia's most iconic designs.
Designed to fit right up to your dining table, Tripp Trapp® helps your child to learn and develop alongside you.
From Birth

Newborn Set

The natural place for your newborn, the Newborn Set is designed to give your baby the interaction they love from birth. Cozy, comfortable and ergonomic, it lifts your newborn up your height at the table. This enables eye contact and a great opportunity to spend quality time together with whole family.

From 6 months

Time flies and babies grow fast!

At around six to nine months, your little one will be able to begin sitting upright unaided. The Tripp Trapp® Baby Set gently supports your baby to comfortably sit at the table. When your child can confidently climb in and out of their chair on their own, you can remove the Baby Set.​

For Junior and Adult

A chair for life

What's special about a chair that grows with you? It stays with you. Made from high quality European beech wood, the iconic Tripp Trapp® chair is strong, stylish and durable. Fully adjustable, it provides a comfortable seat that can be used from the teen years well into adulthood. Did you know that it holds up to 136 kilos?
The Chair That Grows With The Child™ – A Chair For Life
From birth
From 6 months
For life
Specifications
Product Size (cm/in): 49 x 46 x 79 / 19.3 x 18.1 x 31.1 Weight (kg/lbs): 6.471 / 14.3 Suitable for age: from 0 (months) Suitable for Weight (kg/lbs): up to 136 / 300 Extended Warranty: 7 (years) Design: Peter Opsvik
What's included
this item is included

Tripp Trapp® Chair

this item is not included

Tripp Trapp® Newborn Set

this item is not included

Tripp Trapp® Baby Set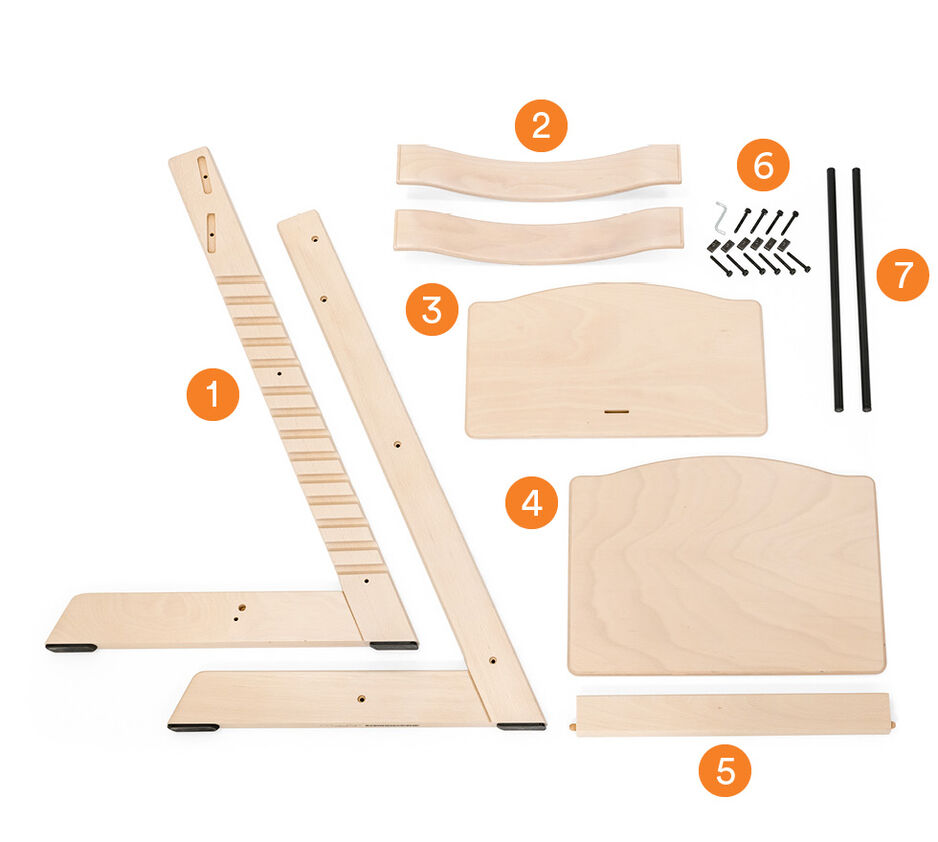 Tripp Trapp® Chair in social
How to use / Documents
Maintenance
Easy to clean spills with dampened cloth​
Water-based, non-toxic paint​
Safety
Never leave your child unattended​.
Extended 7-year warranty available on wooden components​.
Please carefully read the user guide for positioning of seat and footplate related to age of child​.
No harmful substances/free from bisphenol and phthalates​
Bonus Products
Bonus Products