Stokke® Flexi Bath®
The foldable baby bath.
Bonus Product
https://www.stokke.com/en-am/531501.html
Included Newborn Support gives additional comfort for your baby or infant
Suitable for newborn babies and children up to the age of four
A lightweight, portable baby bath tub that folds flat
The bath tub has a non-slip base and heat sensitive plug for easy draining
Award-winning and unique space saving design
Find your nearest store
overview
Specifications
Accessories
How to use
Spare Parts
Product Details
The foldable baby bath.
Stokke® Flexi Bath® is a foldable baby bath suitable from birth to four years. The space saving design makes it easy to store and convenient to use at home or when travelling, encouraging more shared bath time moments. The optional Stokke® Flexi Bath® Newborn Support provides additional comfort for newborn babies. Because Stokke are always striving to improve our products, we´re offering a heat sensitive drain plug. The plug works by turning colors, giving parents a visual cue, letting them know that the water temperature is getting warmer and needs to be checked. Please note that the plug is not a thermometer. Always double-check the water temperature with your hand to ensure that it is the right temperature for your baby´s comfort and safety. If you are in any doubt, use a reliable thermometer for accuracy.
Uniquely foldable for easy transportation and space saving storage
Lightweight
The design-awarded Stokke® Flexi Bath® Newborn Support ensures an optimal ergonomic position and use from birth
Has a non-slip base and heat sensitive plug
Specifications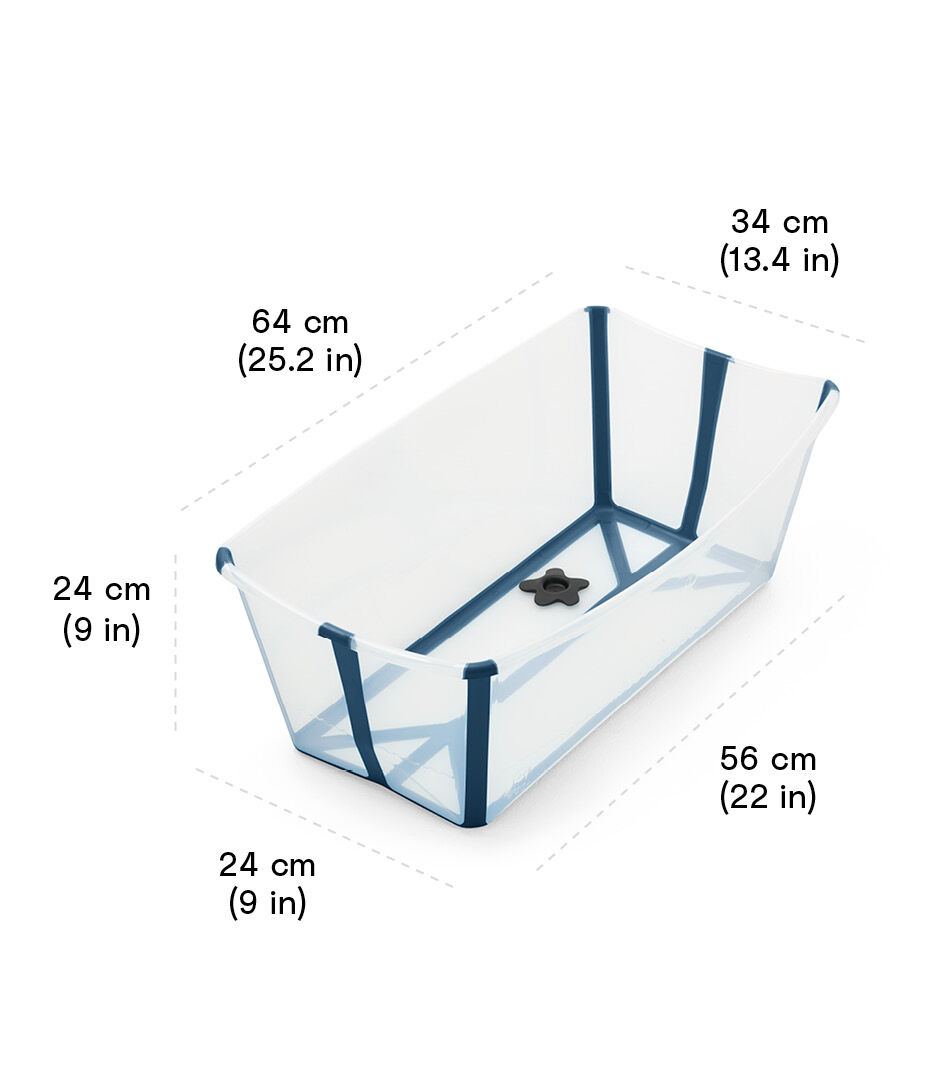 Product Size (cm/in): 64 x 24 x 34 / 25.2 x 9.4 x 13.4 Weight (kg/lbs): 1.7 / 3.7 Suitable for age: from 0 ~ to 48 (months)
What's included
this item is included

Stokke® Flexi Bath®

this item is included

Heat sensitive plug

this item is included

Stokke® Flexi Bath® Newborn Support
Stokke® Flexi Bath® in social
Bonus Products
Bonus Products