Tripp Trapp® Chair
The Chair That Grows With The Child™ – A Chair For Life
Bonus Product
https://www.stokke.com/en-au/100137.html
Brings your baby to the dining table and closer to the family
Depth- and height adjustable seat and footplate
Classic Scandinavian design by Peter Opsvik
Available in a variety of colors for your baby boy or girl
Wide range of optional accessories for comfort & personalization
Find your nearest store
overview
Specifications
Accessories
More Infos
How to use
FAQs
Spare Parts
Product Details
The Chair That Grows With The Child™ – A Chair For Life
Tripp Trapp® is an ingenious chair designed by Peter Opsvik that revolutionized the children's chair category in 1972, when the Tripp Trapp® was first launched. Tripp Trapp® fits right up to your dining table, bringing your baby into the heart of your family, allowing him or her to learn and develop alongside you. The intelligent, adjustable design allows freedom of movement with both depth and height adjustable seat and footplates. When adjusted correctly, your child is ensured a comfortable and ergonomic seating position at any age.
Your child can comfortably sit at the dining table and enjoy mealtimes with the rest of family.​
Classic, iconic design will never go out of style​
Unique adjustability of seat and footplate to ensure both back and feet support for any age​
Stable footrest that supports your child and provides comfort​
Solid construction and European beech wood can hold up to an 136kg/300lbs adult​
Array of colour choices match any décor​
Iconic design that lasts a lifetime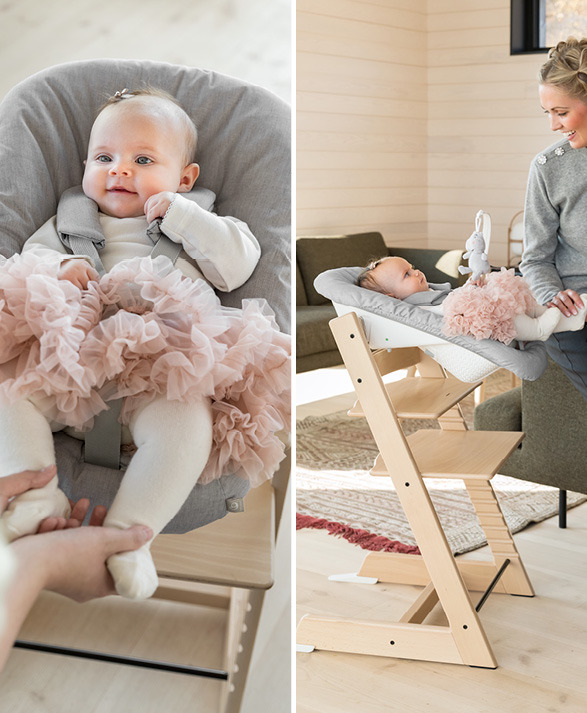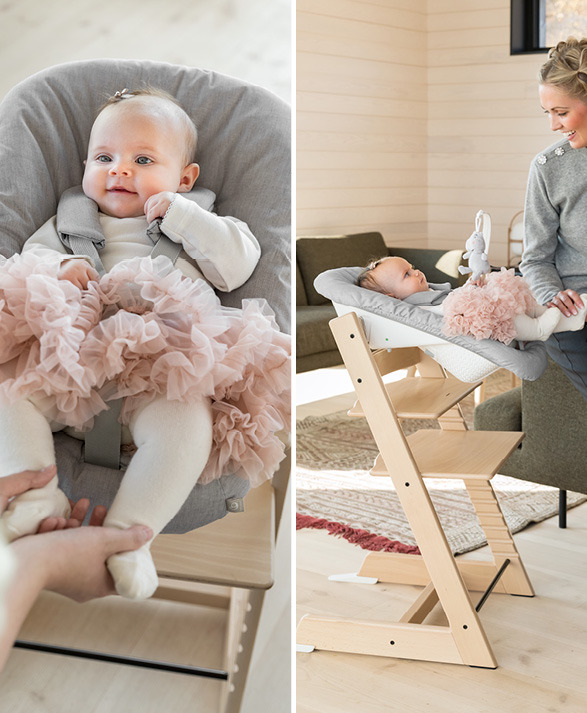 From birth
The Newborn Set lifts your baby to table height to join you at the family table from day one. With 2 angle adjustable positions and excellent leg support, your newborn is assured a cozy environment. Safe & simple to use, it can be easily be attached and removed from the Tripp Trapp® chair. Red-green indicators reassure you it is mounted correctly and includes a 5-point harness with protective shoulder pads. Newborn to 9 kg.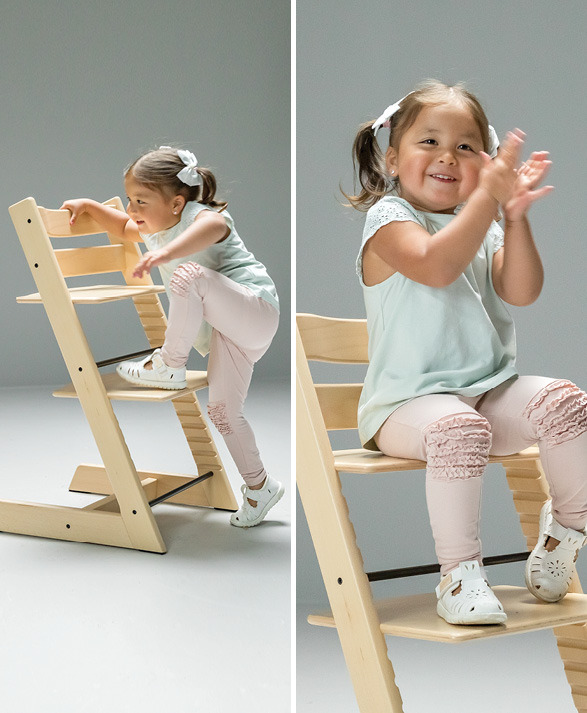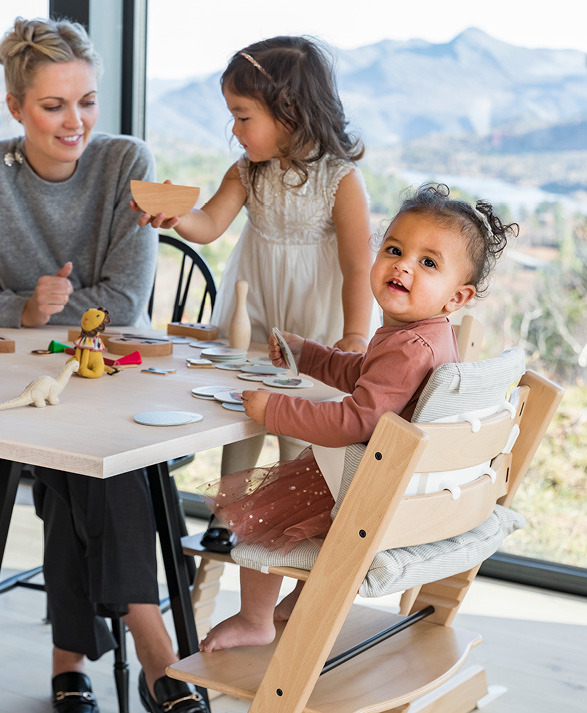 Brings your child to the table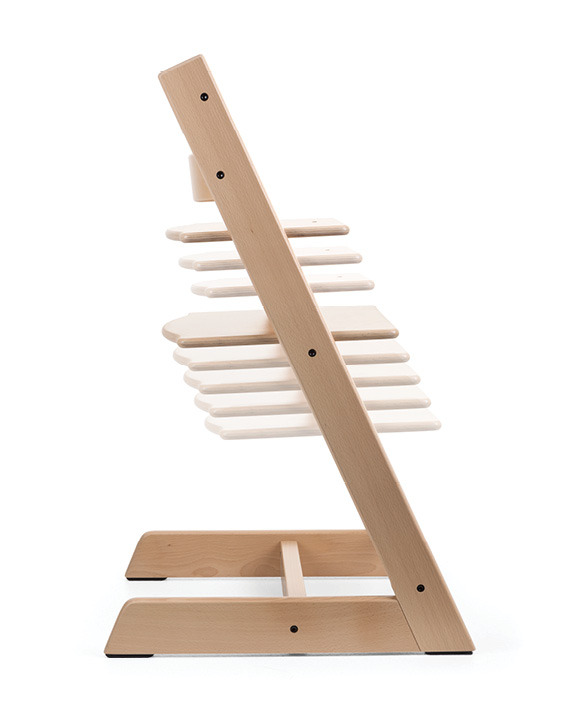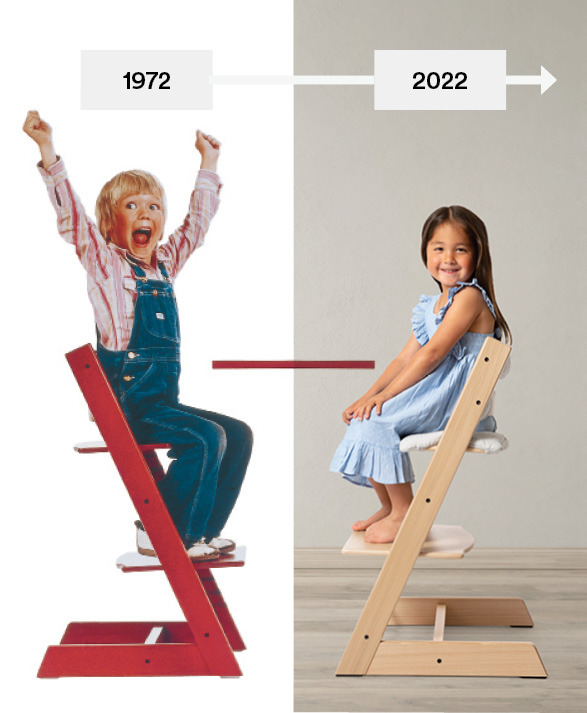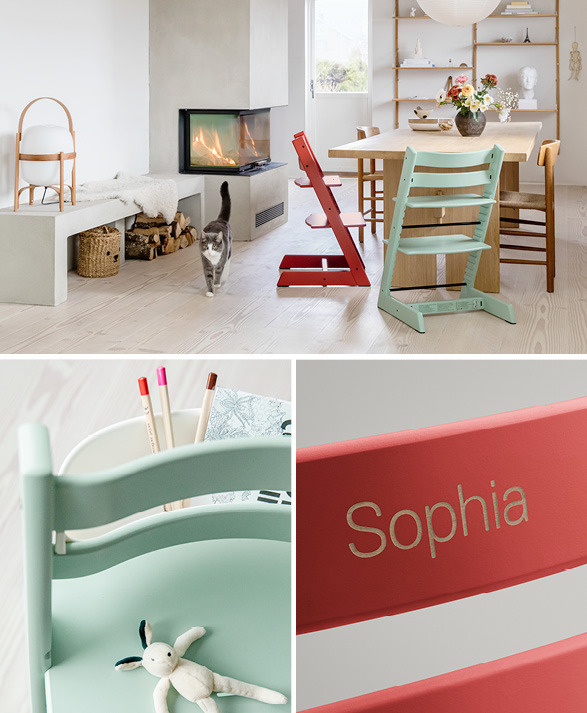 The chair that grows with the child™
1
Newborn Set - Use from birth
The natural place for your newborn, the Newborn Set is designed to give your baby the interaction they love from birth. Cozy, comfortable and ergonomic, it lifts your newborn up your height at the table. This enables eye contact and a great opportunity to spend quality time with the family.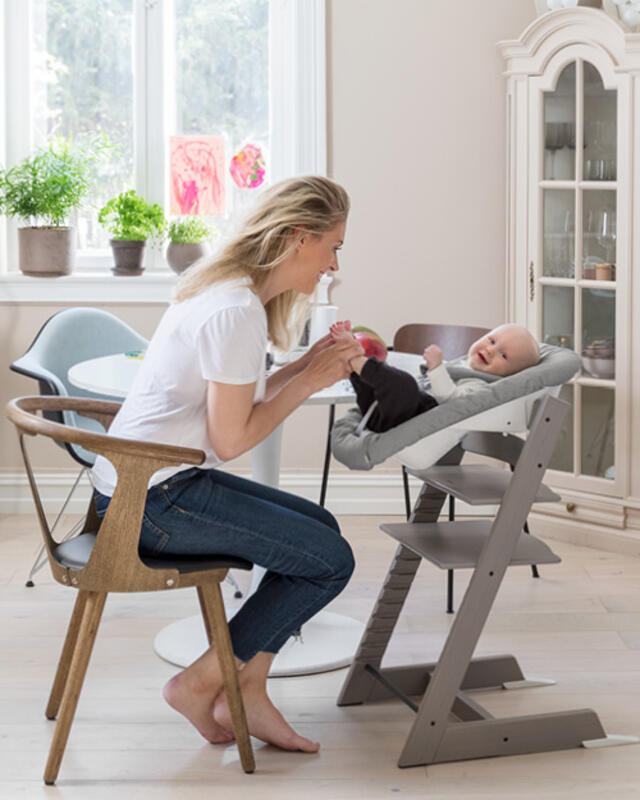 2
Baby Set - from 6 months as a high chair
At around six to nine months, your child will be able to begin sitting upright unaided. The Tripp Trapp® Baby Set gently supports your baby to comfortably sit at the table. When your child is a toddler & can confidently climb in and out of their chair on their own, you can remove the Baby Set.
3
Chair - Use from child to adult
What's special about a chair that grows with you? It stays with you. Made from high quality European beech wood, the iconic Tripp Trapp® chair is strong, stylish and durable. Fully adjustable, it provides a comfortable seat that can be used as a high chair for young children, a chair for older children, from the teen years well into adulthood.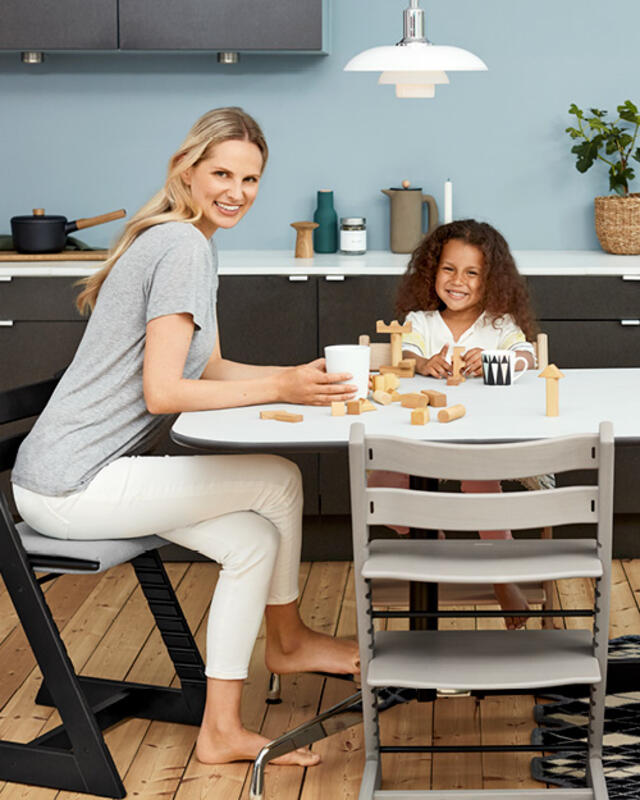 Use your Tripp Trapp® chair from newborn to adulthood with the right accessory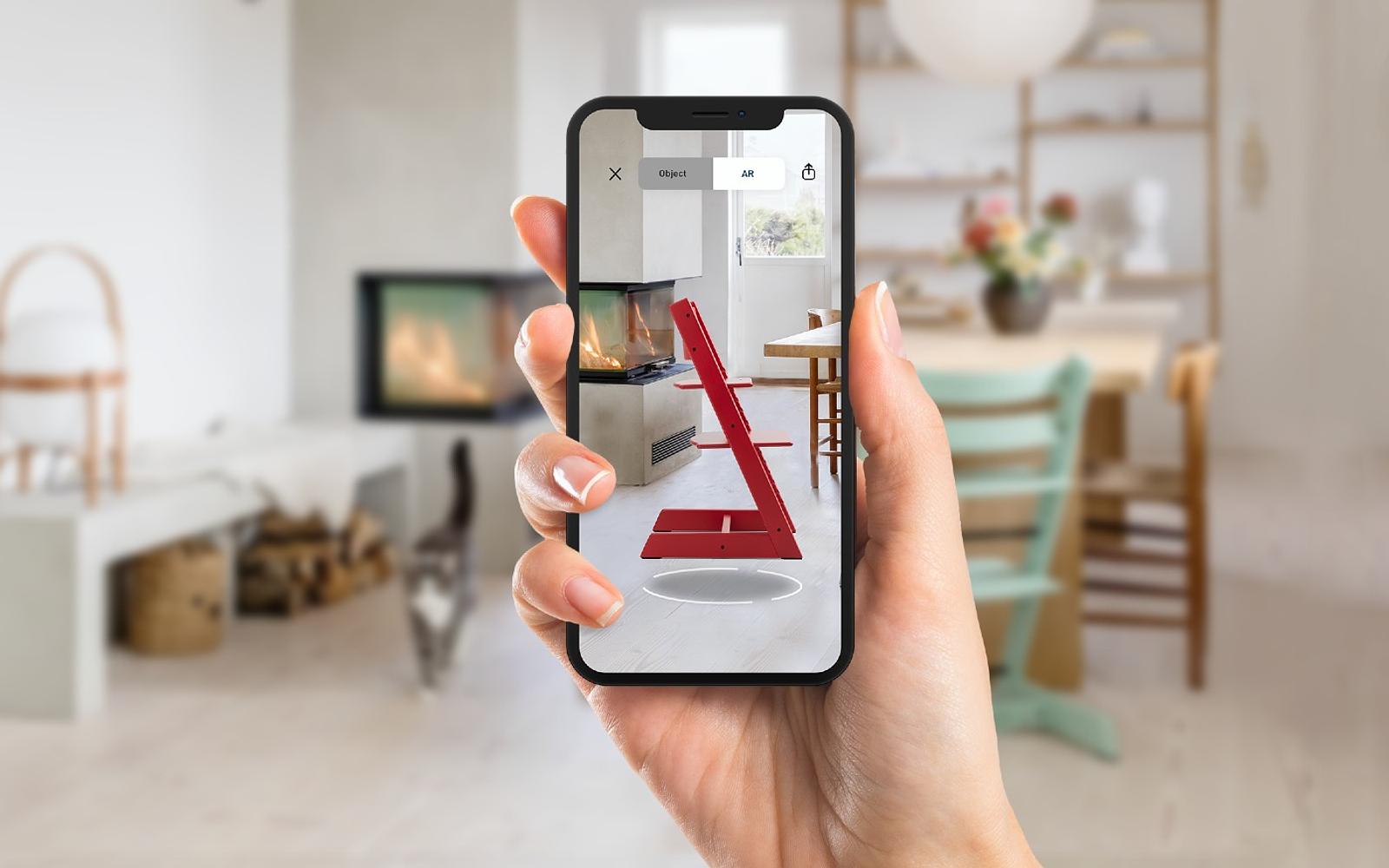 Use AR to see Tripp Trapp® in your space
See it in your home, kitchen, office.
Specifications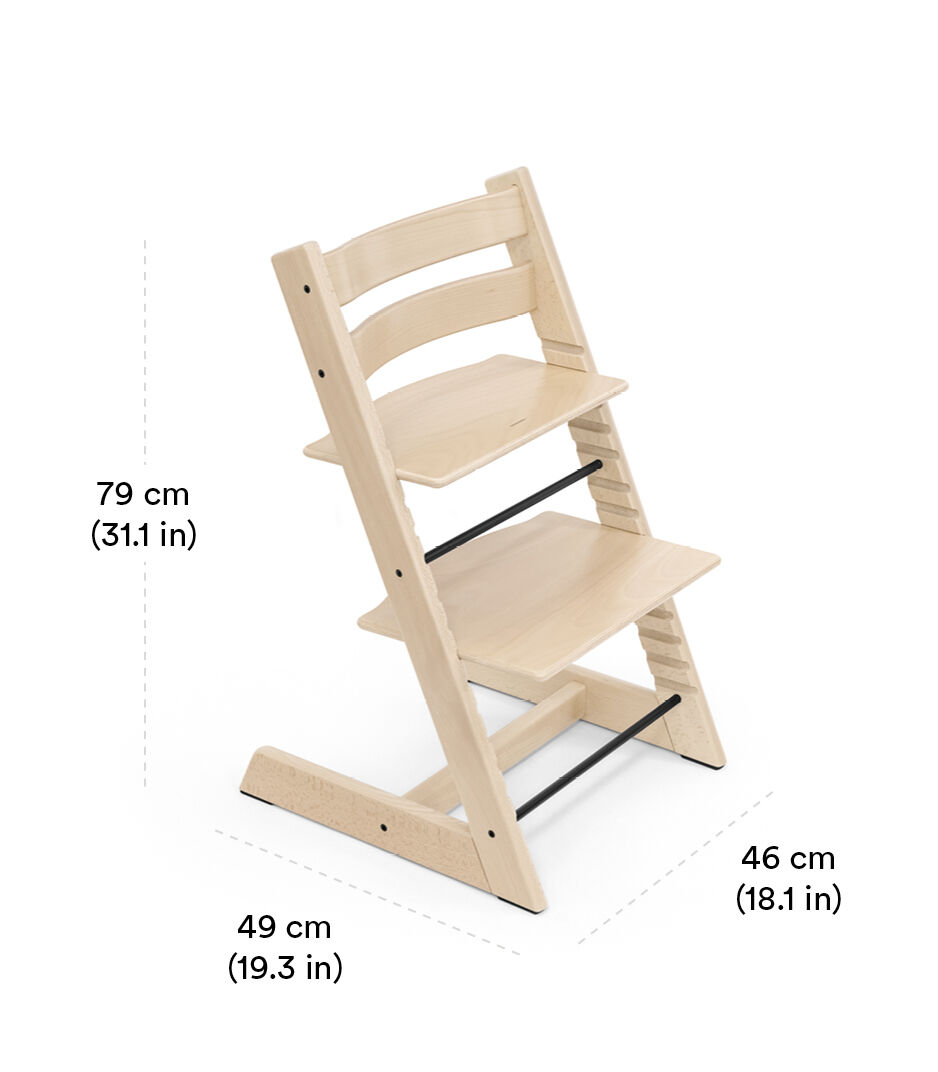 Product Size (cm/in): 49 x 46 x 79 / 19.3 x 18.1 x 31.1 Weight (kg/lbs): 6.471 / 14.3 Suitable for age: from 0 (months) Suitable for Weight (kg/lbs): up to 136 / 300 Extended Warranty: 7 (years) Design: Peter Opsvik
What's included
this item is included

Tripp Trapp® Chair

this item is not included

Tripp Trapp® Newborn Set

this item is not included

Tripp Trapp® Baby Set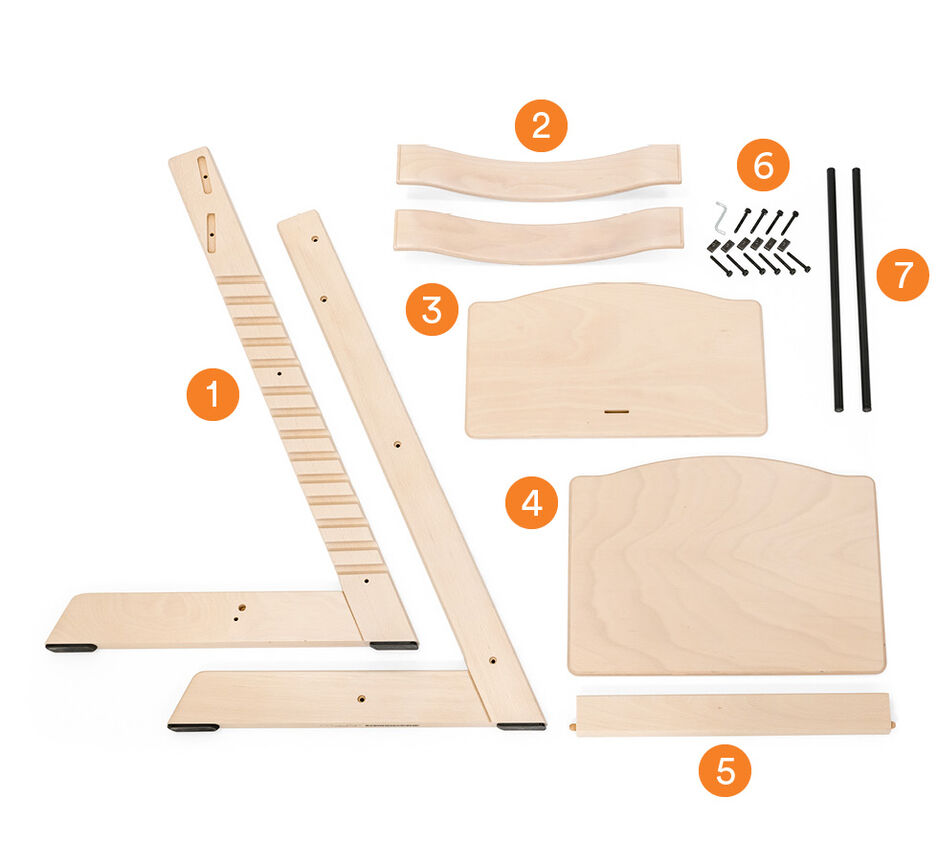 Tripp Trapp® Chair in social
How to use / Documents
Maintenance
Easy to clean spills with dampened cloth​
Water-based, non-toxic paint​
Safety
Never leave your child unattended​.
Extended 7-year warranty available on wooden components​.
Please carefully read the user guide for positioning of seat and footplate related to age of child​.
No harmful substances/free from bisphenol and phthalates​
FAQs
What are the differences between the Stokke® Tripp Trapp® and the Stokke® Steps™ ranges?

The clear difference are customer preferences, features and accessories. Both highchairs encourage the family to sit together from birth. The clear differences are in features and accessories.

The Tripp Trapp® is a high chair that grows with the child, from birth to adulthood. The ergonomic design allowing the child to sit comfortably with the foot plate.

The Steps™ is an All-in-One seating system, that starts with a bouncer which can be used from birth, transcending into a Baby Set with a tray to a high chair that can be used until 10 years of age.

How do I clean my Tripp Trapp®?

After use, specifically during feeding, we recommend that you wipe the Tripp Trapp® and Tripp Trapp® Baby Set with a damp cloth.

Are all Stokke® Tripp Trapp® Cushions water-repellent?

No, only the Tripp Trapp® cushions in the `Silhouette´ range are water-repellent.

Why did Stokke® change from a wooden safety rail to the current plastic Tripp Trapp® Baby Set™?

There are several advantages to the current Tripp Trapp® Baby Set™ made from recyclable plastic over the previous wooden design: - The shape encourages a proper seating posture from the very beginning as well as a correct adjustment of the chair`s settings. - The fact that there are two separate leg spaces and that the front bar offers a more precise fit increases its safety. - Furthermore the new set is very easy to clean (it can even go in the dishwasher).

What are the weight and dimensions of the Stokke® Tripp Trapp®?

When In the box, the Stokke® Tripp Trapp® chair measures 78 x 50 x 60 cm. and weighs 7 kg. Dimensions of the chair after assembly are 78 x 49 x 46 cm.

I own several Stokke® Tripp Trapp® chairs which are nominally of the same colour but look different. Can this be?

All Stokke® furniture is made from wood, which, as a natural product, may show a degree of natural variance. Also, we source our wood from several sustainable sources and we cannot therefore guarantee individual chairs will have come from the same stand of trees. Finally, the colour of the wood may change over time under the influence of UV light and oxygen.

My new Stokke® Tripp Trapp® chair seems wobbly after assembly. Did I do something wrong?

Should the Stokke® Tripp Trapp® chair seem unstable after assembly, we ask you to proceed as follows: Loosen all screws slightly, make sure the chair is standing on a level surface, have an adult sit on the upper plate, and tighten the screws one by one – alternating between top left, bottom right and so on. The chair should now be stable. If this is not the case, please submit a claim with the retailer you purchased your Tripp Trapp® from, providing them with the serial number (which is located on the bottom of one of the siderunners) and both of the chair's legs, so that they can order a replacement pair for you.

Where do I find the serial number of my Tripp Trapp®?

The serial number of the Tripp Trapp® can be found underneath the right side of the chair.

Can I use the Stokke® Tripp Trapp® chair at our bar table?

The Stokke® Tripp Trapp® chair has been designed for use at tables with a standard height, i.e. between 72 and 76 cm. It is therefore not suitable for use at bar tables.

How do I know whether my Tripp Trapp® chair is compatible with the Stokke® Baby Set™ or Newborn Set™?

The current Tripp Trapp® Baby Set™ is compatible with all Tripp Trapp® chairs produced after June 2006. If your chair was manufactured between June 2006 – May 2013, the ® Baby Set would still fit, but the Extended Gliders included with the Baby Set would not. The serial number and production date are printed on the bottom of the right side leg.

If you are unable to make out this information on your Tripp Trapp® chair, you can also measure the gap between the two back rest pieces: prior to June 2006, this measured approx. 2.5 cm, while on chairs since June 2006 it is approx. 3.5 cm. Chairs produced before June 2006 are not compatible with the current ® Baby Set.

What is the maximum recommended load that can be safely placed on the Stokke® Tripp Trapp® chair?

For GS Mark (Tested Safety) certification, the Tripp Trapp® chair was tested according to various standards. One of these is a standard called DIN 68 878, which is a quality norm for adult chairs. This standard involves a dynamic test where 85 kg is placed on the seat, which is then tilted backwards 6000 times. The Tripp Trapp® chair passes all the tests in that standard, which means a load of up to 85 kg can be safely placed on the chair.

Can I remove the safety sticker on my Tripp Trapp®?

For safety reasons please do not remove the label. This label has important information. Removing the sticker may damage the lacquer or leave glue residue.
Load more FAQs
Bonus Products
Bonus Products