Coordinates with Stokke® Sleepi™ to complete your nursery furniture collection
Height adjustable to make diaper changes comfortable
Practical storage solutions to keep your essentials close at hand
Parent-facing changing position and space under allows you to stand closer to your baby
The changing table can easily be converted into shelving unit and small desk
From changing table to desk.™
Stokke® Care is a changing table that makes nappy changes enjoyable and intimate. The changing table raises your baby higher, encouraging eye-contact. Space underneath provides room for your feet, allowing you to stand closer for better reach. Best of all, Stokke® Care has been designed so that your baby can lie facing you rather than sideways. This allows you to face your baby for play and interaction while making nappy changes far easier.
What's included
Stokke® Care™ Changing Table (1)
Stokke® Care™ Mattress (2)
Stokke® Care™ Basket 2 pcs (3)
Stokke® Care™ Container 2 pcs (4)
Stokke® Care™ Hanger 2 pcs (5)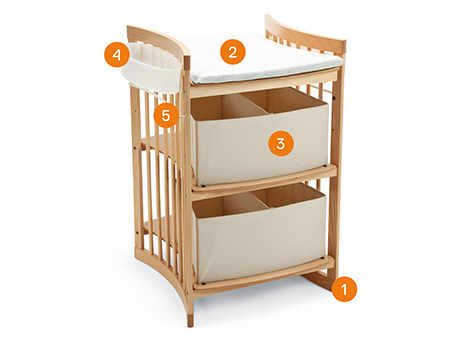 Technical Specifications / Measurements
Product info

Product weight in kg/lbs: 24/52
Product dimensions (length x height x width) in cm/in: 75x106x67/29,5x41,7x26,4
Suitable for weight in kg/lbs: < 15/33
Materials: Side-sections/stretchers/rods: Solid Beech Wood, Curved elements: Beech Laminate, Plates: Beech Plywood
Features
Parent-facing changing position
Height adjustable top level, providing two different working levels. (Level 1 cm/in: 96/ 38". Level 2 cm/in: 86/34"
Space underneath provides room to stand closer to baby.
High side bars prevent rolling off the table.
Practical storage solutions with side trays, horizontal bars and shelf baskets.
Easy-to-clean, anti-slip changing mat (height cm/in: 3 / 1.2").
Made from durable solid beech wood.
Long lasting - grows with the child from changing table to desk.
Changing table can easily be modified into shelving unit and small desk.
What's included:
Mattress
2 x plastic side trays, metal hanging bars and textile storage shelf baskets.
User Guides
Maintenance

Wood varnish and stain


Dust as normal. Remove stains with a damp cloth without detergents. If the dirt remains, use a mild, natural detergent.
The use of concentrated synthetic detergents is not recommended.

Mattress


Wipe off with a moist cloth and a mild detergent. The mattress can be soaked in water or washed in a machine, but note that the foam will absorb a large amount of water and take time to dry.
Downloads