Stokke® Sleepi™ Bed V3
The crib that grows with the child™​
Bonus Product
https://www.stokke.com/en-hk/591401.html
Suitable from newborn to the age of 5 ​
Maximum air circulation for comfortable sleep​
Lockable swivel wheels and height adjustable base​
Removable side rails to transition to toddler bed​
Accessorize with the breathable mattress & textiles​
Find your nearest store

overview
Accessories
More Infos
How to use
Spare Parts
Product Details
The crib that grows with the child™​
Your baby's crib is the heart of your nursery. It should be beautiful, functional and above all, safe and soothing for your little one. Made of solid European beech wood, with adjustable height, Stokke® Sleepi™ accommodates the changing needs of your growing child.  ​ Soft oval design cocoons your baby offering comfort and familiarity for restful sleep and the sweetest of dreams. Stokke® Sleepi™ Bed can be used from birth to 5 years so your child can enjoy their bed throughout childhood.  ​ Adjust the height position of the mattress as your child gets bigger and reaches the curious climbing stage. Once your child is old enough to get in and out of the bed on their own, you can remove the wheels and one side of the bed for easy access. This will boost your child's independence as well.   ​The Stokke® Sleepi™ concept has been developed with sound sleep and safety in mind. It is available with a new firm and breathable Sleepi™ mattress which exceeds the highest safety standards (sold separately). Accessorize with the breathable mesh liner and high-quality textiles.​
Safe & sound sleep
Soft oval shape gives your baby a sense of security by resembling the mother's womb
Curved edges, no sharp corners
Rods & perforated mattress bottom for maximum air circulation
Sturdy beech wood frame with non-toxic finish
4 mattress levels offering safety and flexibility for each age and stage of development
Wheels allow "rocking motion" to promote sleep
Always close to you
Space-saving design
Lockable swivel wheels for keeping the bed close to you
Narrow enough to move through doorways
Longevity & sustainability
Flexible design means the bed can be used for newborn to approximately 5 years
Crafted with quality so it's made to last
7-year Warranty
Timeless Scandinavian design that doesn't go out of style
Designed in 1999 by Susanne Grønlund and Claus Hviid Knudsen
Specifications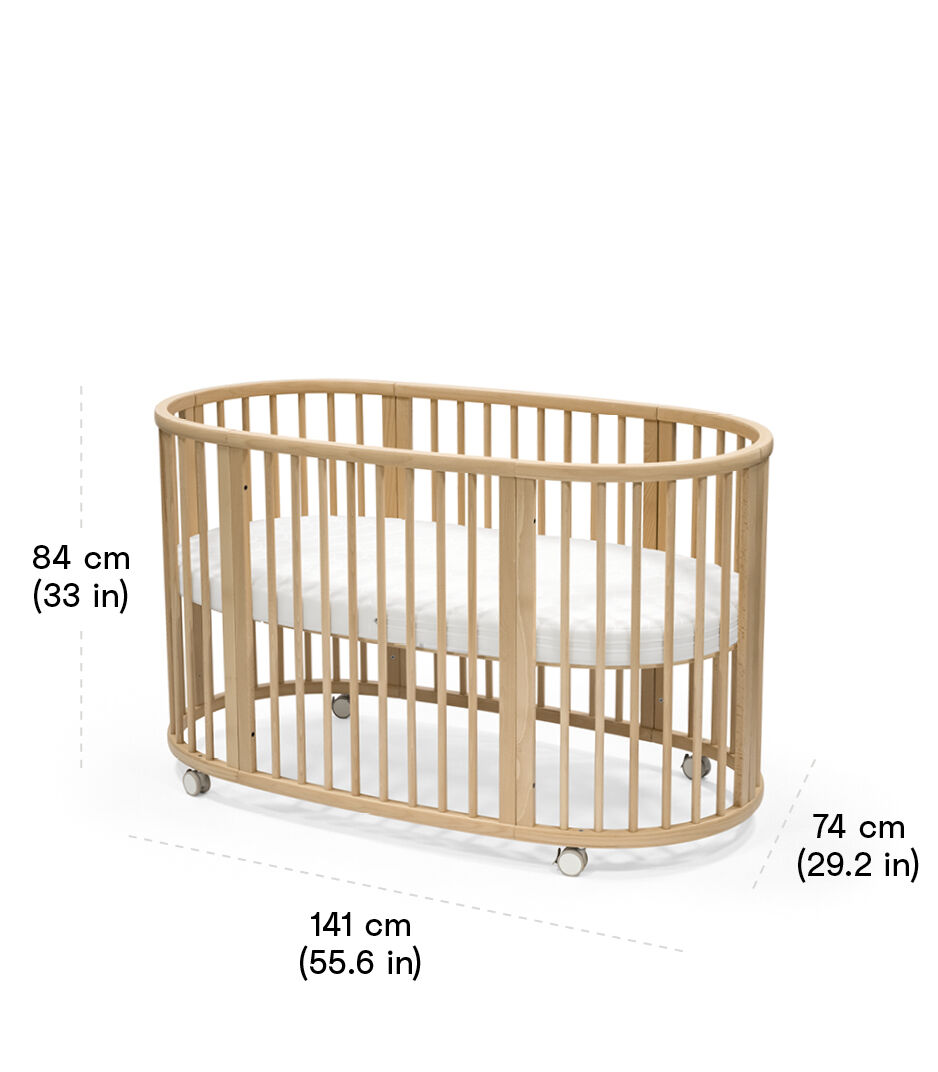 Product Size (cm/in): 141 x 74 x 78 / 55.5 x 29.1 x 30.7 Weight (kg/lbs): 22.16 / 48.9 Suitable for age: from 0 ~ to 60 (months) Suitable for Weight (kg/lbs): up to 120 / 264 Extended Warranty: 7 (years) Design: Susanne Grønlund & Claus Hviid Knudsen
Materials
Materials: Beech Wood, Curved Elements: Beech Laminate, Plates: Beech Plywood
Compatibility
Not compatible with Stokke® Sleepi™ Drape Rod made before September 2022.
Not compatible with Stokke® Sleepi™ Bed Mattress made between 2003 and August 2022.
What's included
this item is included

Stokke® Sleepi™ wheels

this item is included

Stokke® Sleepi™ Bed

this item is not included

Stokke® Sleepi™ Bed Mattress
Stokke® Sleepi™ Bed V3 in social
How to use / Documents
Maintenance
Wipe with a clean, damp cloth, wipe off excess water.
Bonus Products
Bonus Products