Tripp Trapp® Newborn Bundle
Brings your baby to the family table from birth and stays for lifetime
Bonus Product
https://www.stokke.com/en-qa/highchairs/tripp-trapp/tripp-trapp-newborn-bundle.html
The Tripp Trapp® chair + Newborn Set bring your baby to the family table from birth
Newborn Set is angle adjustable with a 5-point safety harness & shoulder pads for comfort
Newborn Set is suitable from newborn up to 9kg / 20lbs, Toy Hanger is included
Tripp Trapp® chair has depth- and height adjustable seat & footplate for ergonomics
The Tripp Trapp® chair can be used from birth - adult with accessories
overview
Specifications
Accessories
Details
Spare Parts
Product Details
Brings your baby to the family table from birth and stays for lifetime
The Tripp Trapp® Chair and Tripp Trapp® Newborn Set bundle is a great way to get all you need to bring your little one to the table from day one. The natural place for your newborn, the Newborn Set is designed to give your baby the interaction they love from birth. Cozy, comfortable and ergonomic, it lifts your infant up to table height. This enables eye contact and is a great opportunity to spend quality time together with the whole family. As your baby grows, continue to use your Tripp Trapp® Chair as a high chair and seat with other accessories to give your growing child a seat at the table – from toddler through teen and even adult years. Newborn Set Features 
Enables the chair to be used from birth
Ergonomic and spacious with optimal leg support
Comfortably cradles your baby while allowing freedom of movement
2 positions for baby´s comfort with one-hand trigger for angle adjustment
Suitable for newborn up to 9kg / 20lbs
Red-green indicators turn green when Newborn Set is mounted correctly on the Tripp Trapp® chair
Perforated for optimal air flow
Easy to use, no tools required to attach and remove it from the chair
The comfortable upholstery can be removed and machine washed
Comfort & Design 
Classic, iconic chair design that will never go out of style.
Unique adjustability of seat and footplate to ensure both back and feet support for any age.
Stable footrest that supports your child and provides comfort.
From infant to toddler: solid chair construction that can hold up to a 136 kg / 242 lb.
Extended 7-year warranty available on wooden components.
Safety
Chair is coated using water-based, non-toxic paint.
Tripp Trapp® contains no harmful substances/free from bisphenol and phthalates.
5-point safety harness
Extended gliders that give increased backward stability
The Chair That Grows With The Child™ – A Chair For Life.
Specifications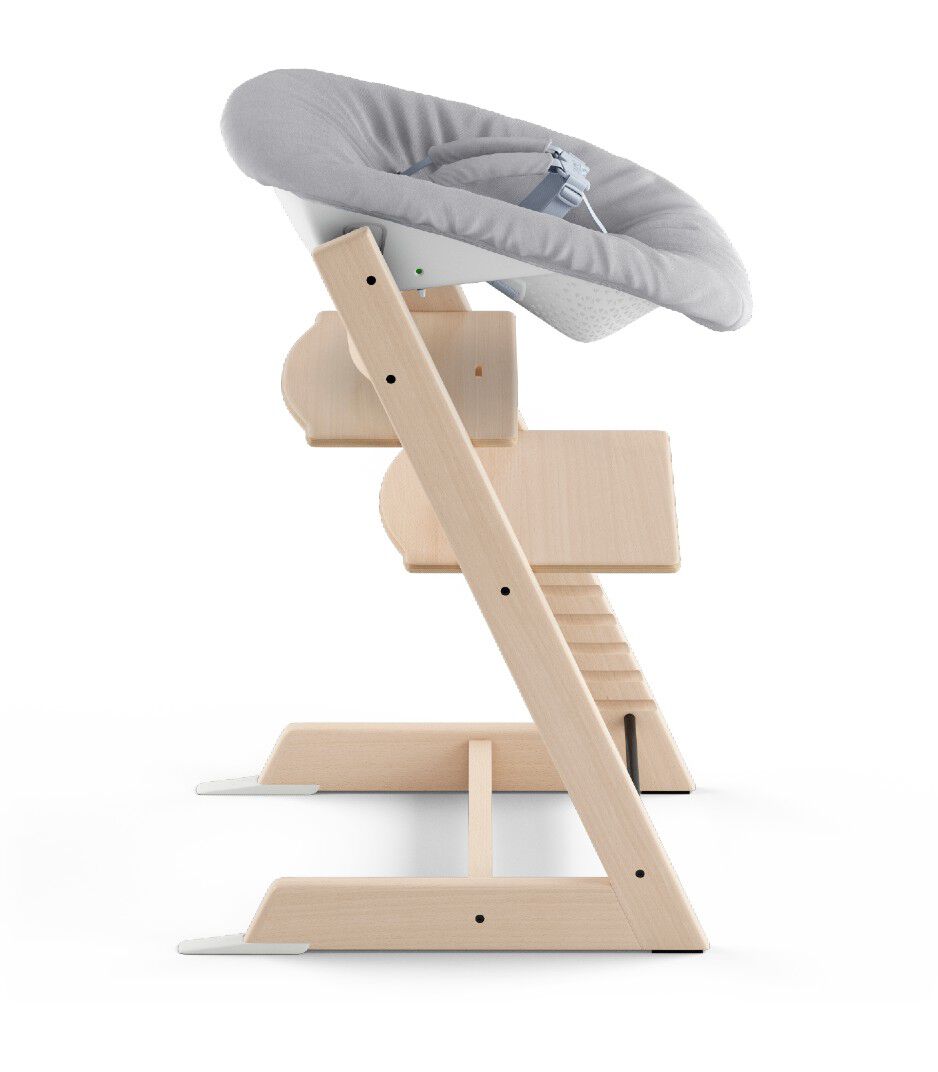 Suitable for age: from 0 (months)
Materials
Materials: Organic Cotton materials, easy-wipe, PFC Free water repellent surface. The plastic base is safe and free of BPA. The plastic is made of Polypropylene (PP), which is BPA free.
Materials Detailed
Materials Textiles: 80% Polyester, 20% Cotton, interior is 100% polyester.

What's included
this item is included

5 point harness and shoulder pads

this item is included

Toy hanger

this item is included

Tripp Trapp® Chair

this item is included

Tripp Trapp® Extended Glider

this item is included

Tripp Trapp® Newborn Set

this item is not included

Reversible cover