Stokke® Xplory®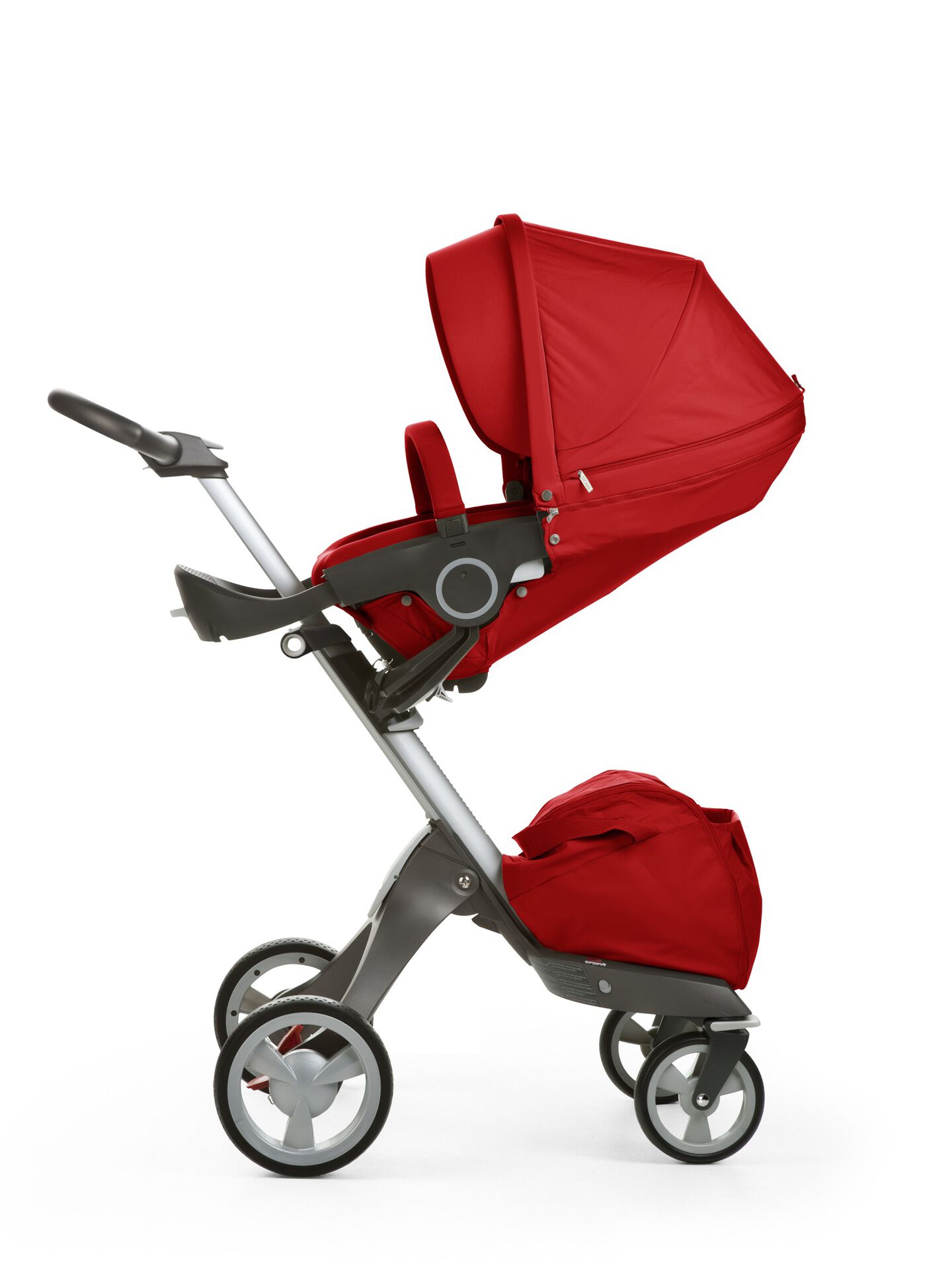 The ultimate connection stroller.
https://www.stokke.com/en-us/180203.html
Raises your baby higher to promote eye contact and connection
Suitable from newborn with optional Stokke Xplory Carry Cot
Multiple parent and forward facing stroller seat positions
Suitable for toddlers up to 45 lbs with the Stokke Stroller Seat
360° lockable swivel wheels for effortless maneuverability
Part of a travel system when combined with a car seat
No stroller in its class matches smooth ride or innovation of Stokke® Xplory®. Our iconic stroller is height adjustable, raising your child higher to promote interaction and eye contact while you explore the world together. Front or rear facing with a five point safety harness, adjustable footrest and handle, Stokke® Xplory® provides an almost endless choice of seating positions to adapt to you and your baby's ever-changing needs.
Features

Ultimate maneuverability


Ergonomic height and angle adjustable handle provides a wide range of positions.
Two-wheel function makes it easy to stroll on rough and uneven surfaces (on the beach, on pebbles etc.).
Easy swivel front wheels make it easy to maneuver in tight spaces.
Open design with space between the wheels and no crossbar to restrict the way you walk.

Stokke Stroller Seat


Raises your child higher, promoting interaction while you explore the world together.
Fits all table heights in cafés/restaurants.
3 parent facing positions: sleep, rest and active, and 2 forward facing positions: rest and active.
Soft padded seat.
Depth adjustable baby pad.
An extra cushion reduces the seat depth to fit the smallest babies.
The adjustable foot rest eliminates dangling feet and stimulates movement and variation whilst sitting.

Carry Cot


Height adjustable - brings the baby closer to mom and dad.
Curved base with air ventilation.
Integrated pockets for storage.
Optional opening for ventilation through 30% of the hood to prevent your child from overheating. Opening protected by mosquito net.
Carry handles fastened to the sturdy plastic gives a very safe solution when carrying the Cot.
Visor for extra protection from wind and light. Can be folded back or removed by unzipping it from the hood.
Soft interior lining provides a comfortable environment for the baby. 
Cover lined for extra protection.
Removable for temperature regulation and allows easy access to the baby.
Carry Cot sold separately.

Travel System


Stokke® PIPA™ by Nuna® Infant Car Seat can be used with Stokke® Xplory® as a travel system without the use of adaptors.
Stokke® offers Car Seat Adaptors making it possible to use selected models of car seats made by other manufacturers.
Stokke® Car Seat Adaptors sold separately.

What's included

Stokke® Xplory® Chassis
Stroller seat
Textile set, including: Seat Padding, Rear Textile Cover, Harness Protector, Seat Rail Cover, and Hood with Visor
Baby Pad
Stokke® Xplory® Shopping Bag
Mosquito Net
Rain Cover
Stokke® Carry Cot

Technical Specifications / Measurements

Product info

Chassis weight in kg/lbs: 8.3/18.3
Seat weight in kg/lbs: 3.8/8.38
Chassis with seat dimension (length x height x width) in cm/in: 75-102x89-123x56.5/29.5-40.2x35-48.4x22.4
Folded chassis with seat dimension (length x height x width) in cm/in: 99x34x56/38.9x13.4x22
Carry cot weight in kg/lbs: 4.4 / 9.7
Chassis with carry cot dimension (length x height x width) in cm/in: 75-102x89-123x56.5/29.5-40.2x35-48.4x22.4
Folded chassis with carry cot dimension (length x height x width) in cm/in: 107/42.1 x 45/17.7 x 56.5/22.0
Seat suitable for weight in kg/lbs: From birth to 15kg/45lb
Carry cot suitable for weight in kg/lbs: 0-9/0-20
Maximum storage load in kg/lbs: 2/4.4
Materials: Chassis: Aluminium and plastics. The upholstery is made of polyester and polyurethane, the transparent rain cover is made of phtalate free PVC. The mosquito net is made of polyester mesh and the shopping basket is made of PVC/polyester filament.

Spare Parts

User Guides

Assembly Instructions

Maintenance

Textiles


Must be washed separately.
When washing the baby insert, remove the inside cushion before washing.
Canopy and visor can only be hand washed separately. Unzip the visor and remove the front rib from the canopy before washing.
Seat lining, back cover and harness protectors can be machine washed at 40°C/ 104°F.
Seat rail padding can be washed at 30°C/ 86°F.
Shopping bag and diaper bag can only be wiped with a clean damp cloth. Be sure to remove excess water.
See the user guide for further instructions.


Hard parts


The stroller should be cleaned using a mild mixture of water with soap. Make sure that any sand/mud/grit is removed prior to cleaning.
All technical solutions are hidden in the chassis making it easy to clean and maintain.
If any function of the stroller is not working properly, contact your nearest Stokke retailer.

Downloads