Stokke® Limas™ Carrier Plus
Half buckle carrier for optimal comfort & support.​ From one month.
Bonus Product
https://www.stokke.com/en-za/619301.html
Adjustable as your baby grows from 4-18kg​
Ergonomic support & comfort​
Easy-to-use front, back & hip carrying options
Extra-wide shoulder straps to support baby's bottom​
Made with 55% organic cotton & 45% linen
Find your nearest store
overview
Accessories
How to use
FAQs
Spare Parts
Product Details
Half buckle carrier for optimal comfort & support.​ From one month.
The Stokke® Limas™ Carrier Plus combines the advantages of a baby wrap with an ergonomic carrier and can be used from one month (4kg / 8.8lb). It's a half buckle carrier made from wrap fabrics and provides freedom of movement and safety every step of the way. Made with soft organic cotton, it expands as your baby grows to keep them comfy & close. ​ Thanks to the adjustable base and back panel, this half buckle carrier can be expanded to your baby's size giving them a spread-squat seating position during those early years up until 18kg / 39.7lb. Front, back and hip carrying options give parents a lot of flexibility.​ Made of double-layered wrap fabrics, the extra-wide, spreadable shoulder straps help to evenly distribute your baby's weight during carrying. Between these two layers of material is a sewn-in pocket into which shoulder padding can be inserted for extra comfort. The carrier is easy to use. Simply buckle the wide waistbelt, then after putting the carrier on, pull the straps tight and tie them in a double knot. Use the wide straps over your baby's bottom for better weight distribution and support.
Provides freedom of movement
Extra-wide, spreadable shoulder straps made of 2-layer babywearing fabric (width 15 cm)
Shoulder straps wider towards the ends for additional support of baby's bottom
Insertable shoulder pads for more flexibility (included)
Base ensures correct squat–spread position
Continuously adjustable base (from 24 to 45 cm) to ensure correct squat–spread position
Wide, ergonomically shaped waistbelt with padded buckle (adjustable from 60 to 140 cm)
Continuously adjustable back panel (from 30 to 41 cm)
Ideal for extended back-carrying
Material: 55% organic cotton, 45% linen
Do not need to be washed before being used for the first time
Machine washable at low temperature (40 degrees Celsius) and low spin
Stokke® Limas™ Carrier Plus
Why we love this carrier
1
As comfy as a wrap
The Stokke® Limas™ Carrier Plus features long and wide shoulder straps to give you and your little one an incredibly snug feeling. It is the perfect combination between a carrier and a baby wrap!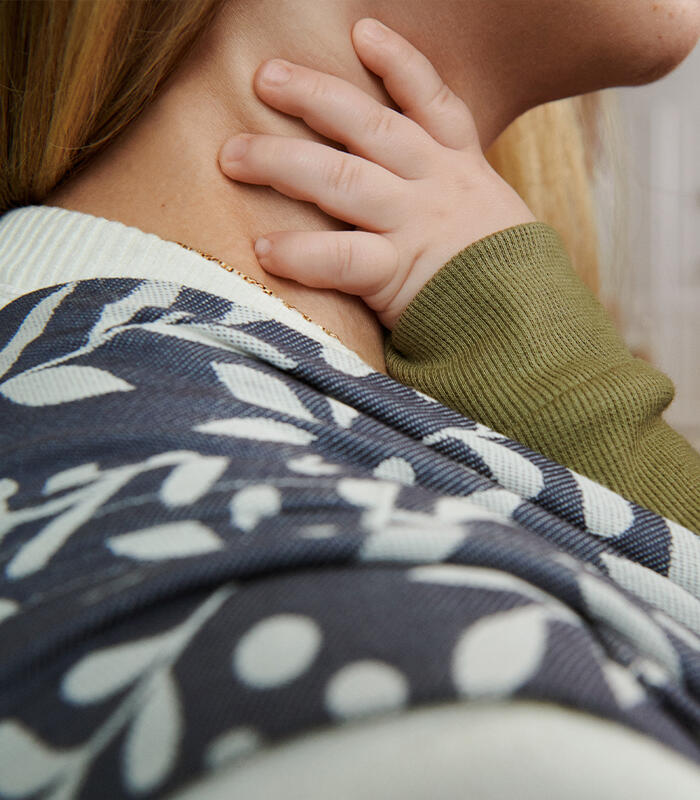 2
Optimal weight distribution
Once your baby is 9+ months, you can open the straps of the Stokke® Limas™ Carrier Plus under their bottom to provide optimal support & better weight distribution. The best way to carry bigger babies!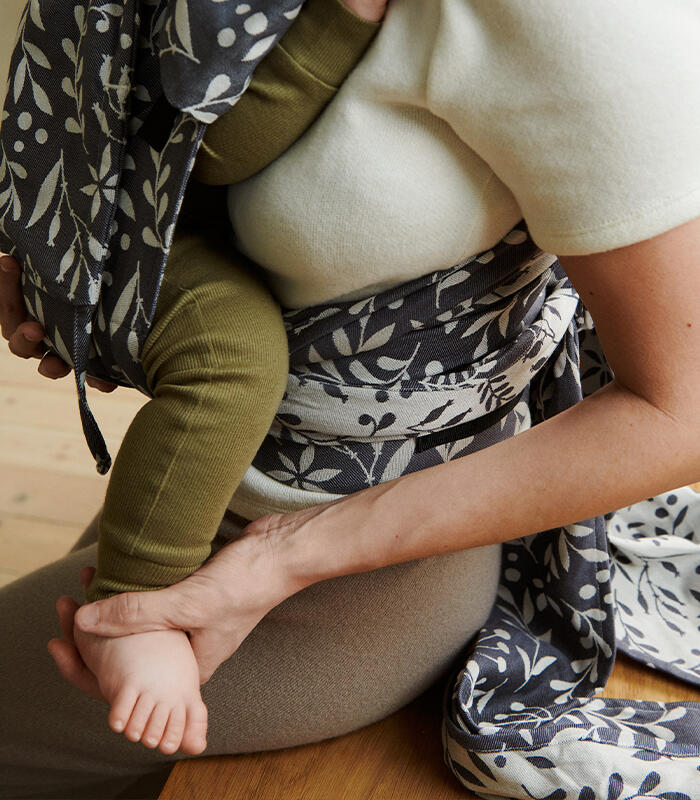 3
Tailor-made babywearing
The straps of the Stokke® Limas™ Carrier Plus allow you to adjust the carrier perfectly to fit your body and your baby, to guarantee great comfort for every body type.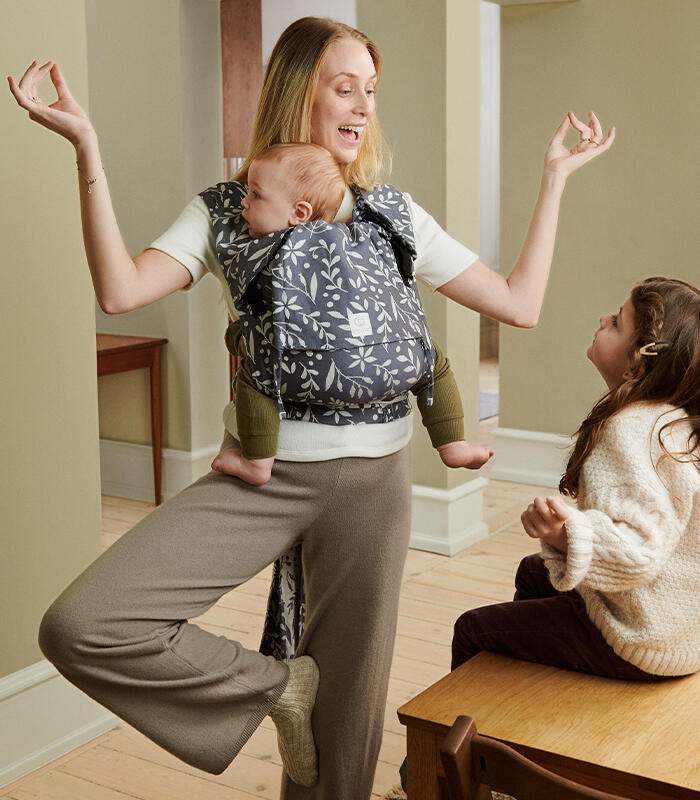 Three carrying options
With the Stokke® Limas™ Carrier Plus, you can use three different positions to carry your baby in a safe and ergonomic way. It all depends on your baby's age and your preferences!
Parent facing
Front carrying
The best position for the first few months and even after: keep your little one close to you at all times!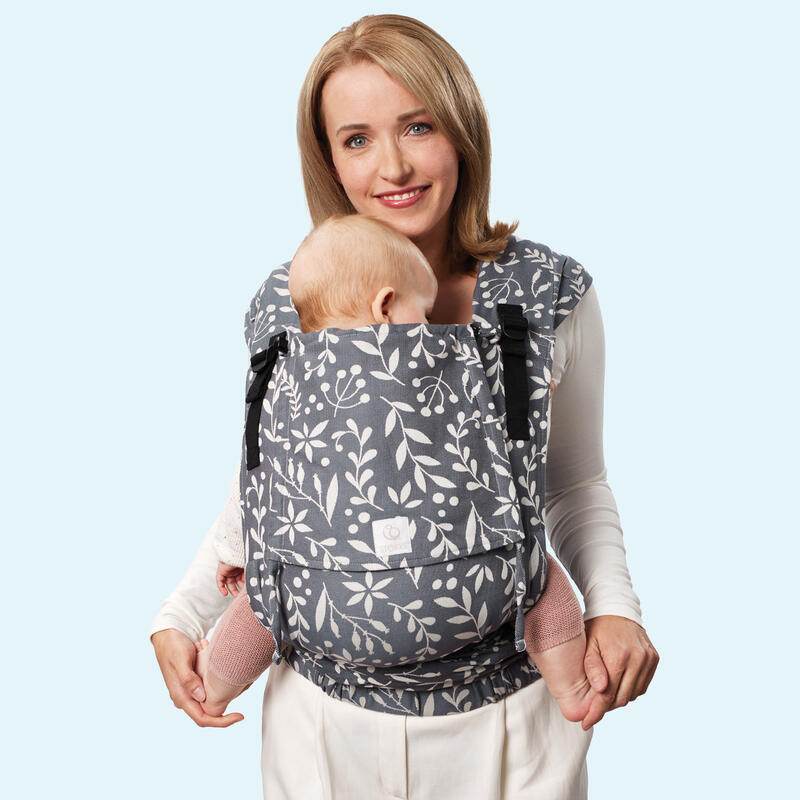 Parent Facing
Back carrying
Your baby is 5+ months and wants to go on adventures with you? Then it's time for back carrying!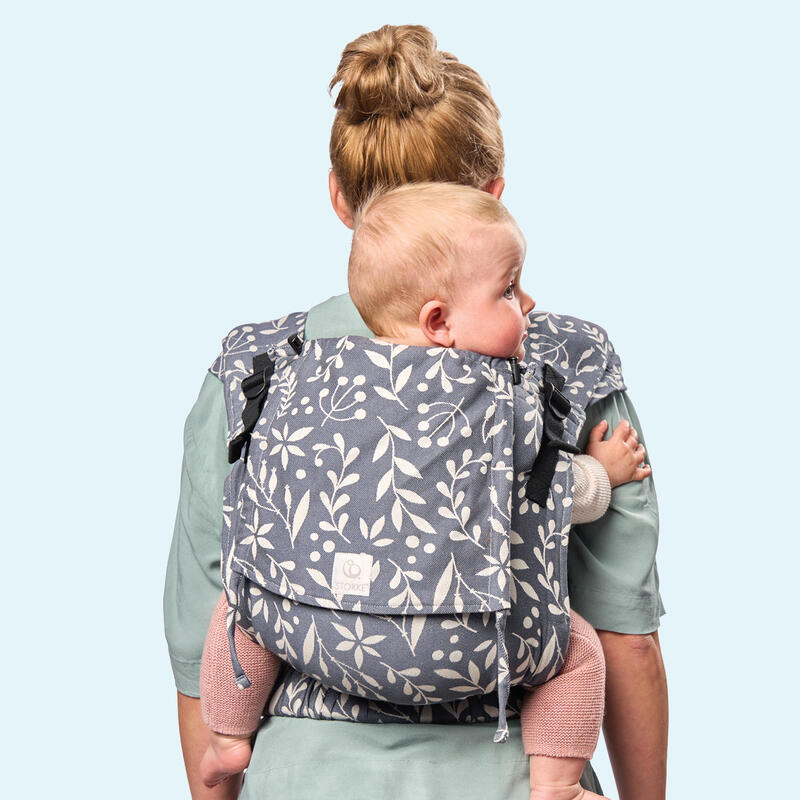 Parent Facing
Hip carrying
Hip carrying can be used from 1+ months and is perfect when your little one wants to look around a bit more.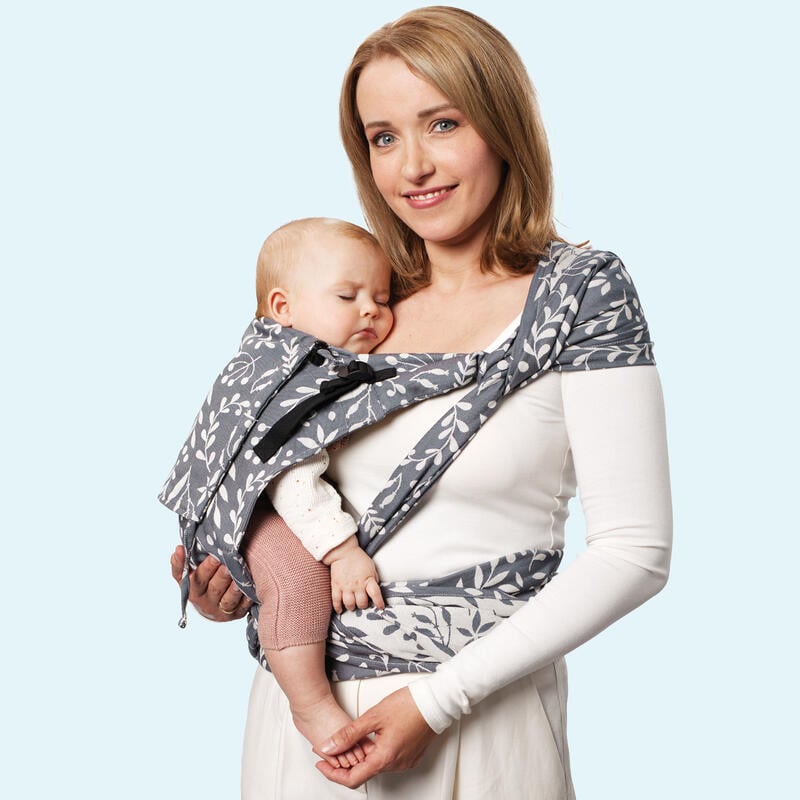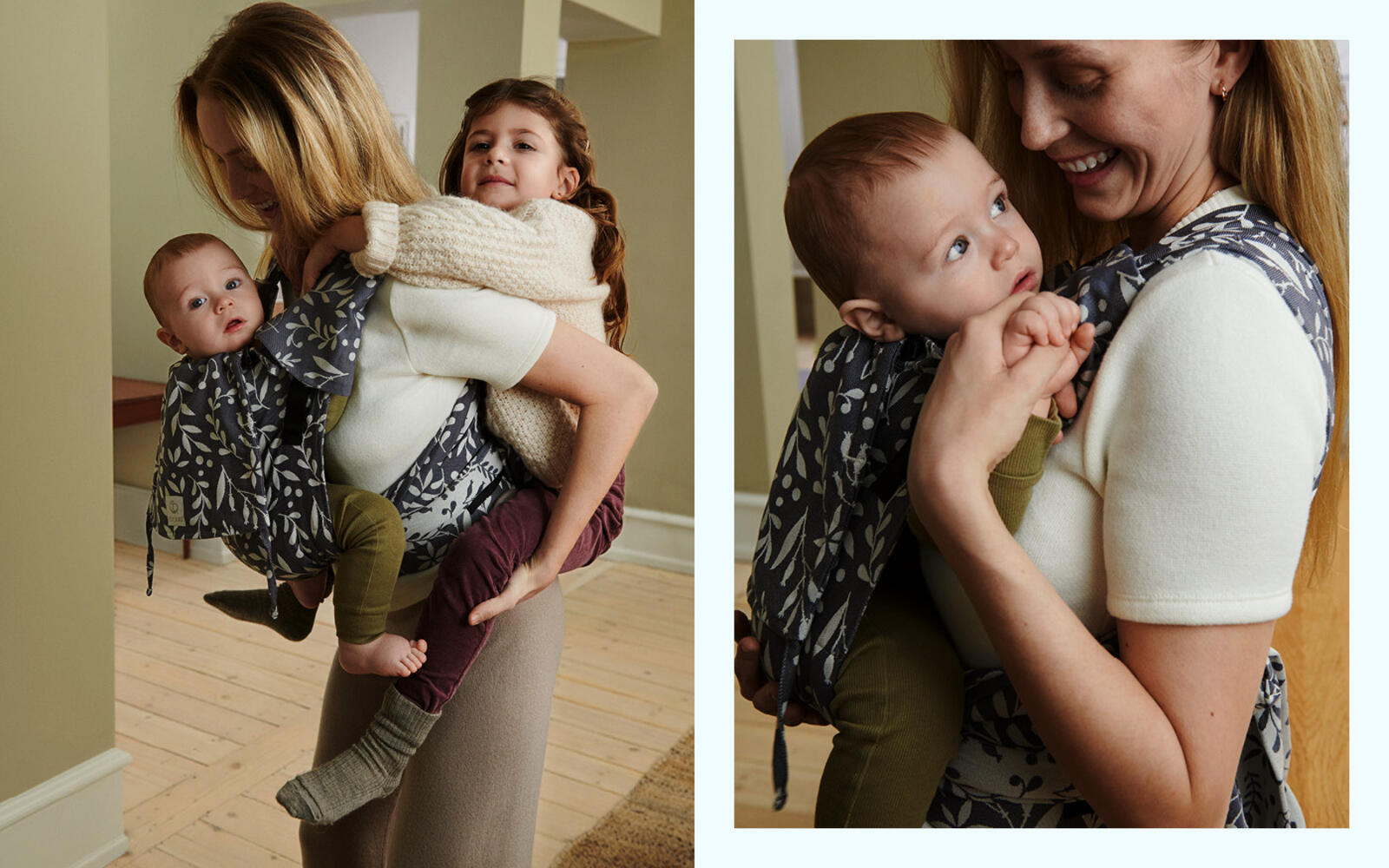 Unsure how to use this carrier?
Take a look at our video tutorials to find out more
Specifications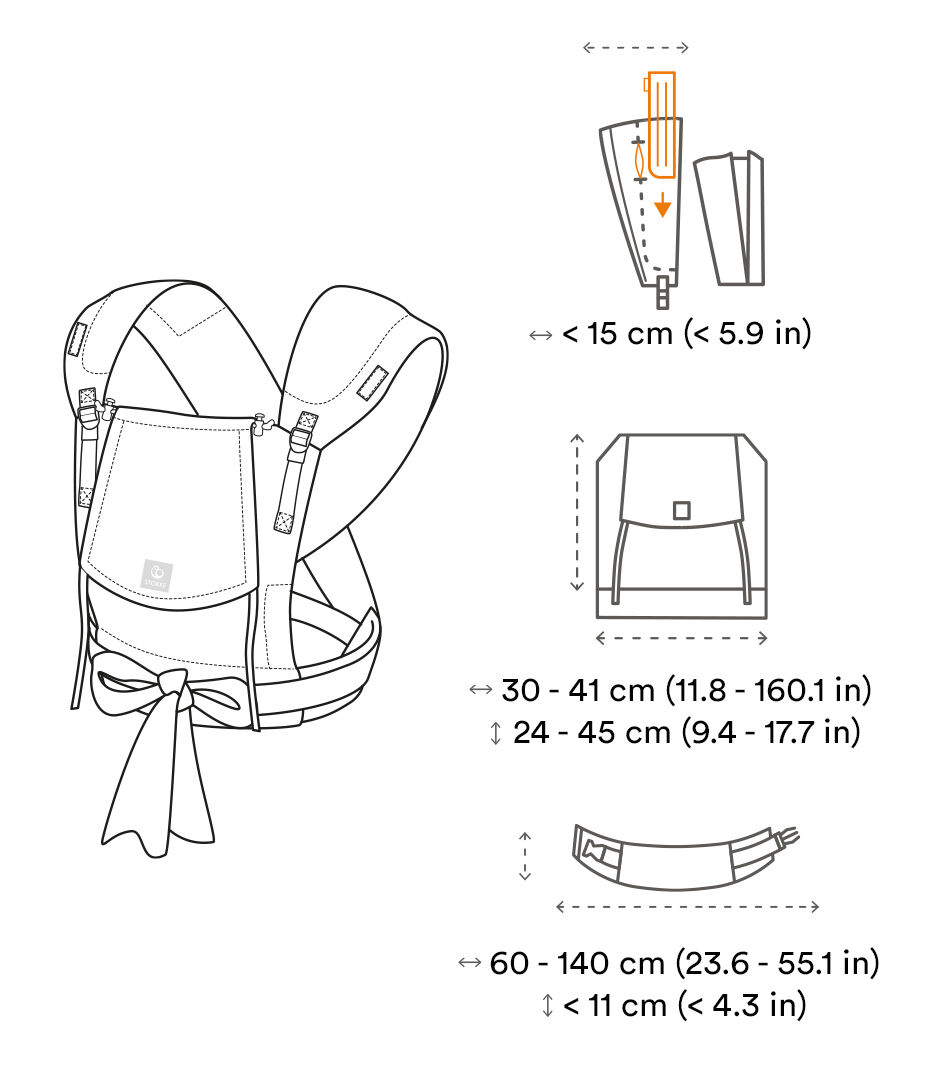 Weight (kg/lbs): 0.8 / 1.8 Suitable for age: from 1 (months) Suitable for Weight (kg/lbs): up to 18 / 39.7
Materials Detailed
Materials: 100% organic cotton* (*Valerian beige only: 55% organic cotton, 45% linen)
What's included
this item is included

Carrier with waistbelt

this item is included

Shoulder Pads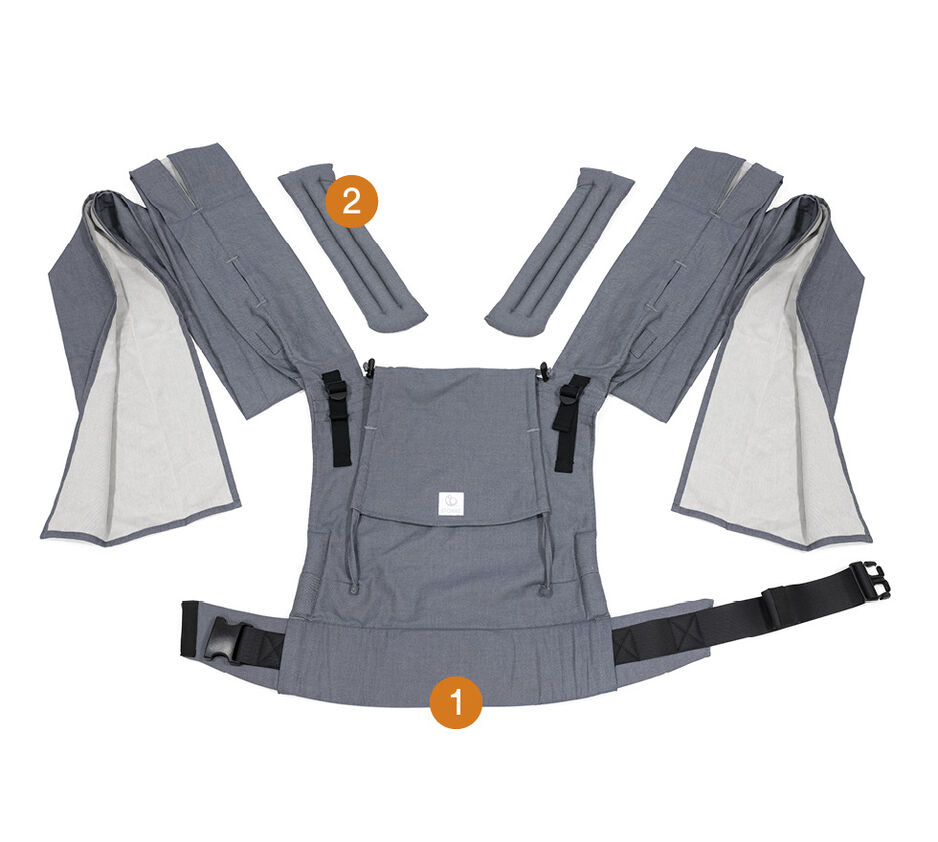 Stokke® Limas™ Carrier Plus in social
How to use / Documents
Maintenance
Machine washable at low temperature (40 degrees Celsius) and low spin
Assembly Instructions
FAQs
How many hours a day and until when can I carry my baby?

Babywearing can be unlimited! You can carry your baby as much as it suits you and your infant. By carrying them, you are fulfilling your baby's need to be close to you. In time, your baby will seek to discover their environment themselves and will let you know when they wish to be against you and when they are ready to discover the world.

How can I make sure that my baby is sitting correctly in the carrier?

BACK PANEL: The back panel should reach your baby's neck to provide head support. Always make sure your baby's nose and mouth are free for easy breathing.

SPREAD-SQUAT POSITION: To promote healthy hip development and ergonomics for your baby, the base of the back panel should support your baby from one knee to the other, and the knees should be slightly higher than the hips.

CLOSE ENOUGH TO KISS: You should be able to kiss your baby on top of their head easily. If your baby is too high or too low, simply adjust the waistbelt. Carrying your baby too low might cause you back pain.

CARRIER SNUG ENOUGH: For your baby's safety, when you lean forward your baby should stay close to you.

COMFORT: Make sure the straps are not twisted on your back and fan them out nicely on your shoulders for better weight distribution.

You will also find this information in our "How to" videos on stokke.com

Can I carry my baby facing forward/outwards?

We recommend three positions for babywearing, all parent-facing: front, hip and back. This excludes the baby facing outwards. Here are the reasons why: - Your baby should be carried in an "M" shaped spread-squat position. It is important for small babies to be seated in a rounded back posture, since babies' backs are not yet strong enough to hold themselves straight like an adult. This position is almost impossible to achieve with the baby facing outwards. - A baby can snuggle against the person carrying them, can put their head down to shield themselves from external stimuli if they are too intense or simply if they want to go to sleep. This is not possible if the baby is facing away from the wearer. - An outward-facing position is not ideal for the wearer's pelvis or back either, as the weight of the child is not close to the wearer's body and will tend to pull forwards. If your child is curious and tends to wriggle around in the baby carrier to look around, we recommend wearing them on the back once they are old enough (5+ months) or on the hip, facing inwards. This will broaden their field of vision while still ensuring a safe and ergonomic position for them, and better comfort for the wearer. Alternatively, and if they have good head support, you can let them get their arms out and on top of the carrier in the front carry position so that they feel less restricted.

How should I dress my baby for babywearing?

Here are a few tips to help you make sure your baby will be comfortably and ergonomically sitting in their carrier:

If your baby is wearing footed pajamas, make sure they are large enough to allow extra room for the toes. The pajamas tend to rise up when the baby is sitting, and it might squish your baby's feet
Avoid using thick coveralls since it might prevent your baby from sitting correctly in the carrier
If possible, no hood on the baby's jacket/sweater to ensure better back support
The carrier counts as one layer of clothing, so make sure that your baby is not too warm in the carrier

How should I carry my baby during the winter?

Even during cold weather, you can wear your baby warmly and completely safely. Here are a few precautions to keep in mind:

Carry your baby as close as possible to your body if the temperatures are below zero to prevent them from getting cold. Your body heat is their best protection.
Wear your baby under a babywearing jacket or use a baby carrier blanket. The best way for you to keep each other warm is to reduce the number of layers of clothes between you.
Regularly check your baby's temperature by touching their neck.
Do not use your own body temperature as a guide. Your baby is not moving around as you are.
If you are wearing a scarf, pay attention not to cover your baby's face. Their nose should always be free, and you can use head supports and blankets arranged asymmetrically to create an opening.
All limbs open to the elements should be covered by a hat, a scarf and slippers, even leggings.
Be extra aware of slippery ground during the winter and ensure that you are wearing the right footwear.
When you enter a heated space, ensure that your baby is not too hot. In general, it is enough to remove the cover or babywearing jacket.

How should I carry my baby during the Summer?

- Ensure that you do not dress your baby too warmly. The baby wrap or baby carrier already counts as one layer of clothing.
Dress your baby to protect them from the sun. Choose natural fabrics such as cotton, wool or silk clothing and lightweight leggings rather than trousers.
You can apply a light layer of mineral sun cream to any areas of the body exposed to the sun or buy a special baby sun cream with UV protection. Top with a sun hat and you're good to go!
Babywearing during the summer is best done in the shade or indoors, especially during the hottest periods, between 11 a.m. and 4 p.m.
Offer your baby water regularly. The smallest babies should be offered breastmilk or formula milk.
It is normal to sweat at the point of contact with your baby, remember that adults are also sweating "for" the baby to cool their body temperature as well as their own.

My baby's legs are blue when I am carrying him in the carrier, is this normal?

Sometimes, red, or blue marks can appear on the baby's legs when they are carried. This generally happens when the baby is worn for a prolonged period and can happen with a wrap, a ring sling, or a baby carrier.

This is related to baby's blood pressure, which is lower than adults' and even lower when they are sleeping. Indeed, the "M" shaped spread-squat position does not necessarily favor blood circulation and sometimes the carrier fabric, the baby's clothing or a nappy which is too small prevents the blood from circulating properly around the body. It is this accumulation of blood which causes these marks on the skin. In most cases, there's no need to worry, but you can talk about this with your pediatrician if you are worried.

To improve your baby's blood circulation whilst they are in their carrier, we recommend that you dress them in loose clothing and check that their nappy is not too tight. It is also important to check that they are seated properly in the baby carrier - the width of the seat of the carrier should be adjusted so that it enfolds the baby from the crook of one knee to the other, but it is a good idea to leave a 1-2 cm gap before the knee fold to prevent the fabric causing too much pressure in this area.

Can I still carry my baby if I'm pregnant?

Provided you have no medical reason to avoid lifting or carrying existing children, there is no reason why you should stop carrying a baby while pregnant. Just make sure that you are using the right carrier, ideally an onbuhimo or any other carrying option without a waistbelt to prevent pressure on your baby bump.

What are the carrying options of each carrier?

Stokke® Limas™ carrier: front carrying from birth / hip carrying from birth / back carrying 5+ months The Stokke® Limas™ carrier can be used from birth (3,2 kg) and until 15 kg and is the perfect choice for a newborn baby

Stokke® Limas™ carrier Plus: front carrying: 1+ months / hip carrying: 1+ months / back carrying: 5+ months The Stokke® Limas™ carrier Plus can be used from 4 kg up to 18 kg. It is perfect for older babies and if you like the snug feeling that the long straps give you

Stokke® Limas™ carrier Flex: front carrying 1+ months / back carrying: 5+ months / Onbuhimo (without waistbelt): 9+ months The Stokke® Limas™ carrier Flex can be used from 4 kg up to 20 kg. It is perfect for little toddlers and back carrying!

What are the options if my newborn doesn't weigh 3 kilos yet?

If your baby's weight is under 3 kg, we recommend using a wrap or a sling.

Why do the Stokke® Limas™ carriers only propose inward-facing carrying options?

We recommend three positions for the Stokke® Limas™ carriers: front carry facing-in, hip carrying facing-in and back carrying facing-in. This excludes the baby facing outwards. Here are the reasons why:

In the Stokke® Limas™ carriers, only the facing-in carrying positions allow your baby to sit in an ergonomic "M" shaped spread-squat position with a rounded back posture (babies' backs are not yet strong enough to hold themselves straight like an adult). This position is impossible to achieve with the baby facing outwards.

When your child is sitting inward-facing in a Stokke® Limas™ carrier, they can snuggle against the person carrying them, can put their head down to shield themselves from external stimuli if they are too intense or simply if they want to go to sleep. This is only possible if the baby is facing the wearer.

When you're carrying your child facing inward, they stay close to your center of gravity. The weight is nicely distributed around your body, which makes babywearing very comfortable. In an outward-facing position, the weight of the child is not as close to the wearer's body and will tend to pull forwards, thus creating tension in the wearer's back.

Which baby carrier would be best for me or my clients?

No one type of baby carrier is better than another, it depends on the preferences and habits of the baby and the carrier, as well as their body types. The easiest way to find out is to attend one babywearing workshop where a consultant can help you to try the different types of carrier. A baby carrier should provide the best physiological position for the baby whilst also remaining comfortable for the wearer.

What are the differences between the LIMAS Carriers and the Stokke® Limas™ carriers?

The carriers are essentially the same, but we made a few updates for the Stokke® Limas™ launch. Here are the new features of the Stokke® Limas™ carriers:

Stokke® Limas™ carrier: Padding for the baby's knees / Headrest slightly larger and its cords slightly shorter / The cords (neck cord and newborn setup) are now made out of the same fabric as the carrier / The Stokke logo replaces the LIMAS logo

Stokke® Limas™ carrier Plus: Padding for the baby's knees / Sewn-in headrest / The headrest is slightly larger and its cords slightly shorter / The cords (from the neck cord) are now made out of the same fabric as the carrier / The Stokke logo replaces the LIMAS logo

Stokke® Limas™ carrier Flex: Sewn-in headrest / The headrest is slightly larger and its cords slightly shorter / The cords (from the neck cord) are now made out of the same fabric as the carrier / The Stokke logo replaces the LIMAS logo

What is the purpose of the two holes and two cords on the waistbelt of the Limas Carrier?v

To prepare your Stokke® Limas™ Carrier for your newborn, you might need to reduce the height of the back panel. To do so, lay it on a flat surface, fold the back panel once around the waistbelt, tie the little cords and use the carrier as usual afterwards.

You will also find this step in our "How to" videos on stokke.com.

What are the buckles in the pocket for on the Stokke® Limas™ Carrier Flex?

Depending on the age of your baby, you attach the shoulder straps of the Stokke® Limas™ Carrier Flex differently:

From 1 to 9 months, attach the straps to the waistbelt
From 9+ months, attach the straps to the back panel

Attaching the straps to the back panel provides better weight distribution and comfort to the parent, but creates a tension line in your baby's back. We recommend avoiding this tension for small babies whose back is not developed enough by simply attaching the straps to the waistbelt.

You will also find this step in our "How to" videos on stokke.com.

Why is there a headrest and how should I use it?

All three Stokke® Limas™ carriers feature a headrest for your baby. It can be used to support their head while they're sleeping for example, or help them calm down when they are agitated. They can also be used for more privacy while nursing.

When you use the head rest, make sure that your baby's airways are free at all times. We recommend only using one side of the headrest at a time.

To use the headrest, simply knot the string on the loop on in the carrier straps, on your shoulders.

Why are the shoulder straps removable and when is it recommended to remove them?

The Stokke® Limas™ carrier and the Stokke® Limas™ carrier Plus both have removable shoulder padding. Using it is completely optional and merely a matter of preference.

Usually, we recommend removing the shoulder padding for hip carrying and for carrying newborns and very young babies. Once your baby gets bigger, the shoulder padding will provide more comfort and support for the parent.

What are the strap protectors for?

Babies love chewing the straps of their Stokke® Limas™ carriers. Using the strap protectors will prevent you from having to wash your carrier too often. You simply need to remove and wash the strap protectors instead of the whole carrier!

You can use the strap protectors on the three carriers from the Stokke® Limas™ collection.

What is the chest belt for and do I have to use it ?

The Stokke® Limas™ carrier is sold with a chest belt. It is used only for back carrying and primarily for safety reasons. It prevents the shoulder straps from sliding off your shoulders, which could result in the child slipping out the carrier. It also helps with weight distribution.

The chest belt is also sold as an accessory since this little piece of fabric gets lost easily. Parents can also buy it for back carrying in the Stokke® Limas™ carrier Plus. However, the length of the shoulder straps for this carrier allows you to wrap a safe finish replacing the chest belt.

You will also find this step in our "How to" videos on stokke.com.

Why is the padding removable on the Stokke® Limas™ carrier and Stokke® Limas™ carrier Plus?

The Stokke® Limas™ carrier and Stokke® Limas™ carrier Plus offer a special feature: there is a sewn-in pocket into which shoulder padding can be inserted of removed. Deciding to use the padding or not is merely a matter of preference for the parent or caregiver.

What are the straps extensions for and how do I use them?

Depending on your body, your flexibility or even your preferences, you have the possibility to use straps extensions for the Stokke® Limas™ carrier Flex. This might be useful if:

You feel very tight when using the carrier, the straps seem to be too short for you
You're having difficulties closing the back buckle
You would like the straps to cross in your back To use them, simply connect the extensions to each strap

To use them, simply connect the extensions to each strap

Where are the Stokke® Limas™ carriers manufactured?

The Stokke® Limas™ carriers and accessories are manufactured in Turkey.

What are the baby carriers made from?

Stokke® Limas™ carriers are manufactured from cotton. The Valerian Beige fabric is made from 50% cotton and 50% linen.

Have the Stokke® Limas™ carriers been designed for every body type?

Our Stokke® Limas™ carriers have been designed to fit as many morphologies and body types as possible. On all three carriers, the waistbelt can be adjusted from 60 to 140 cm.

If your waist is too thin for the carrier and the sides of the waistbelt overlap, just make another loop with the strap around your waist and you should be able to close the buckle.

How should the Stokke® Limas™ carriers be washed?

All of the LIMAS Stokke® Limas™ carriers are treated with a sanforisation after weaving. This is a process combining water vapor, heat and pressure to preshrink the fabric so that there is minimal shrinkage when washed. The carriers can be used as soon as they are purchased without needing to wash them beforehand.

Here are our recommendations to ensure that your Stokke® Limas™ carrier retains its colors and softness over time:

Wash at 40° C, on a gentle spin
Use a liquid detergent for delicates that does not contain bleach or whitening agents
Close all of the buckles before washing, you can remove the belt if you wish. You can wash the shoulder padding with the carrier.
For an even more delicate wash, place the baby carrier in a washing bag or inside a pillowcase
Dry your baby carrier naturally, do not tumble dry
Do not iron the belt

Do the Stokke® Limas™ carriers guarantee good posture?

If used properly, Stokke® Limas™ carriers perfectly respect your baby's physiology. To make sure your baby is sitting correctly in their carrier, you can check the following points:

The carrier and carrying option you're using correspond to your baby's age and weight
Your baby is "close enough to kiss": you should be able to give them a kiss on top of their head easily
The back panel is high enough to cover the neck, but the baby's nose and mouth are free
The baby has a round back and their knees are higher than their hips (spread-squat position)
Your carrier is tight enough: when you lean forward, your baby must stay close to your body
Load more FAQs
Bonus Products
Bonus Products