Stokke® Crusi™ Asiento Hermano
Keep your growing family together with the Stokke® Crusi™ Sibling Seat. This cozy seat attaches to the Stokke® Crusi™ chassis, allowing you to comfortably stroll with both your children. Now, your little ones can always stay together. Taking a sibling has never been easier. Suitable for children from 6 months and up to 15 kg (single seat).
Lo que incluye
Asiento Hermano (1)
Asiento Hermano Capota (2)
Asiento Hermano Visera para capota (3)
Asiento Hermano Funda de Arnés (4)
Asiento Hermano Reposapiés (5)
Asiento Hermano Adaptador izquierda (6)
Asiento Hermano Adaptador derecha (7)
Stokke® Cochecitos Asiento Burbuja de Lluvia
Stokke® Cochecitos Mosquitera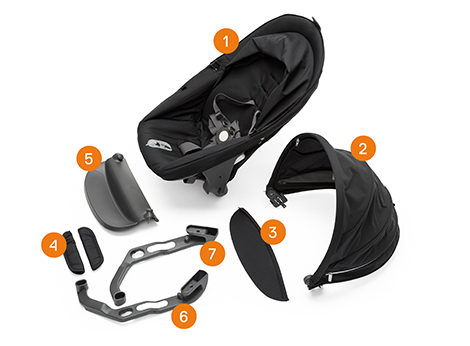 Especificaciones técnicas / Medidas
Información del producto

Peso del asiento en kg/lbs: 3,8/8
Peso en kg para un uso apropiado del asiento: 6 months up to 15kg
Materiales: Las partes duras son de plástico y el acolchado y las telas exteriores de poliéster.
Características
Reforzando la proximidad y los lazos afectivos en la familia.

Estimula el sentido de independencia en los niños, ya que pueden entrar y salir por sí mismos.
Tu niño podrá descansar sus piececitos mientras tú sorteas ascensores, esquinas cerradas y calles transitadas.
Lo que incluye:

Asiento con textiles.
Capota con visera y adaptador del asiento para hermanos.