JetKids™ by Stokke® CloudSleeper™ Inflatable Kids' Bed
The Kids' Travel Bed for Home and Away
Bonus Product
https://www.stokke.com/en-rs/584601.html
All-in-one travel bed for kids with integrated pump, fitted mesh cover sheet, and a packing cube for easy transport and storage
Full-length side bumpers to keep your toddler safely sleeping while you're away from home
Breathable mesh cover fitted sheet to regulate your child's body temperature for optimum comfort
Reddot award best of the best 2021 in product concept
Find your nearest store
overview
How to use
FAQs
Spare Parts
Product Details
The Kids' Travel Bed for Home and Away
The CloudSleeper™ is the all-in-one inflatable travel bed for toddlers and children three years and above. It's a travel bed made easy that's small enough to fit inside your backpack or hand luggage. Lightweight and all-inclusive, it has no loose parts.
A true innovation for children's inflatable travel beds
Durable TPU coated nylon base inflatable mattress, similar material to a high-end hiking mattress 
Full-length side bumper provides extra safety to toddlers when sleeping. 
Air mesh cover fitted sheet helps to regulate body temperature and provide extra support for your child. 
Water-repellent bottom cover for easy cleaning.  
Integrated pump can inflate the bed in less than a minute with your hand or foot. 
Packing cube with double zipper design for compact storage and easy transportation. 
Specifications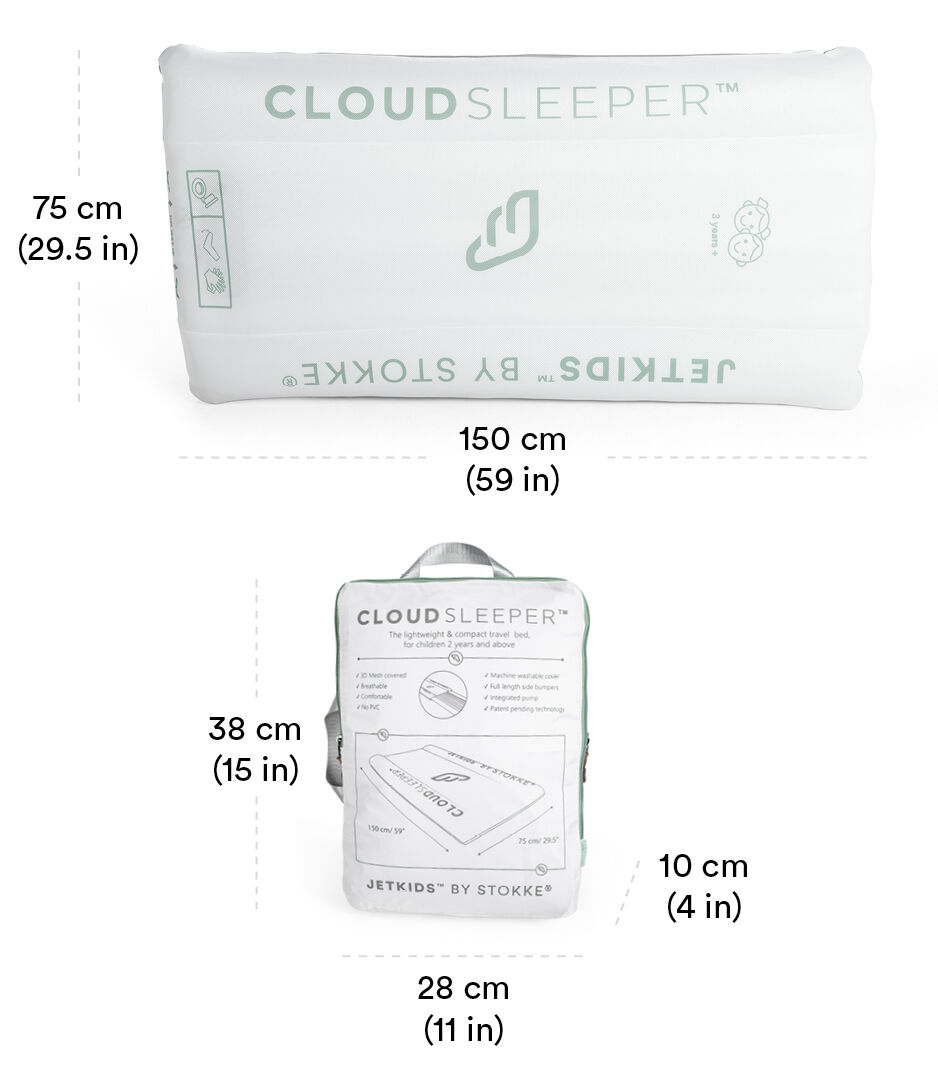 Product Size (cm/in): 150 x 75 x 17 / 59.1 x 29.5 x 6.7 Weight (kg/lbs): 1.4 / 3.1 Suitable for age: from 36 (months) Suitable for Weight (kg/lbs): up to 68 / 149.9
Materials Detailed
Materials: TPU Mattress: Strong, durable and lightweight 40D nylon. It is TPU coated and PVC free. Top over: Breathable and comfortable air mesh (3D Mesh) - 100% Polyester. Bottom cover: Strong, durable water and water repellent - 100% polyester (PU coated)
Compatibility
Compatible with JetKids by Stokke® BedBox
What's included
this item is included

Double-layered zipper portable packing cube

this item is included

Fitted sheet with air mesh cover and water repellent bottom cover

this item is included

TPU coated nylon base mattress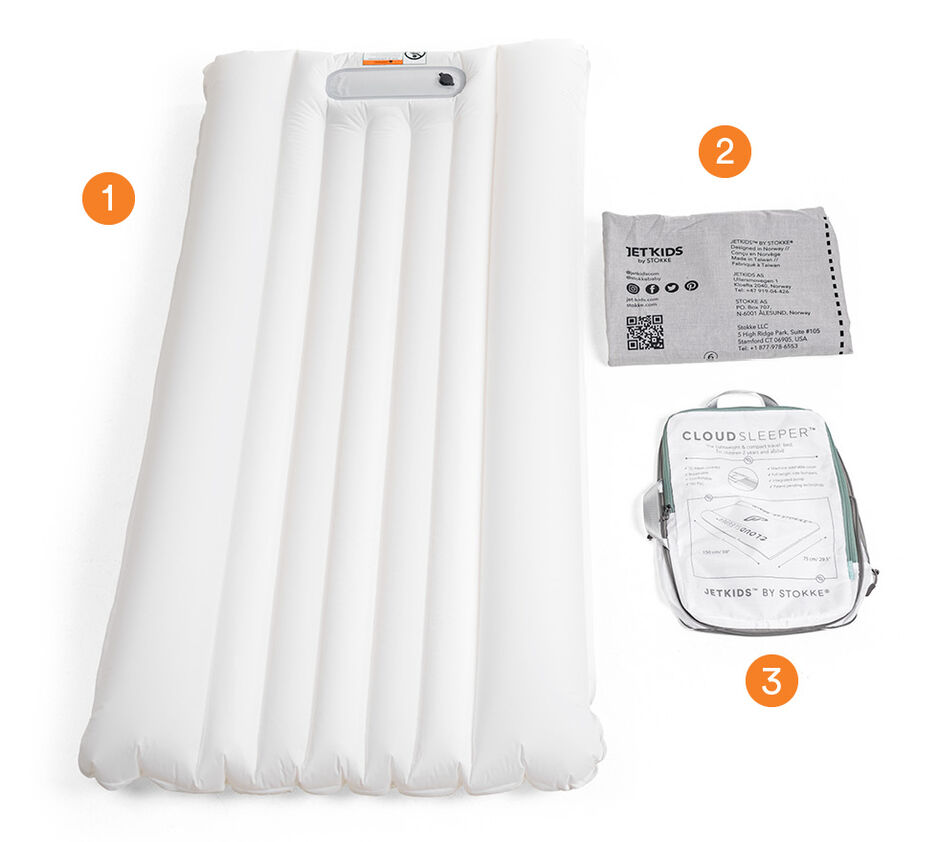 JetKids™ by Stokke® CloudSleeper™ Inflatable Kids' Bed in social
How to use / Documents
Maintenance
TPU mattress: Wipe off any dirt or stains using a wet cloth.
Air mesh cover: machine washable to 30 degrees Celsius.
To dry, we recommend putting the cover on the base, inflate the mattress and let it dry naturally before you pack it down the the packing cube.
Downloads
FAQs
What is the CloudSleeper™?

The CloudSleeper™ is the compact and lightweight children's travel bed from 3 years and above. It is a travel bed for home and away, an inflatable bed with no loose parts and an integrated pump.

How does the packing cube work?

The packing cube of the CloudSleeper™ is a design that allows you to compress the CloudSleeper™ even more for packing and ease of transport. It is designed with double layered zipper. By closing both layers, you can push more air out of the CloudSleeper™ and compress it to the smallest size.

Where can I use the CloudSleeper™?

Because of its compact and light weight design, the CloudSleeper™ is the perfect bed for indoor and outdoors activities at home and away such as sleepovers, camping, family reunions, hotels, and others.

Can I use the CloudSleeper™ outdoors as well?

The CloudSleeper™ has a removable and machine-washable cover, made of water repellent material on the bottom side and comfortable air mesh on top. These materials allow you to use the CloudSleeper™ on both indoor and outdoor adventures.

What are the materials of the CloudSleeper™?

The inflatable base is made of light and durable TPU-coated nylon, similar to what is used on high-end hiking mattresses, for example. The removable and machine washable cover is made of polyester air mesh on the top, combined with water repellent polyester on the bottom side.

How do I clean the CloudSleeper™?

You can wash the cover in the washing machine at a recommended 30 degrees Celsius cycle. We recommend 30 degrees Celsius (cold wash). However, 40 degrees Celsius (warm wash) is also an option. To dry, we recommend putting the cover on the base, inflate it, and let dry while inflated. To clean the inflatable base, wipe off any dirt or stains using a wet cloth.

How do I inflate the CloudSleeper™?

There is clear instruction on the packing cube. After you receive the product, take out the TPU base and the air mesh cover, unfold them, put the air mesh cover over the base, open the valve cap on the pump and close the valve cap at the opposite end and then use your both hands or foot to push the integrated pump to pump the mattress up. You can also find clear how-to videos on our youtube channel.

How long does it take to inflate?

The inflation takes around 1 minute. All in all, removing the CloudSleeper™ from the compression cube, unfolding, and inflating it would typically take approximately 2 minutes.

Do I need a pump to inflate the CloudSleeper™?

No, the CloudSleeper™ comes with an integrated pump. You will not need any additional or external tools to inflate it. Inflate by pushing with both hands down on the pump area or by using your foot. When inflating, remember to have the valve cap open on the pump and close the deflation valve at the opposite end. There is also a handy quick guide on the packing cube.

How do I pack it down after I use the CloudSleeper™?

After usage, simply open the valve cap at the opposite end of the pump and roll up the mattress firmly one time to deplete all air. Then unroll and fold along the numbered and dotted lines printed on the back. Finally, put the mattress back into the packing cube and close the packing cube with the zipper. If needed, you may also use the additional zipper to compress the CloudSleeper™ further.

How long does it take to pack the CloudSleeper™ down?

It takes around 2 minutes to pack down.

What comes with CloudSleeper™?

CloudSleeper™ includes an inflatable base, a removable air mesh cover with water repellent fabric on the bottom side, and a custom-made packing cube. Both the cover and packing cube come with printed instructions for usage and packing.

How long does the CloudSleeper™ stay inflated?

In normal circumstances, the CloudSleeper™ stays inflated for weeks and should not leak at all. However, as air expands with increasing temperature and contracts when cooled, you might experience some variation in firmness when, for example, moving the CloudSleeper™ from a hot to a cold area and vice versa. You can adjust the firmness at any time by giving it a few pushes on the pump area or releasing some air.

What do the dotted lines in the back of the CloudSleeper™ do?

These are for making it easy and quick to stow the CloudSleeper™ back into the packing cube. After use, open the deflation valve and roll up the CloudSleeper™ one time, starting from the pump side. Then unroll, and fold the CloudSleeper™ along the dotted lines, starting with lines number 1 and 2.

What is the warranty for the CloudSleeper™?

CloudSleeper™ comes with a global warranty of 2 years from the day of purchase.

Will the CloudSleeper™ fit inside the BedBox?

Yes! The CloudSleeper™ fits perfectly inside the BedBox and still leaves some space available for some of your child's personal belongings.

What is the age range for the CloudSleeper™?

The CloudSleeper™ is designed for children three years and up to approximately 10 years (150cm / 4′ 11″).

Why is it that the CloudSleeper™ can only be used from 3 years?

Babies typically have other solutions, like foldable travel cots, cribs etc. We wanted to make a travel bed for children from three years and upwards as we saw the lack of good products in the market for this age group. In addition, the few options we saw were old-fashioned plastic/PVC inflatable beds, which are bulky, heavy, and not very suitable for travel.

My child is not three years old yet, can he/she use the CloudSleeper™?

No, we do not recommend that. The CloudSleeper™ is tested for its intended user age, which is 3 years and upwards.

How much does the CloudSleeper™ weight?

The CloudSleeper™ weights only 1.4kgs/3lbs.

How much weight can the CloudSleeper™ take?

The CloudSleeper™ is tested for a max weight of 150lbs/68kg.

What is the measurement for the CloudSleeper™ when it is inflated?

The CloudSleeper™ when inflated is 150 x 75 x 17 cm / 59 x 29.5 x 6,7 inches.

What is the measurement for the CloudSleeper™ when it is packed down?

When you pack the CloudSleeper™ down in the packing cube and fully compress it, it is 38 x 28 x 10 cm / 15 x 11 x 4 inches.

JetKids™ by Stokke® CloudSleeper™
Load more FAQs
Bonus Products
Bonus Products