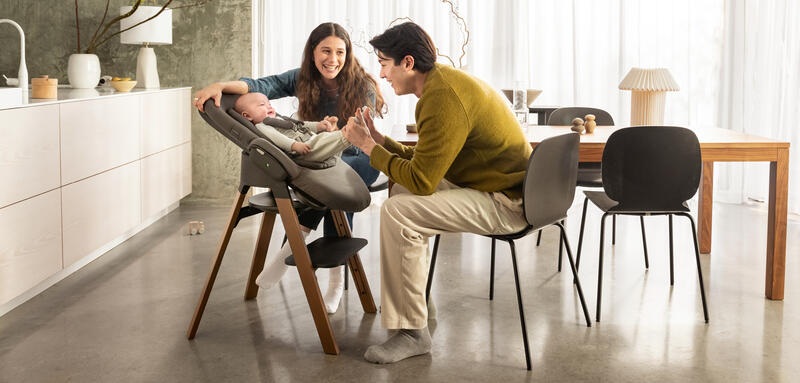 Steps New color
Spring 2023
Step up your seating game
New Colors for Stokke® Steps™
For Spring 2023, we're are stepping up our style game with new colors for both the Stokke® Steps™ Chair & Bouncer!
We´re introducing Stokke® Steps™ in:
• Stokke® Steps™ Black Natural
• Stokke® Steps™ Black Golden Brown
These two new beautiful color combinations were selected for their rich, yet warm look. Elegant and on-trend, black paired with natural and golden brown are versatile enough to stand out in any interior.
The matte finishes let the grain of the natural wood shine through bringing an element of texture and softness. This contrast with the sleek black results in the perfect modern neutral for a soothing and timeless look.
Stokke® Steps™ is the all-in-one seating solution that allows for smooth transitions. Not only throughout the day – from living room to kitchen, facilitating connection between parent and child anywhere in the home, but also over the years as your child grows – from newborn and throughout childhood. Whether you want to reach for the stars or another bite of dinner, Stokke® Steps™ is made to adapt to all your needs — every step of the way.
The concept offers a wide range of ergonomic seating; from the comfortable bouncer with a gentle cradling motion, to the functional baby set & high chair. Then later, at about 3 years, it's the sleek Scandinavian design chair. It's the ultimate way to keep your little one close & comfortable.
Stokke® Steps® Features - At a Glance
• For use from newborn until the teen years
• Clip on bouncer or newborn set as infant solution
• Spacious, comfortable baby set and tray for easy feeding
• Tool-free adjustable back- and footrest give optimal ergonomics
• High-quality materials make it sturdy enough to hold up to 85kg
• Award-winning design with a wide selection of colors and accessories
We`re also dressing up our must-have accessories:
• Stokke® Steps™ Bouncer & Baby Set Cushion Soft Sage
• Stokke® Steps™ Bouncer & Baby Set Cushion Herringbone Grey
The Stokke® Steps™ Bouncer & Baby Set Cushions Steps are now available in luxurious new, high quality, Soft Sage & Herringbone Grey. The fabrics are not only interior friendly, they`re also gentle to the touch with a premium feel. To really ground the look, Stokke® Steps™ Bouncer will be available with both a black and a white chassis.
The Concept
With unique cradling movement, the Stokke® Steps™ Bouncer helps you find your rhythm for fun on the floor in every room or your home. Developed with a Pediatric Physiotherapist, the Newborn Insert offers great support. The detachable toy hanger keeps baby´s favorite toys close at hand.
When mounted on the Stokke® Steps™ Chair, the Stokke® Steps™ Bouncer allows you to lift your newborn up to your height at the table from day one. This enables you to be closer for connection which aids in your young baby´s healthy development.
Stokke® Steps™ Bouncer Features - At a Glance
• Newborn insert gives support and comfort from birth
• Multiple seating positions to adjust to your baby's weight & position
• The bouncer folds flat for easy storage and travel
• Can be used on the floor or mounted on to the Stokke® Steps™ Chair
• Enables babies to bounce independently
• Sturdy base to avoid sliding
• Part of the Stokke® Steps™ high chair seating system
"The shape and form of the Steps products mature as the child grows. Starting with a cuddly and soft bouncer for your newborn, then a more playful but still protective shape for the toddlers and finally, a more mature and sophisticated design for older children."
-Stokke Design Team