Stokke® MuTable™
The multifunctional play table
Bonus Product
https://www.stokke.com/USA/en-us/581701.html
Modular with 4 different heights which adapts to growing toddlers & children
Includes 4 double-sided activity boards & natural wood cover
Award-winning design: Red Dot Design Award & American Paren'ts Choice Gold Award in 2019
overview
Accessories
How to use
FAQs
Spare Parts
Product Details
The multifunctional play table
Combining the quality of award-winning design with the ingenuity of a multifunctional playroom table, the Stokke MuTable adapts to meet the physical and developmental needs of growing children. The Stokke® MuTable™ comes with 4 creative and interchangeable double-sided activity boards which spark imaginative play, all in one place. It's modular design features 4 height adjustable positions which means this playroom table can be comfortably enjoyed by kids of different ages. Stokke® MuTable™ is an international winner of the Red Dot Design Award 2019 and the American Parent's Choice Gold Award 2019 in the toy category.
4 double-sided play boards to fuel creativity & development
Blackboard & Whiteboard
Natural & City Landscapes
Puzzle Base & Natural Wooden Cover
Includes a Four Seasons puzzle
Tables includes a wooden cover for a tidy look when not in use & to function as a classic table
Height adjustable from 17 to 23 in (45 to 59 cm) for your child's comfort as they grow. The height of the table can be adjusted with the use of leg extension pieces: just add (or remove) the leg extension pieces to reach the desired table height.
When playtime is over, children can easily push all their toys into the hole at the center of the table, dropping everything into the Toy Storage Bag below.
Made with wood and high-quality materials for durability
So versatile with a lot of ways to play!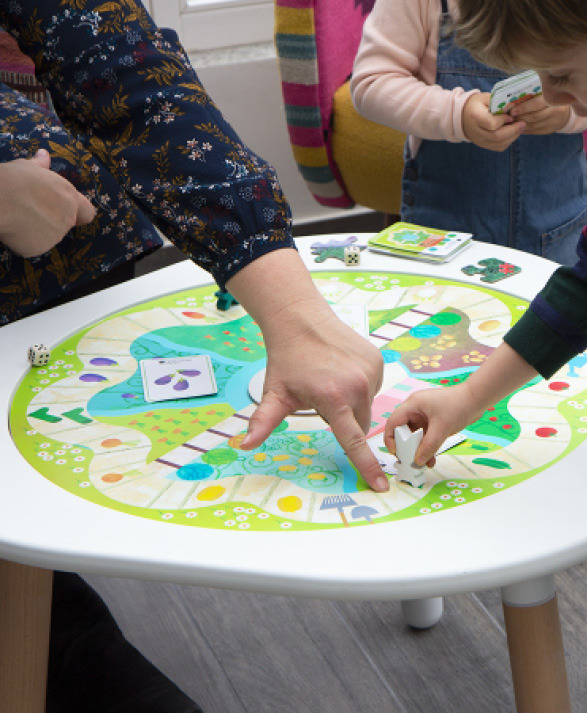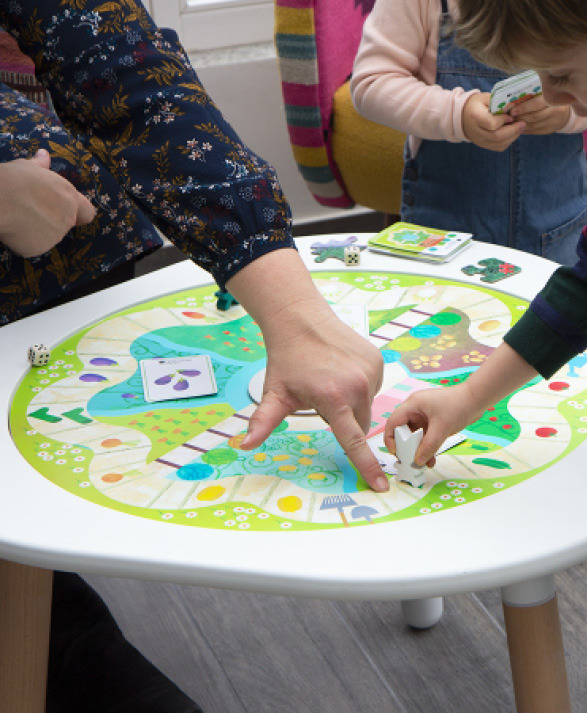 4 double-sided disks
Each disk has two sides that are interchangeable, offering different activities & games. Change the disks as your child develops to keep them engaged - they'll never get bored.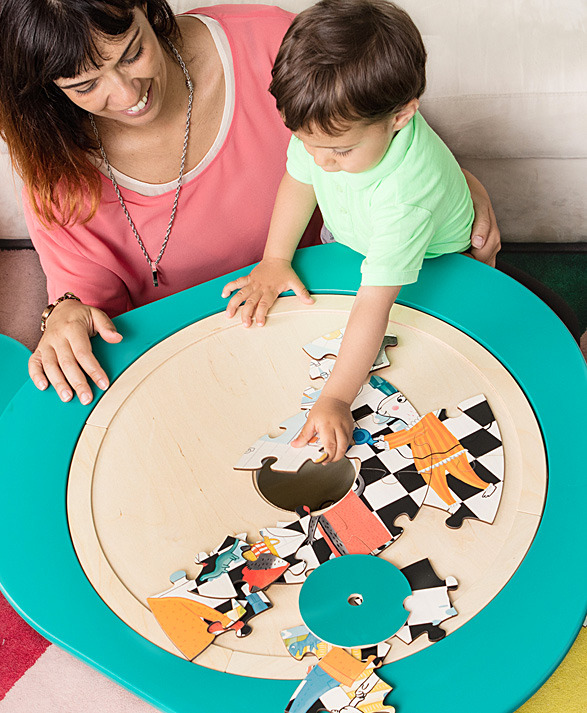 7 imagination inspiring activities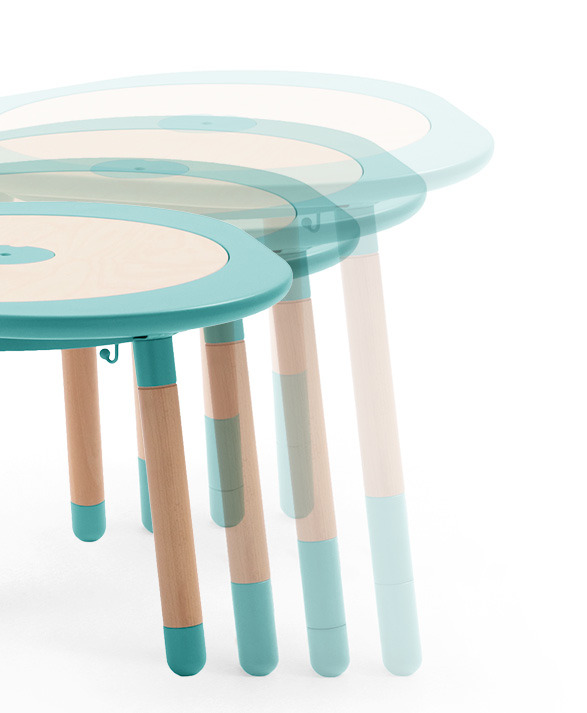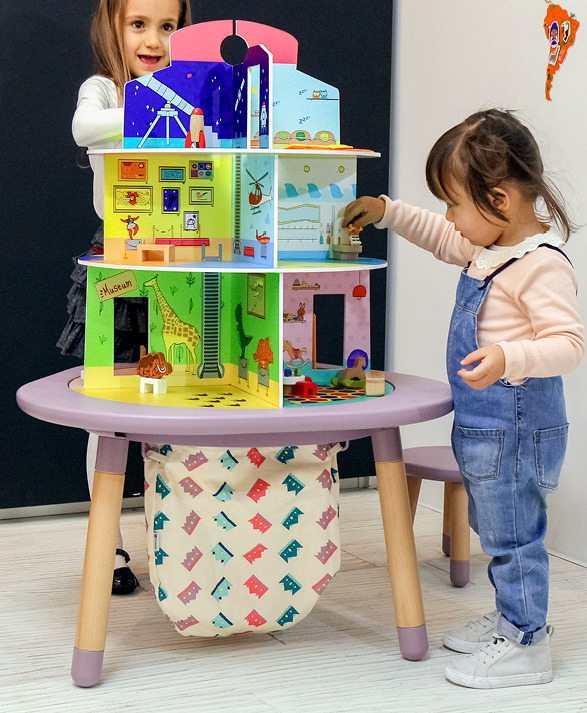 Made with high-quality wood
4 different table heights.Just add (or remove) the leg extensions for a custom fit for growing children
Playroom table with many add-ons
Pair it with a mutable chair or cotton bag for personalization!
Being modular means that you've got lots of options. Pair your MUtable with a Mutable Chair for a matching seat or the super cool toy storage Cotton Bag that makes tidying up those toys take seconds!
Specifications
Weight (kg/lbs): 15.5 / 34.2 Suitable for age: from 36 (months)
Compatibility
Stokke® MuTable™ Chairs
Stokke® MuTable™ Cotton Bag
Stokke® MuTable™ in social
How to use / Documents
Maintenance
Easy to clean with a damp cloth.
Blackboard can be used with chalk only (not compatible with other types of felt-tip pens/liquid chalks/pencils).
Whiteboard can be used with dry-eraser markers only specially designed for whiteboards (not compatible with other types of markers/chalks/pencils)
FAQs
What markers can I use for the Whiteboard / Blackboard?

The blackboard is only compatible with the use of classic chalks, whereas the whiteboard is always and only compatible with specific dry-erase whiteboard markers. Other types of chalks or markers are not compatible (for example liquid chalks, wax crayons, colored pencils, washable markers etc.).

Is the Stokke® MuTable™ PVC, BPA, and phthalate - free?

The Stokke® MuTable™ is made of wood and the paint is NON-toxic. So, yes! The Stokke® MuTable™ is 100% free of PVC, BPA, and phthalate.

What is and where can I buy the Stokke® MuTable™ and Stokke® MuTable™ accessories?

The Stokke® MuTable™ is an award winning multifunctional children's play table modular with 4 different heights to adapt to growing toddlers & children. You can order the Stokke® MuTable™ and all accessory products directly from our website.

What ages was Stokke® MuTable™ designed for?

The Stokke® MuTable™ can be used independently by kids from 3 years onwards and is designed to be used up to 8 years old.

What is included with the Stokke® MuTable™?

The Stokke® MuTable™ includes 4 double-sided playboards:

Bricks Bases compatible with most-well-know bricks – bricks not included
Blackboard & Whiteboard ideal for writing & drawing and easy to clean – dry-erase boards and chalk not included
Natural & City Landscapes – small toys not included
Wooden Cover & Puzzle Base compatible with all Stokke® MuTable™ puzzles – includes Four Seasons Puzzle

How can I clean the Stokke® MuTable™?

Only a mildly damp cloth has to be used to clean the Stokke® MuTable™, avoid adding any other type of detergent. After cleaning the Stokke® MuTable™, wipe the product dry.
We remind you that the table is made of wood and the games are made of wood and cardboard. For this reason they should not be treated with a lot of water or cleaned with detergents.

What is the weight limit for the Stokke™ MuTable™ Chair?

Our Stokke™ MuTable™ Chair has been tested as children's furniture, with a maximum weight of 50 kg.
Load more FAQs
Bonus Products
Bonus Products